White Chocolate Sorbet
This Summer my hot favorite desserts have been Sorbet ,Sherbet and Frozen Yoghurt with mangoes and bananas and of course juice popsicles !!!! Sorbets are less rich and creamy which means less calories (little devils!!!)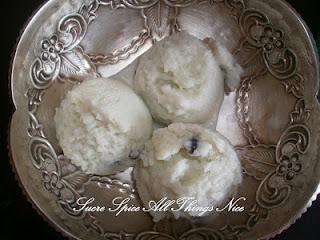 This recipe is minimally adapted and has been taken from
here
 .
1 1/2 cups (375 ml) whole milk
2/3 cup (160 ml) water
1 tablespoon sugar
1 vanilla bean, halved lengthwise (or 1 teaspoon vanilla bean paste)
8 ounces (225 gr) best-quality white chocolate, finely chopped
1/2 cup Chocolate Chips
1. In a medium saucepan, warm the milk, water, sugar, and vanilla bean until it's almost to a boil.
2. Remove from heat and add the pieces of white chocolate, whisking until they're melted. Strain through a fine-mesh sieve into a large bowl set within a larger bowl of ice. (Rinse and air-dry the vanilla bean, and reserve it for another use.)
3.Stir the mixture until cool.
4. Freeze in your ice cream maker according to the manufacturer's instructions.