Kürtőskalács /Chimney cake -Daring Bakers
The August Daring Bakers challenge took us for a spin! Swathi of Zesty South Indian Kitchen taught us to make rolled pastries inspired by Kurtoskalacs, a traditional Hungarian wedding pastry. These tasty yeasted delights gave us lots to celebrate!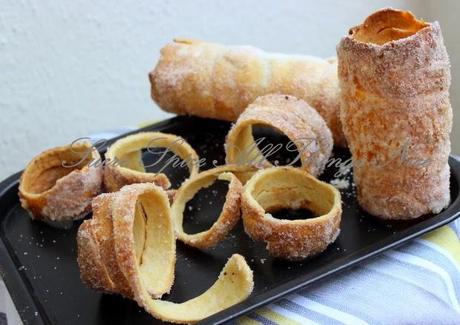 Kürtős Kalács or Chimney Cakes were originally baked over hot coals by Hungarians residing in Transylvania, Romania. Kürtőskalács is made from sweet, yeast dough of which a strip is spun and then wrapped around a truncated cone–shaped baking spit, and rolled in granulated sugar. It is baked above charcoal cinders while lubricated with melted butter, until its surface gets a golden-brown color. During the baking process the sugar stuck on kürtőskalács becomes caramel and forms shiny, crispy crust on the cake. The surface of cake can then be provided with additional toppings such as ground walnut or cinnamon powder.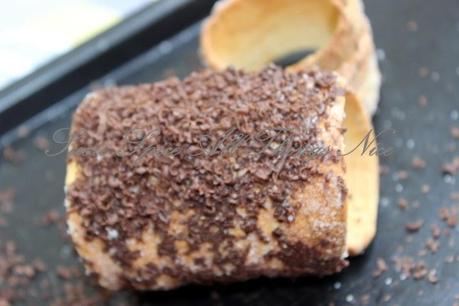 Thanks Swathy for this challenge as this was something new for me to learn. The Chimney Cake is delicious with caramelized sugar on the surface and soft inside.
Kürtőskalács /Chimney cake
Ingredients

For the dough:
240 gm            plain flour
2¼ tsp            active dry yeast 
30 gms            sugar
1/8 tsp            salt
1 large egg,     room temperature
45 gms           melted butter
120 ml            milk, lukewarm temperature

Add active dry yeast to lukewarm milk with half a tsp of sugar and set aside for 5-10 minutes until it becomes foamy
In a large bowl combine, flour, sugar and salt. To this add egg, milk, melted butter, and yeast.
Stir the mixture until it comes together to form a dough, and then knead for about five minutes.
Transfer to a well greased container. Allow the dough to rise for 60 minutes at room temperature until doubled in volume.
Prepare the rolling pins by covering them with aluminum foil.Punch down the dough and divide into 4 equal parts.
On a well floured surface spread one portion of the dough shape into 1/6 inch thick square-shaped sheet .
Using a pizza cutter cut the dough into a long ribbons of about 1/2 inch  wide.
Wrap one end of the dough strip around the spit/rolling pin, tucking in the end so the dough doesn't unwind.
Roll the whole thing slightly on the counter top to flatten it/press it together.
Brush with melted butter and roll in sugar.
Place in roasting pan and bake in a preheated oven 190⁰C for 25 minutes.