I never laugh until I've had my coffee- Clark Gable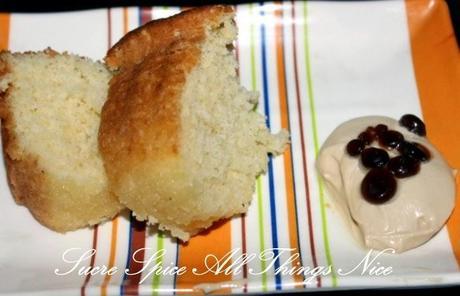 I get excited like a little kid whenever I come across a recipe which is so versatile,easy and relatively low cal .Then the recipe is definitely for keeps.And I do have such recipes in my repertoire like Strawberry Streusel cake and One bowl Chocolate Cake.

Apparently this recipe has been around since a long time where hot milk is used to make the batter light and fluffy and the butter used is bare minimum. Its a everyday basic sponge cake recipe and can be easily turned into a fancy cake or a dessert .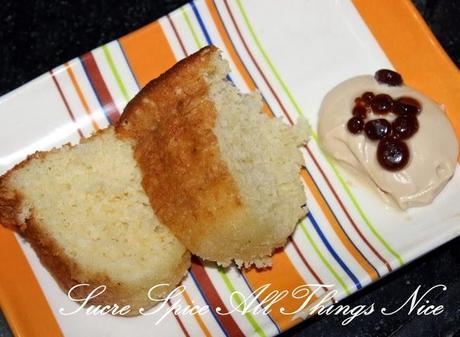 I realized I had hardly done any posts on coffee based cakes or desserts.And coffee happens to be my fav!So this cake was  served with Coffee Mascarpone cheese and topped with Coffee Caviar.
Molecular cooking is quite 
fascinating and has attracted many professionals and foodies alike.
Coffee Caviar is made using the method of spherification, a process where liquid is turned into a pearl or caviar.It was introduced by 
Ferran Adria .This method is a simplified or non molecular version of coffee caviar .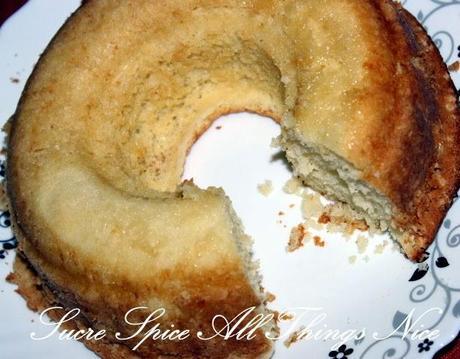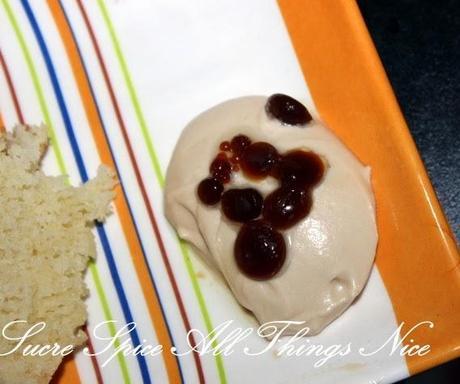 Hot Milk Sponge Cake Recipe
Adapted from here 
2           
eggs at room temperature
1 cup      flour 
1 tsp      baking powder
1 Tbsp    butter
1/2 cup   hot milk
1 cup      sugar
1 tsp      vanilla extract
Preheat oven to 180 C.
Grease well an  8 in  bundt pan with butter with upward strokes and dust it with flour.
Heat milk till it starts steaming. Turn off the heat and add butter.
Beat eggs with an electric mixer at medium speed. Gradually add sugar and continue to beat till light and frothy. It takes about 8-10 minutes .
In a bowl, sift together the flour and  baking powder.

Turn the mixer down to low and add the sifted dry ingredients .Mix just until the dry ingredients are incorporated into the egg batter. Add the scalded milk and butter mixture. Mix on low speed until the batter is smooth, scraping down the sides and bottom of the bowl. Add the vanilla extract and continue mixing on low just until its incorporated into the batter. 

Pour the batter into prepared cake pan and bake for 30 minutes or until done.



Coffee Mascarpone
150 gms     Mascarpone cheese
150 ml       chilled cream 
75 gms      caster sugar
2 tsp         instant coffee
1 tbsp       water
Stir coffee and  water in large bowl until 

coffee dissolves . 

Add cream, mascarpone and  sugar. Beat until the cream is thick and smooth. 

Coffee caviar

Inspired from my fav blog 

2-3  cups vegetable oil

4 tsp  powdered gelatin 

3 tbsp cold water

100 ml  

hot coffee

Ice

1/4 cup salt for water bath

Place oil in a steel bowl and store in refrigerator overnight. The oil must be very cold for the gelatin to set properly.In a medium bowl mix the gelatin and water until thoroughly combined and no lumps of gelatin remain. Let stand while the hot liquid is prepared.

Pour coffee over set gelatin mixture and stir until gelatin is melted. Once its melted 

transfer liquid to a squeeze bottle or you can leave the mixture in the bowl and use a medicine dropper.

It should be just barely warm - almost room temperature.

Prepare the ice bath. Make sure the bowl you are using for the ice bath is larger than the container holding the oil.  Fill bowl with ice and then add water until the bowl is two-thirds filled. Add 1/4 cup salt and stir until mixed.  Rest the container of oil inside the water bath.

Begin dropping gelatin mixture into the cold oil, 1-3 drips at a time. The amount of drips will vary according to the viscosity 

of the

 oil and type of dropper used. The mixture forms a ball that rests on the surface for a moment then sinks to the bottom.  

When half the  mixture has been used, wait for 3-5 minutes then scoop the caviar into a mesh sieve to drain.Place caviar in an air-tight container .Resume dropping the gelatin mixture into the cold oil until all of the mixture is used.