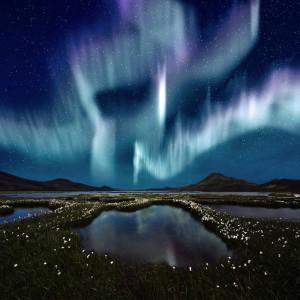 Image: Aurora Borealis – The Northern Lights, Iceland
I'm really excited about a holiday I'm planning for this Christmas / New Year to New York with friends and then Iceland with my boyfriend Andres – it's pretty much all I can think about in my spare time at the moment! You know the feeling, right? Every time you imagine being whisked away on this incredible journey with all of the beautiful sights, new people, different cultural experiences… It's like stars start shooting across your body with bubbles of anticipation swelling up inside. You can't hide the massive grin on your face. Travel is certainly one of the more exciting things in life.
Not only that, but travel is great for wellbeing. According to The International Medical Travel Journal (IMTJ), people are thinking about holidays in a new light, with wellbeing further towards the forefront. Wellness travel industry expert and founder of Wellness Tourism Worldwide Camille Hoheb wrote in a news release for IMTJ, "Our data shows that consumers view vacations as an important way to improve health, happiness and productivity. Vacation trips are often a catalyst for transformation and consumers view wellness travel as a personal investment."
Travelling for leisure is most definitely a personal investment, and one in which I believe is truly tied to wellbeing – whether or not you are consciously incorporating 'wellness' travel into your agenda.
The whole process can be a little overwhelming – should you go with an agent or book yourself? Where do you even start with the budgeting to get together the cash for your trip? When will you go? Can you get time off work? What if the hotel sucks? There's a whole heap of logistical elements to sort out. Here's where I started.
Where to start planning your holiday
Nail down the time of year and figure out how much time you can get off work. There's no point even thinking about your next break until you can pinpoint the time of year you'll be able to head out and how much time you'll have – it will affect everything, including where you want to go due to season and climate.
Google your most-desired destinations, read up on blogs and travel sites about destinations within and near where you want to go, and gather a top five list. Whittle this down to a top destination through research and word of mouth, taking into consideration ease of travel, the climate you're seeking, things to do and costs.
I like to go with a multi-tiered approach before locking myself into a booking – look online at the deals you can get on flights and hotels as well as approach a travel agent. Review holiday package booking sites relevant to you budget and taste such as www.myholidaycentre.com, which provides bookings for 4 to 6 Star luxury holidays only, and also visit last-minute booking sites. Check out everything so that you have peace of mind about getting the best price. You also have the option of booking part of the holiday yourself and part through an agent, so consider every angle.
Get the best-quality of everything you can afford. It's sometimes easy to skimp when you're at home and making the bookings online, but when it comes down to the crunch you want to have the best quality of everything you can when you're on your break. I prefer to take fewer, better holidays and really enjoy the experience.
Where do you start when planning your trips? I'd love to hear your tips! 
Please note: I partnered with My Holiday Centre on this post.