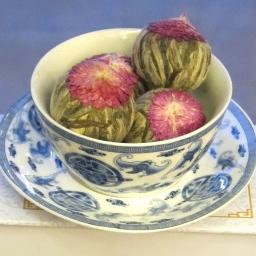 Flowering Tea
Beijing Tong Ren TangWalking along Shaftesbury Avenue, pondering where to get some nice tea, it suddenly occurred to me that I was near Chinatown – surely a good place to hunt down supplies.
At number 124 is Beijing Tong Ren Tang. I have gazed at the orange and gold facade many times from the excellent watch-the-world-go-by-window of the cafe of Curzon cinema on the opposite side of the street.
It never really occurred to me to think what they sold, but a display of tea in the window lured me in.
It turns out that Tong Ren Tang is a Chinese herbalist. A web search uncovers:

Tongrentang (TRT) was founded in 1669 and has been designated to provide medicines for the royal pharmacy of the imperial palace of the Qing Dynasty for 188 years

Chinese Symbol for TeaInside, the floor to ceiling wooden cabinets storing herbs and potions, and the cashier's desk are reminiscent of an old-fashioned grocers.
There is a good range of chinese teas; the lady who served me was very friendly and knowledgable about the different types. She also kindly wrote the chinese character for 'tea'.
Tea leaves are sold loose, or in 50g and 100g canisters. I decided on an oolong and a dragon well. They were carefully weighed onto paper from huge red canisters, and decanted into resealable bags.
Both were excellent and at around £7 for 100g, a bargain for quality leaf tea. I was very pleased to find this shop in such a central location. Tong Ren Tang also sell beautiful earthenware and glazed teapots and cups.
---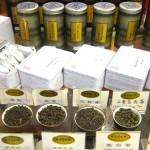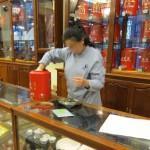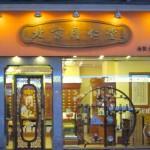 ---


Price range : Very reasonable for good quality tea

Leaf or Bag : Good range of Chinese tea

Teapots etc. : Interesting earthenware and glazed tea-ware

Service : Friendly and helpful

Kitty says: Pleased to find, in central location
Address: 124 Shaftesbury Avenue
London
W1D 5ES
Website: Tonrentang.com
---
New Year in Chinatown, London, Feb 10th 2013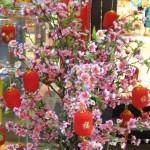 This coming Sunday, London's Chinatown and Trafalgar Square will be buzzing with lots of colourful events to herald the Chinese year of the snake.
What better way to celebrate than with a nice cup of dragonwell tea.
Details at: chinatown.org.
---
Postcards Teas: Chinese New Year Special Offer

Postcard TeasPostcard teas are celebrating Chinese New Year by offering a gift of tea to online customers who order between 3rd-10th February.
There is also a chance to win a very special teapot and cups.
Details at: Postcardteas.com
---
More places to buy tea in London:

East India Company
Mayfair

Twinings
Strand

The Tea House
Covent Garden

---