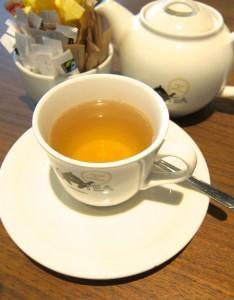 Monkey-picked Oolong
To a TeaStanding at busy Ludgate Circus, with St Paul's Cathedral behind you, it would be hard to imagine that you are just steps away from a pot of Monkey-picked Oolong plus a choice of some thirty-odd types of tea.
However behind a somewhat faceless office block facade, a few steps to your right is To A Tea.
Pushing open the doors, one expects to step into the lobby of some faceless company.
It is a pleasant surprise therefore to find this rather nice tea room, with an excellent choice of brews.
The interior is fresh and clean,
with white-painted furniture and bright framed pop art prints including a large tea map of the world.
The tea menu features (approx) nine black teas, including Darjeeling and Russian caravan; Four types of green tea; a couple of oolong; Two types of white tea – white silver needles, white peony and about eighteen herbal infusions, including liquorice, rose buds and stinging nettle.
All the tea is loose leaf and is served in a special infuser which means the leaves are not left to stew in the water, giving a brighter, fresher cuppa.
I chose a Monkey-picked Oolong. My tea was lovely and refreshing, and I enjoyed sitting at the big window and watching the world go by.
I visited in mid-afternoon, but I imagine with the location, they must do a good trade at lunchtime with city workers. The food and cakes look very tempting.
To A Tea also sell loose leaf tea. A great choice in an area dominated by chains.
---
Having visited To A Tea, got me thinking what was the origin of the phrase?
Is is T, tee or tea?
A quick search is inconclusive. Gary Martin at Phrase Finder, (who seems to know what he is talking about) traces it back to 17th century
here
.
---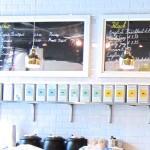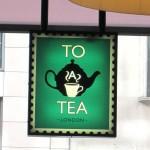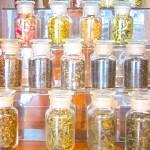 ---


Price of a Cuppa : Average £2.75 pot

Leaf or Bag : Excellent choice of leaf tea

Crockery : White
china
and infuser pot

Music : background jazzy

Service : Very pleasant waitress service

Kitty says: A good place to head to in an area of lots of coffee chains
Address: 14 Farrington Street, Five Fleet Place, EC4A 4AB
Website: To a Tea (still brewing…)
---
Places for tea nearby To A Tea

Restaurant
St Paul's Cathedral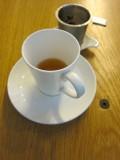 Prufrock Coffee
Leather Lane

Twinings
Strand
---
Find a Nice Cuppa on My Tea Map of London:

Tea Map of London
---
Invite Your Friends for Tea at To A Tea, Farringdon Street: