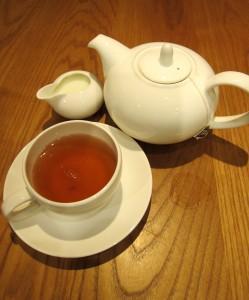 English Breakfast
W Cafe
Waterstones PiccadillyAfter visiting the Royal Academy to see the (excellent) Daumier exhibition, I was naturally in need of tea.
The main restaurant at the RA is lovely, but a bit formal for a quick cuppa.
There is a smaller café, but it is squashed in a corridor by the lift. Also they serve tea in a paper cup – which is not what I was after.
So I stepped into Piccadilly to search for a nice cup of tea, preferably in a china cup.
A turn up for the books(hops) (sorry for weak pun), was the discovery of a great new cafe in the basement at Waterstones.
Tea and books are complimentary pleasures, and Piccadilly has two of the most characterful bookshops in London within a few steps of each other.
At no.187 is the wonderful Hatchards which incredibly has been on the same spot since 1797, making it London's oldest bookshop.
The splendid art deco inspired edifice at nos. 203-6 Piccadilly was formally Simpsons gentleman's outfitter. Opened in 1936, with interiors by Bauhaus member László Moholy-Nagy, it was once the largest menswear store in Britain. It is now a Grade 1 listed building, housing a huge branch of Waterstones bookshop.
There is a restaurant on the 5th floor, but I just wanted a cuppa so I headed to the basement, via the wonderful staircase to the new W Cafe.
I always quite liked the former Costa caff, but this is a huge improvement.
Parquet floors, fresh white walls and clever lighting make for a surprisingly fresh and airy space considering the lack of natural light. Prints of book jackets simply framed in black, are a nice arty/literary touch.
Happily, my English breakfast tea was served in a white china tea-cup, with a pot and a sweet little milk jug. At £1.75 it is perhaps one of the cheapest cuppas in the West End.
There is a choice of Fair trade teas, Green tea, Chamomile etc.. You can pick up a loyalty card so every tenth cuppa is free.
It was also refreshingly not too busy, making W cafe a great place to pop for a peaceful cuppa and read your book.
---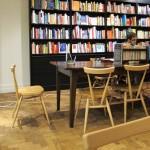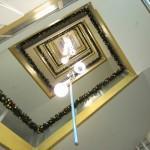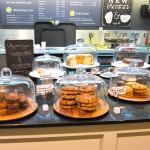 ---


Price of a Cuppa : £1.75 pot, Suki tea

Leaf or Bag :
Suki tea
, Fair trade leaf in pyramid

Crockery : White china cup, pot milk jug

Music : None – bliss!

Service : Friendly

Food : Sandwiches, salads, cakes, scones

Kitty says: Really pleased to find this new cafe; great for a browse of books and a cheap and very good cup of tea
Address: W Cafe
Waterstones Bookshop
203-206 Piccadilly
London
W1J 9LE
Website: Waterstones Piccadilly
---
More Places for Tea near a Bookshop: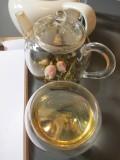 London Review Cake Shop, Bloomsbury

Tea and Tattle,
Bloomsbury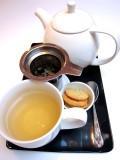 Kusmi Tea,
Marylebone
---
Find a Nice Cuppa on my Tea Map of London:

Tea Map of London
---
Invite your Friends for Tea at Waterstones Cafe, Piccadilly: