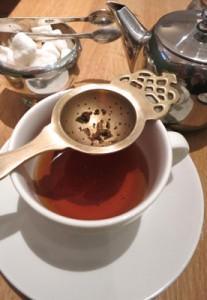 Darjeeling
St Pauls CathedralWandering through the City after seeing the Cheapside Hoard at the Museum of London, I thought I saw an emerald on the pavement. It was just a bit of broken glass, but such is the effect of the treasures on show.
I recommend the exhibition to anyone interested in London – layers of history are peeled away to a magical place just beneath our feet. Magnifying glasses are provided, and I particularly enjoyed studying the amazing detail in the accompanying paintings.
I later came to St Paul's Cathedral and decided to stop for tea.
The crypt has a self-service cafe, where you can enjoy lunch under vaulted ceilings, amongst some marvelous marble statuary.
The restaurant is smaller, posher, and when I visited, a bit quieter, so I thought I would give it a try.
The interior is small with a smart, fresh feel – white walls and sage tongue & groove. Pale wood chairs and tables contrast with the terracotta tiles of the crypt floor. Antique silver tea-strainers and sugar tongues on each table are a nice touch.
I fancied a cream tea, choosing a pot of Darjeeling to accompany my scones. The tea was lovely and refreshing..and English! Tregothan tea is grown in Cornwall and blended with Darjeeling.
One slight grumble; In a near-empty restaurant I was moved from a table for four to one for two, awkwardly close to a couple having lunch. I later saw another lady on her own being squashed into a small spot, so perhaps company policy is to deter the single tea-drinker.
That apart, I loved the restaurant at St Pauls – and it is worth noting that they do afternoon tea. Another hidden treasure underneath the London Streets!

---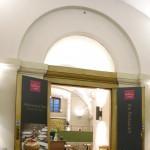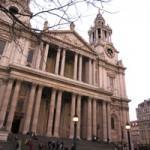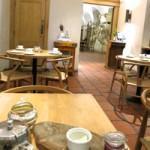 ---


Price of a Cuppa : Pot for one £2.75/Cream tea £9.95/afternoon tea £15.95

Leaf or Bag : Leaf. Grown in Cornwall!

Crockery : White china, silver strainer, sugar tongues

Music : Background pop

Service : Other than slight issue with seating (above) the staff at Restaurant St Pauls were helpful and friendly

Food : Restaurant menu of seasonal dishes

Kitty says: Lovely space, everything beautifully presented; pleasant place for a cuppa
Address: St Paul's Cathedral
St Paul's Churchyard
London
EC4M 8AD
Website: restaurantatstpauls.co.uk
---
More Places for Tea in London:

ICA Cafe
The Mall

Postcard Teas
Mayfair

East India Company
Tea
---
Find a Nice Cuppa on My Tea Map:

Tea Map of London
---
Invite Your Friends for Tea at the Restaurant St Pauls: