Hi guys!
*press sample
So recently I was contacted by Whats Up Nails to give their vinyls a try and of course I said yes! You know how I love me some nail vinyls ;) I was really excited to try out their swirl vinyls and this fall inspired look was just perfect! Wanna see what I created? 
I started with a base of Enchanted Polish Vampires Suck because it is the greatest brown holo polish EVAR! When it dried I applied the Triangle Swirl vinyls and on my pointer, middle, and pinky nails I only painted inside of the triangle and on my ring I painted my entire nail with China Glaze Mingle With Kringle. I removed the vinyls while my polish was still wet and sealed everything in with some Seche Vite to finish this look off.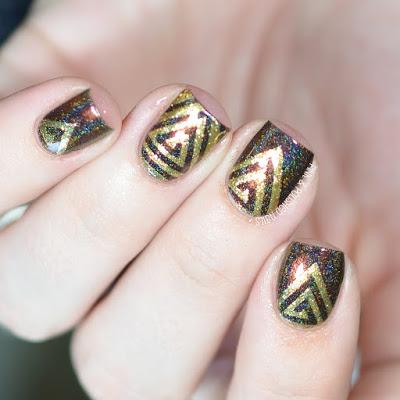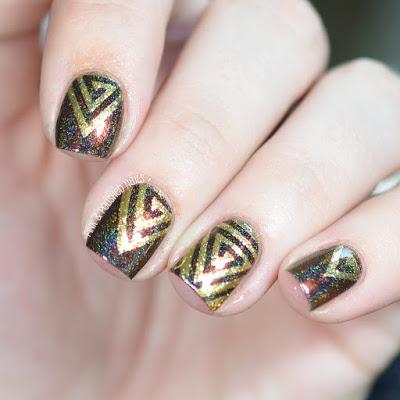 I am so LOVING this look! So fall-y, so neutral-y, so gorgeous-y :) and I was really happy with the vinyls, they applied easily and removed like a breeze with no sticky residue left over!
You can get these vinyls along with 36784593 more and some amazing nail art tools (I HIGHLY recommend the water marbling tool) at http://store.whatsupnails.com. Keep up with all of their sales and new releases by following them:
Facebook | Instagram | Pinterest | Twitter | Youtube
What do you guys think? Have you tried and of Whats Up Nails vinyls?
**Products in this post were provided to me by 
Whats Up Nails 
in exchange 
for my honest opinion. For more information 
please see my disclosure policy.
Thanks loves :)