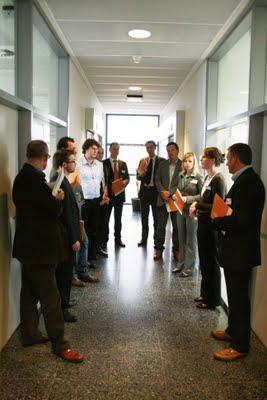 A few months ago I guest posted over at the New Professional.  In case you missed it, I decided to repost it again today.  Here is everything you need to know about friendships at work.  (p.s. make sure you enter this giveaway for a chance to win a professional and adorable skirt suit from HeartSOUL). 
As young professionals, we spend at least 40 hours a week at work which is as much time as we spend with our families at home. We all hope to find a job and co-workers that we love but sometimes we don't take the opportunity to really get to know the people we work with because we are so busy. Do you know how influential co-workers can be on your attitude and perception of work? I have had multiple jobs since college and the jobs I loved the most were when I had a lot of friends around. The jobs that I couldn't wait to leave were those jobs where I felt like no one liked me and I was a complete outsider.
So what should you do at work in order to maintain your professionalism, climb the corporate ladder and make some great friends for life?

1. Network: Do whatever you can do to get to know as many people as possible where you work. This will not only help you get questions answered but it will also allow you to learn about different areas of the company. Maybe someday you will want to move into the marketing department. You will be very glad that you have a friend in marketing that you can ask for help.
2. Ask questions: Ask your co-workers about their weekends and how their family and children are doing. It will make your working relationship so much better when you know personal things about each other. Make sure that you be yourself and that you are genuine.
3. Say yes: Always go to lunches and happy hours if you have the opportunity. These events are a great way to get to know the personalities of the people you work with. You can talk and laugh about things in a relaxed atmosphere and socialize about things you may not feel comfortable talking about in the office.
4. Watch out: Be very careful not to take part in gossip and whatever you do, don't take sides. Make sure you set boundaries, especially in the beginning. Keep some distance when it comes to partying and sharing personal things about you. No one needs to know that illegal thing you did in high school because stories will quickly go around the office. Maintain your professionalism and keep a 1-2 drink limit.
5. Don't bug: Get to know how your co-workers work and when they enjoy socializing. When someone is working hard and right in the middle of an important deliverable, it's probably not the best time to ask them how their weekend was. Be vigilant about where you are socializing and who else can hear. Don't bug others who don't want to hear about your amazing date last night and don't get a reputation for socializing all the time.
I hope you can see how work can be much better if you know and LIKE your co-workers. Now, go make some great work friends!
What do you think?  Do you think it is smart to have lots of friends at work?
(Photo by Voka-Kamer)