I announced in yesterday's post that I am featured in People StyleWatch magazine this month! But, since I have a lot more advice about what to wear to work in the summer that wasn't featured, I will be sharing it with you here today on the blog instead!  Lucky you!
What is an outfit idea for profesional work environments? How bare is too bare in the summer time for your arms, stomach and legs?
No tank tops…I recommend only wearing light blouses under a blazer or suit jacket.  Always be ready to take off your jacket in case you are hot but always have a professional looking shirt underneath your suit jacket.  Nothing is worse than being hot but not being able to take off your jacket because your shirt isn't appropriate underneath for your conservative office!  You have to take yourself seriously because you want to be known for your brains, not for having the shortest skirt or most cleavage in the office.  Showing skin is NOT how you will get ahead, trust me. I have always had trouble finding lightweight shirts for under a suit jackets for the summer but there are so many cute options out these days! Never ever show stomach in any work environment unless you are a lifeguard.  In a conservative environment, always wear closed toed shoes even in the summer.  Dresses are definitely allowed just add a sweater or cardigan over the dress.  Always wear closed toed shoes to make it more professional looking for a conservative work environment. If you wear a dress or skirt, make sure it isn't too short.  Your skirt should fall close to the knee and not above your knee in the office.
But, you do have a unique personal style and even if you are in a conservative work environment, you can definitely still let your personality out!  Try a scarf, jewelry, a watch, small earrings or a bracelet or a belt to personalize your outfit.  Even if you have to work in a conservative work environment, you don't have to look drab, frumpy and boring or like everyone else that you may work with.  Be professional with class and definitely a little bit of personality and don't be afraid to add a little color to your wardrobe. If you have a closet full of black, branch out and buy some greens, yellows, pinks and oranges for the summer to go with your black, gray and brown work staples and mix and match.  You can create a lot of outfits with just a few great staples.  Never wear spaghetti straps without a blazer or cardigan over.  And no skinny pants!  Also suits can be the easiest things to put on in the morning!
What is an outfit idea for creative work environments? 
Even in a creative field, a strapless dress is too informal without a cardigan over it; keep it for a weekend beach day.  Even in a creative field, blazers rock!  With a blazer you will immediately grab attention and look more professional.  But in a creative field you can dress up blazers into really fun and colorful outfits and still look very professional.  You do have more options in a creative field but be careful that you don't get too loose and not care.  If you go in with jeans everyday, not only will you have a tendency to become more relaxed and maybe do a worse job at work but also you will get in the habit of dressing down.  Try mixing up your outfits and not wear jeans everyday but some days dress up as well.  Add a little bit of excitement over what you will wear everyday.  This way you are mixing it up and your co-workers won't be surprised in whatever you end up with each day.
They key really is to look at the position in your company that you really want someday (or in another company) and find that person that has that job and is successful at it and highly respected.  Dress like she does.  Use Pinterest or Polyvore and find your own personal style of pieces or celebrities that dress how you love and use them as your model.  Look through magazines (like this one) and find what you like and don't like and create a file or binder of all the looks you love.  Use that as inspiration before you head to the mall or shop online!  Don't dress for the position you have, dress for the position that you want someday.  You never know who might be watching you or whom you might run into on the elevator.  Always always look professional, even on Casual Friday.  I find that some days I have to give important presentations on the spot or go to meetings that weren't planned, that is why I always keep a blazer in my office and wear outfits everyday that would be acceptable with the boss.
What is an outfit idea for casual Fridays? 
I LOVE casual Fridays!  I love making casual outfits look professional.  I love dark jeans (still no really skinny jeans) with blazers and ballet flats.  Or instead of the dark colors, on Casual Friday you can add color. I love wearing brown and khaki pants and skirts into the wardrobe, which can be done more easily on Fridays.  But, refuse to roll out of bed and head straight to the office on Fridays.  Instead, have fun dressing up on Fridays.  I also like wearing my hair differently on Fridays and a little messier than normal.  And I add a little more jewelry than normal on Fridays.
These following answers should be tailored to what's appropriate for super corporate work places (I.e. you usually wear a business suit) and also an answer for more fashion-forward work places:
What shoes are cute and appropriate for the summer?
I love peep toe pumps for the summer even in very corporate settings you can definitely get away with them.  Below pumps are from Nordstrom.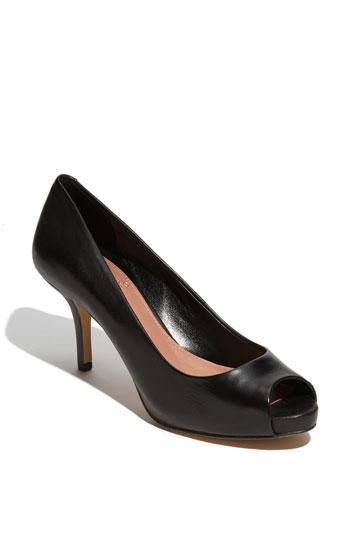 I am also a huge fan of a nude pointy toe shoe like this – it looks great with black, gray or brown pants!  Also from Nordstrom.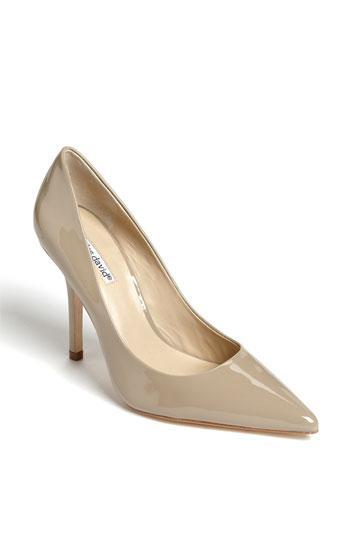 Are flip-flops ever okay in professional work environments?
Nope, never.
Are flip-flops ever okay in creative work environments?
You probably could get away with it but I would recommend more flats that have more of a sling back to dress it up the outfit a little bit.  Flip flops are too much like you are headed to the beach:
Are flats okay in professional work environments?
Ballet flats are perfectly acceptable as long as your pants are tailored for them and don't drag on the floor!  But not loafers, boat shoes or any shoes that resemble slippers!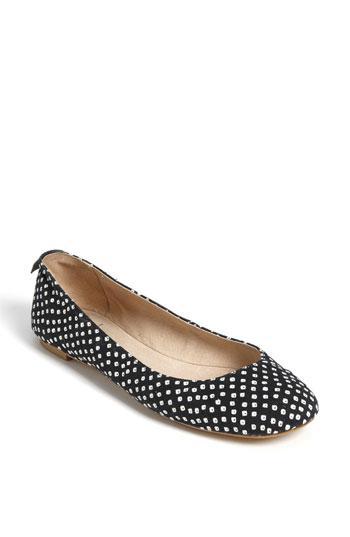 Are flats okay in creative work environments?
Definitely OK in a fashion forward office but in a creative environment you want to go for very bright and fun colors.
Are wedges okay in super corporate offices?
Depends on the wedge – Yes to leather wedges. I do love wedges because they last longer and are more durable on streets when you walk a lot than a skinny heel. No to wedges that are raffia heels.
Are espadrilles okay in super corporate offices?
Not in super corporate office.  Off limits.
What shoes are cute and appropriate for the summer for fashion forward work environments?
Definitely let your personality out if you work in a fashion forward office!  Here are some ideas: Get a ton of compliments with these shoes that would work great with a lot of fun fashion forward outfits but still closed toed pumps that are considered professional!
What are the rules of wearing shoes to work?
You should go for comfort rather than fashion and NOT the highest heel you can find.  If you are, comfortable in your shoes you will be more confident and you will be able to stand and walk better and present yourself better.  You don't want to be at an important networking event and have to sit down or take off your shoes because your feet hurt!  You have got to work the room instead!!  At work, you may be doing a lot of walking and presenting -You have lots of people to impress and there is no time for rest! You should think twice about wearing the same shoes to work that you would wear out dancing with your girlfriends.  Shoes are also a great way to let your personality show and bring a little color to your outfit.
Is it ever OK to wear shorts to work?
No, shorts aren't acceptable.  Save it for the weekend!
Do you ever have to wear panty hose to work? If so, what are some of your favorites?
This is a question I get a lot on my blog! No, you don't have to wear pantyhose to work these days.  But if you feel more comfortable with pantyhose, they are perfectly acceptable too.  But, don't fee like you have to.  Also remember that the majority of your potential employers and hiring managers may not be your age and pantyhose may be a part of their life so you may want to do your best to join the crowd and fit in the best way you can even if that involves pantyhose.  When I entered the career world out of college, I thought that pantyhose were a must!  I wore them to interviews and on the job.  I even wore knee-highs with pants because I thought I would look more professional and mature.  I realized a few months in that not only were they terribly uncomfortable but most women (of all ages) I was working with were not wearing them.  Today, I very rarely see anyone wearing pantyhose so I never wear them.  I think times are changing and it isn't looked down upon anymore to NOT wear pantyhose.
If you are a die-hard pantyhoser, try out Donna Karan hosiery.  Some of my favorite photos of great outfits with pantyhose are photos of Kate Middleton who is totally bringing sheer pantyhose back.
What kind of fabrics, colors and cuts do you like to wear in the summertime?
In the summertime, a button up long sleeve cotton shirt is the last thing that I want to put on.  Put those shirts in the back of your closet and break out the light weight blouses with barely there sleeves, there is so much of that available now.  It has to be breathable to handle the stress of the workday and the hot weather and it is great to wear from day to night and happy hour!  Pencil skirts are another great thing that I love to throw on because they are comfortable and cool.  Ruffle tank tops are also my favorite right now and they look great underneath jackets and cardigans.  I love polka dots as well and shirts that go up to the neck for work like this: http://www.thelimited.com/detail/polka-dot-halter/4263437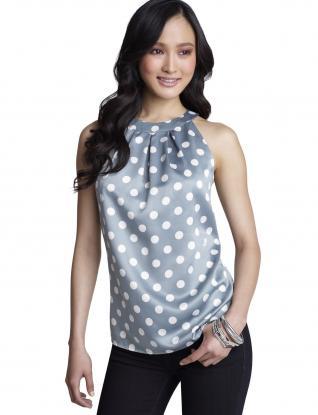 I also love summer work outfits that aren't tight to the skin.  They need to breathe.  I really like loose clothing for work because I am usually sitting for so long and it has to be comfortable on the body.
What are some key pieces that belong in any summer work wardrobe? What makes them appropriate and what kind of things should you look out for (I.e. not too sheer, slouchy, etc.:
A blazer will help you be more credible and make a great impression, which is why it is a must for any work wardrobe.  Throw it over your favorite dress and you are out the door!  You should never wear a shirt that is see through or sheer to work.  Also make sure that you buy clothing that is easy to put on in the morning.  Know before you buy whether you are going to have to be ironing in the morning or if you are going to be at the dry cleaners each week. Better yet, plan your outfits ahead of time and do all your ironing on the weekend so you don't have to iron every morning! I think another must outfit is a few shirts in the closet that you don't have to iron but look great under a blazer that you can throw on quickly and head out the door.
What are some great outfit examples (head-to-toe looks + accessories) of something appropriate for casual summer Fridays?
Outfit #1 Casual Summer Look: A light tan, yellow or cream dress, a brown cardigan or blazer and a brown belt, big long necklace in a loud color like green or blue and open toed shoes with a bow just like this outfit:  This outfit screams professional and casual and it looks great!
Outfit #2 Casual Summer Look: Striped tee, green blazer, bright yellow belt and dark jeans with sparkle class pump heels and bangle bracelet and earrings
Outfit #3 Casual Summer Look:  I love a belt and pin on the sweater and bracelet to add a little personality to a boring work wardrobe…and messy hair is more acceptable on casual Fridays.
For photos all of these outfit ideas, make sure you check out my Pinterest page!
What's a checklist of the top things to avoid wearing in the summer?
1) Always avoid showing cleavage, there is no excuse.
2) Tank tops and strapless shirts should only be worn with a cardigan or blazer over your shoulders.
3) Never wear a skirt that is too short and above the knees
4) Never wear tight skinny pants or jeans.
5) Don't even think about wearing platform heels that you can't walk or stand in.
Definitely keep your work wear separate from your weekend wear and don't be afraid to invest a little more in your work outfits because not only will they last forever but you will end up wearing those favorite outfits everyday.  Your professionalism in the office can mean more promotions in the future which will end up with you being able to buy even more work clothes with that hard earned cash!
Overall, you are wearing your clothes at work for many, many hours per day, especially if you partake in happy hour and networking events after work (which I suggest you do!

.  You want to look great but also be comfortable at the same time.  If you pants are too tight or if you are worried about how your skirt keeps riding up, you won't do your best work because you will be worried and you will just want to go home as soon as possible.  I find that if I love my outfit, my day actually gets better AND I think I actually end up doing better in interviews and presentationsJ That is why I advise putting a little extra planning and money into work outfits because it will be worth it in the long run.  Also, I have enough to worry about in my work as a consultant than to worry also about what I am wearing.  I think a good thing to remember is that if you plan ahead and are comfortable with your work staple outfits, you shouldn't have to worry each morning about what you are going to wear OR worry while you are at work about what you are wearing or what people will think of your outfit.  You are just confident because
you know
you look good.
What is your go-to work outfit for summer?