Who is excited for Fall?  I am!  Today, Molly Borter, who works as a writer specializing in women's fashion accessories, shares with us the latest trends. By day, she blogs about the latest sunglasses trends, by night she samples new restaurants with her boyfriend and spends time with her family and friends.
Attention Classy Career Girls, it's September, which means the crisp autumn breeze has settled in, and it's time to switch your closets from sundresses and sandals to boots and blazers.  While a full-out fall shopping spree would be nice, our busy lives don't leave us a lot of time or extra cash to do so. Luckily, this season's must-haves are a godsend for our wallets and precious free time: from intricate neckwear to luxxe-looking handbags, it's never been so easy and affordable to achieve full fashionista status. Fall's accessories are the perfect centerpieces for every outfit and a piece of cake to add to your already-existing wardrobe. Spice up your staples—jeans, cords, skirts, blazers, cardigans, and blouses— by incorporating the season's hottest accents. No matter where you're going, you'll look effortless for every occasion with these five accessories: retro sunglasses, bold jewelry, printed scarves, statement shoes, and boxy purses.
What to Wear To Work: The season's 30's-era and menswear styles give work accessories a structured but girly vibe.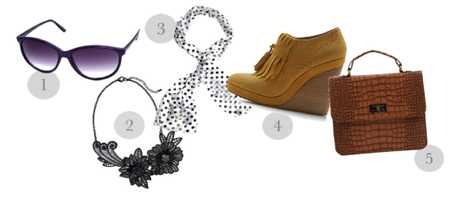 1. cat eye sunglasses 2. metal necklace 3. polka dot scarf 4. wedges 5. square purse
What to Wear At Night: Make your outfit say va-va-voom with trending animal prints, neions and jewel-tones.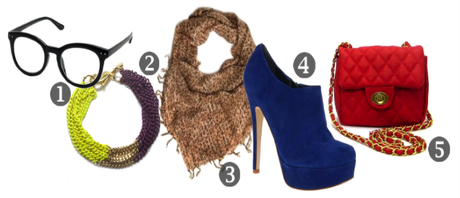 1. clear glasses 2. neon bracelet 3. leopard scarf 4. ankle boots 5. Handbag
What to Wear During the Day: On the weekends, try Fall's 70′s chic or tribal pieces and comfy-cool leather and fringe.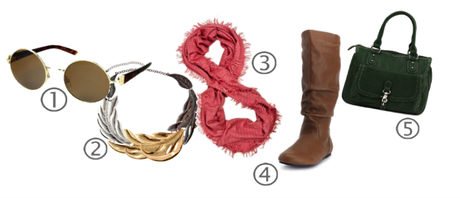 1. round sunglasses 2. feather necklace 3. fringe scarf  4. riding boots 5. leather satchel
What are you looking forward to wearing this Fall?