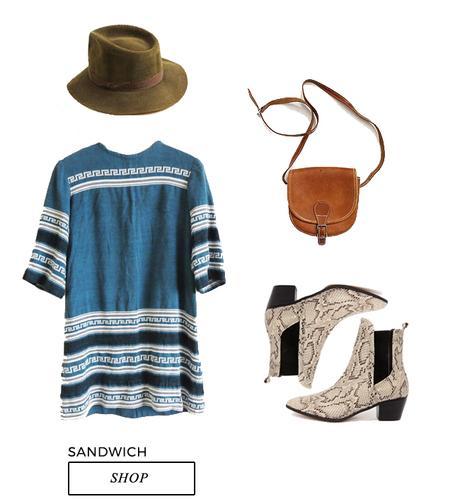 Sometimes you just can't find the will (or the creativity) to scrounge up lunch at home. Instead of making a hodge-podge meal of leftovers, slip on a denim mini dress and a fun pair of snakeskin booties and head over to your neighborhood sandwich shop, soda fountain seating included. Now that the weather is getting chillier, opt for some spiced coffee horchata to go with your rosemary bread and gouda cheese, enjoying the parade of beanies and cozy sweaters marching passed the shop windows. 
Inspiration for this story: Chicago's
Same Day Cafe
Barnaby Jack leather cross body purse (only $26!)
Barnaby Jack wide prom pinch hat
Lulu*s snakeskin booties
Barnaby Jack Guatemalan mini dress (only $36!)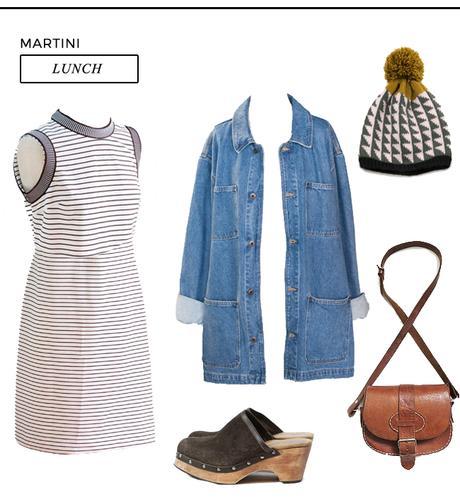 You've been good all week and deserve a treat, so you slip on your favorite striped scooter dress and top it off with vintage touches, like '70s suede clogs and worked leather cross-body bags. It's past noon and you're meeting your pals for a
Mad Men
-esque lunch where salads will be traded for martini glasses, and appetizers will come in the form of olives on tiny skewers. Some might throw you side-eyed glances, but you guys can just pretend you're brokering very important ad deals. Brokering them in pompom beanies and denim jackets. Hey, it's a new generation.
Inspiration for this story: Chicago's
The Franklin Room
Wayward Collection '70s shift dress (only $38!)
Wayward Collection denim barn coat
Barnaby Jack brown leather crossbody bag
White Lodge Knitwear triangle hat
Wayward Collection suede wooden clogs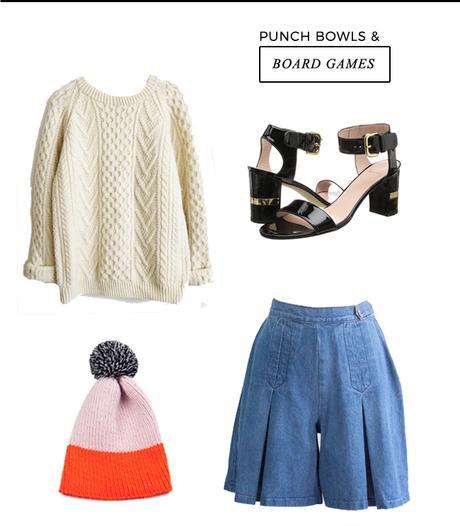 Why is it that dive bars with wood paneling and jukeboxes are always the best places to hang out in? Sniff one out in your neighborhood and come armed with quarters to play your favorite oldies and dollars to buy giant blueberry fishbowls to share with your friends. Snag a corner booth (with seats repaired with duct tape, of course) and call dibs on the best board games the house has to offer: Operation, Candy Land, and - if you're looking to end a few friendships - Monopoly. Watch your competitive streak get higher and higher as your punch bowl gets lower and lower. For a cozy night like this, all a girl needs is a pair of culotte shorts and a knit fisherman sweater, made playful and just a touch quirky with a neon ribbed beanie. Now spin the wheel (or whatever). My money's on you.
Inspiration for this story: Chicago's
Rec Room
Wayward Collection denim pleated shorts (only $38!)
Barnaby Jack Irish fisherman sweater (only $30!)
White Lodge Knitwear neon beanie
Stuart Weitzman block heels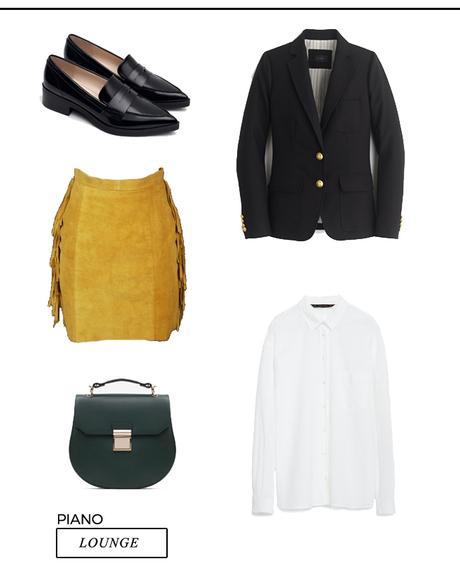 Exposed brick walls, low hanging lamps, lanterns lighting the patio - for a cozy piano lounge like this one, you want to go understated but still classic. To strike the correct balance, choose a statement piece and then match it against timeless pieces. Reach for your suede fringe mini and then pair it with a crisp collared shirt, Italian wool blazer, and then sharp loafers that would make Audrey Hepburn slow clap. Then order yourself some black rum shaved ice, find a spot close to the piano, and join in the singalong.
Inspiration for this story: Chicago's
Tack Room
Jessamity fringe leather skirt
J Crew Rhodes blazer in Italian wool
Zara antik penny loafers
Zara oval messenger bag (only $39!)
PS: Want more event inspiration? Read further on to:
What to wear to a burger bar and after work Manhattans
What to wear to a crochet 101 group class
What to wear to a wine and tapas bar
What to wear to a truffle making class and a late late breakfast