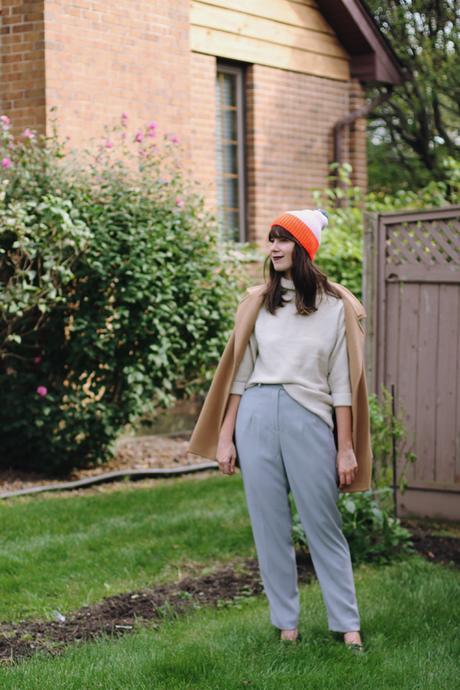 So confession: I went into a frenzy today and switched out my summer clothes for my fall clothes. The reason for this abrupt change? I went to a hot chocolate bar for a night of ice cream and homemade marshmallows yesterday, and on the way to the cozy joint I nearly keeled over from the cold. Let's just say that hot coco was very much appreciated once I got through the doors - and I made it a double.
But while switching over my outfits, I did a quick study of the pieces I owned and cleaned out my closet in the process. And the outcome? 60% of the items didn't make the cut. I have a very small wardrobe of what I actually enjoy, and it's proving to be an education on how I can mix and match pieces.
So while I'm trying to figure out my new cold-weather-style, one thing is for certain: I want to be minimalist, but I want it to have a touch of that quirkiness that I keep coming back to time and time again. But how, exactly, will I get to that?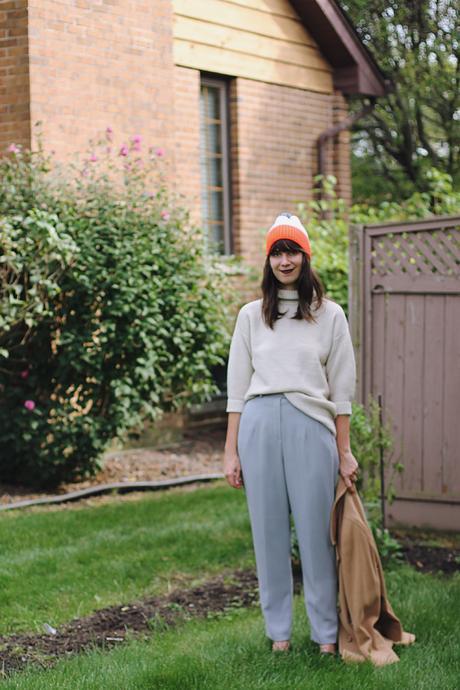 The answer seems to be accessories. Take this look for example. I went with a monochrome palette, pairing slate gray pants with an oatmeal turtleneck (playing with different shades of white is so my jam right now), but to keep it looking playful I popped in a cheeky pompom beanie with a neon accent to shake things up.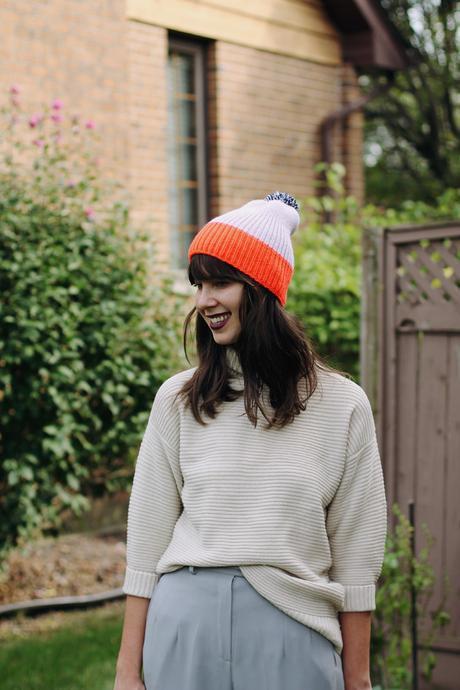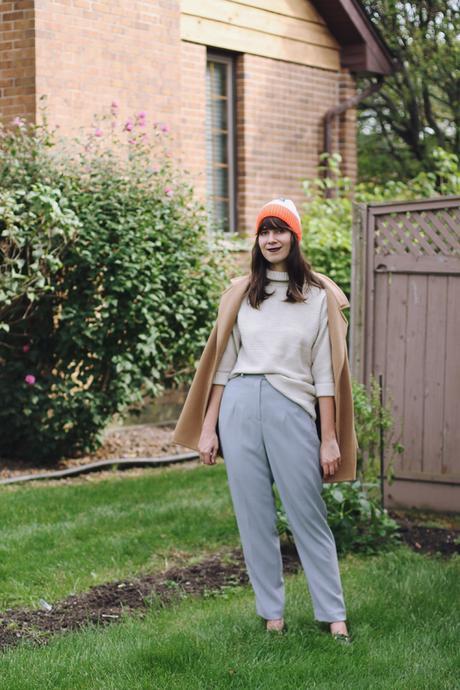 It's unexpected with such a clean-cut look, which is exactly why it had my name written all over it. Once it starts getting really cold we all go into survival mode, and the fastest way to keep our outerwear to keep from looking drab is to stock up on some fun, smile-inducing accessories. Get your chunky scarves in order, your leather gloves in punchy colors squared away and, above all, find a small arsenal of hats that will keep you from blending in with the rest of the black coats outside. If you want to get a head start on the hat department, mine is from
White Lodge Knitwear
, and Lauren has a plethora of fun colors and cute patterns to choose from.
Also, she has acid green hair so you can trust her. Girl knows what she's about.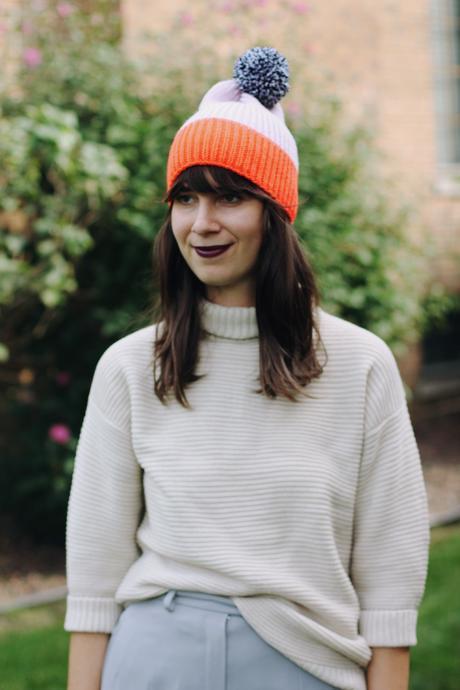 For more inspiration, here are some other beanie ideas incorporated into looks. Study them and think about why they work:
ONE:
  This is just all cheek. Not only does the hat add another punch of color to an already bright outfit, but it adds an extra dose of personality with its big ol' pompom. The look would be plenty stylish without it, but the knit adds a little summin' summin' extra. It's playful and makes you look twice.  (SOURCE) 
TWO:
 The best way to see if an accessory adds to an outfit is to imagine the look without it. Sure, the olive coat and classic loafers would look lovely on their own, but the furry pompom beanie adds a striking dash of dark color, and also softens the serious cuts of the classic pieces. (
SOURCE
)
THREE:
 Add beanies with dresses! This is one of my favorite options because it's so unexpected. It gives it a quirky touch. (SOURCE)
FOUR:
 Beanies are also a great option to add a bright pop of color without overwhelming the look. Take this look with the red beanie - the tartan and peacoat give a neutral palette of camel and grays, and the swipe of red brings it all together without overpowering anything (like, say, a red sweater might).  (SOURCE)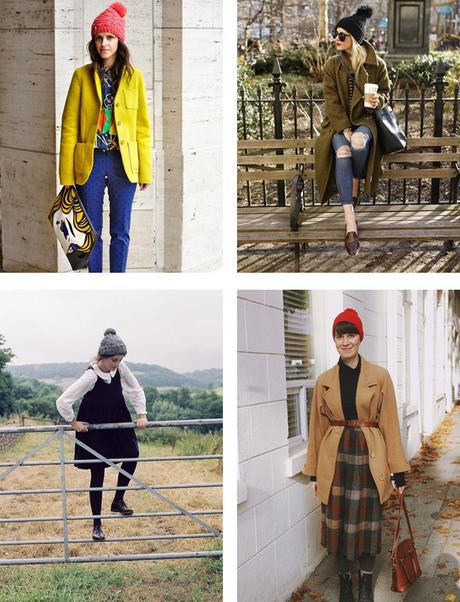 Let's discuss: 
What's an unexpected way you've seen a beanie paired? For example, when I saw that beanie + dress move last year, my mind was blown. 
Want more hat game tips? Continue reading:
4 Ways To Style Vintage Hats
How To Style Beanies With Fall Skirts
A Winter Look That'll Break Your Sweater Rut
ONE
|
TWO
|
THREE
|
FOUR