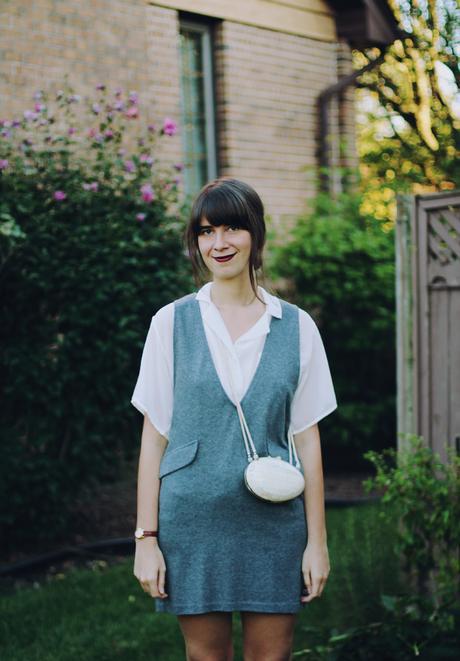 It's no secret my style had a transformation this year. Where before I wanted to look like I had pies cooling on the windowsill with my full skirts and gingham prints, now I like a more minimalist vintage look. I still have my pillbox hats and just about fall to my knees every time I see a Doris Day inspired dress, but I feel the most me in quiet lines and '60s-college-kid shapes. 
Feeling a kinship to my penchants, Haley, publishing industry expat and lover of vintage silk, leather, linen, and SO much denim, teamed up with me and asked if I had any ideas how to style the clean lines of her
Wayward Collection
. 
The dilemma here is that a lot of girls would love to play with vintage, but don't necessarily know how to style it. And a lot of us love minimalism, but feel a little boring wearing it. And a collection that's made out of both? It'll make my heart somersault but make others use the phrase that makes my teeth set: "I can't pull it off."
Oh you can, boo. And I've got tips on how.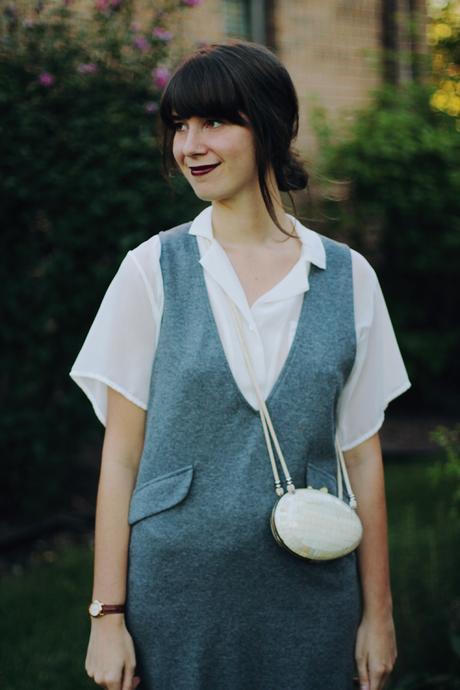 I have found - after much trial and error, and
too
many Jerry Seinfeld normcore outfits- that the trick to pulling off minimalism is to focus on the accessories. But each accessory has to have a
purpose
. My
Wayward Collection dress
is a simple vest-looking number. I didn't want to break up its no-fuss lines by adding a lot of stuff on top of it, so instead I focused on a few key accessories that would bring interest to the look.
I chose a cross-body bag that was simple but had an unusual shape, a shirt to layer underneath that was quiet like the dress but brought texture to the look with its sheerness, chunky black sandals to add contrast to the delicate-like features of the outfit, and then a simple vintage watch to tie in that old-school vibe.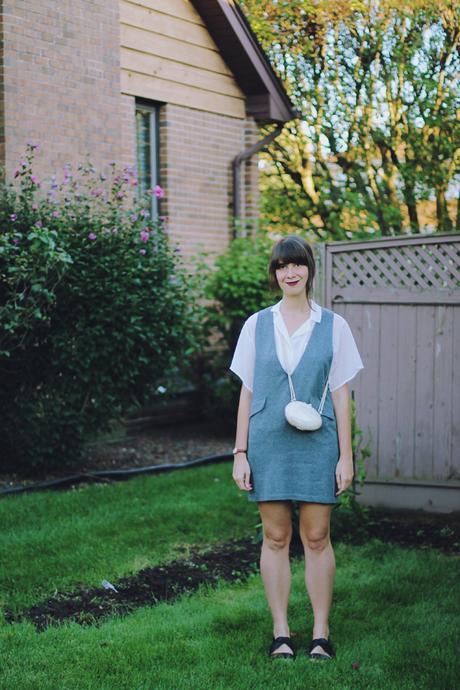 Each accessory had a specific job to play out: The shirt brought texture, the bag brought shape, and the shoes added contrast. Each element had a role to bring interest to the look, and because of it nothing felt too cluttered and it didn't take away from the original, minimalist vibe of the vintage dress. 
So next time you want to dress minimalist but are having a hard time making it look interesting, ask yourself: What's the purpose of the piece I'm adding to the look? Does it juxtapose, does it tie in the vibe, does it add subtle depth? Once you get the idea of roles downpat, it'll be easier to accessorize simply, but with a lotta oomph.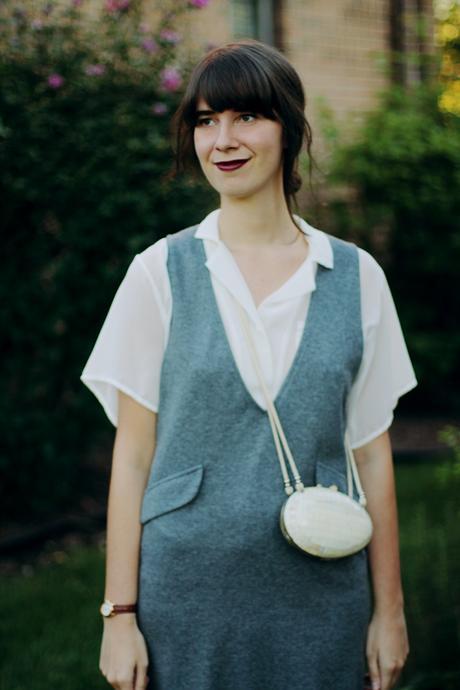 For more inspiration, here are some other accessory ideas incorporated into looks. Study them and think about why they work:
ONE:
  If you tie a silk scarf close to your neck over your dress, not only will it add a pop of pattern but also a timeless, Parisian woman type of vibe. Bonus points if you slip on bold, black sunnies, too! (
SOURCE
) 
TWO:
 Try giving your silk scarves a new purpose by ditching the hat option and tying it into a headband over your hair. The flirt accessory will give your dress a touch of playfulness. (
SOURCE
)
THREE:
 By draping a patterned scarf loosely over your neck, you add some interest to a simple summer dress, or add more pattern and color to one with a lot of personality.  (SOURCE)
FOUR:
 By being thoughtful with your purse choices, you can really change the feel and look of a dress. For example, weigh you color options when it comes to your bags and see which available hues will bring out the colors of your dress. In this look, the brilliant shade of mint really makes the lilac color of the flowers pop.  (SOURCE)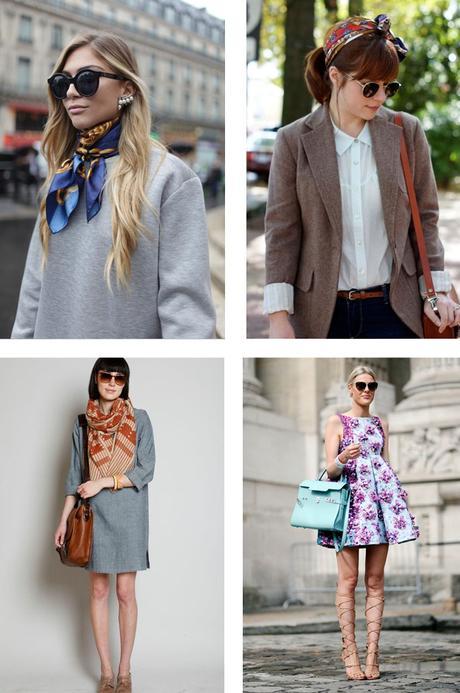 Let's discuss: 
What's been the most game changing summer styling tip you've learned?
Want more summer styling tips? Continue reading:
The Right Way to Wear Sheer This Summer
Make This Tweak to Your Summer Wardrobe Game
This Is How To Take Dress Layering to the Next Level
Don't Like Layers? Experiment with Colors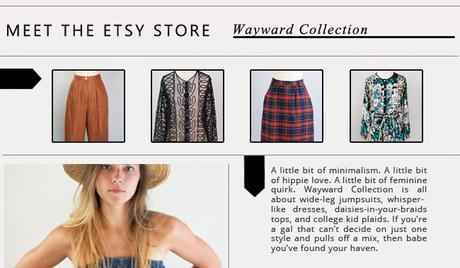 ONE |TWO | THREE| FOUR