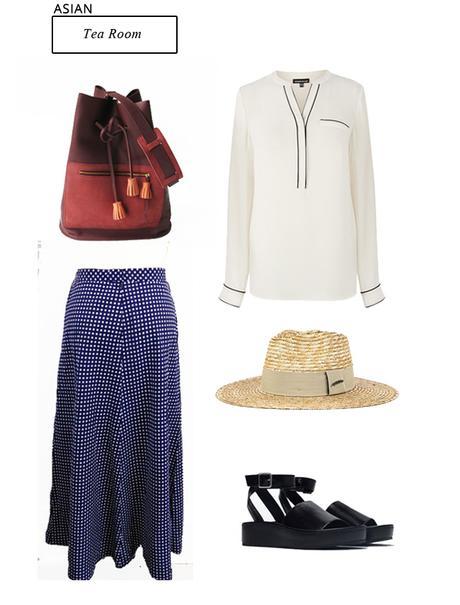 Forgo the usual cup of coffee and try something a little different. Go to a small sixteen-seater Asian Tea House and busy yourself with the wall-to-ceiling selection of tea tins. Maybe you're in a spiced orange and almond type of mood? Or maybe you have a yen for blackcurrent? Whatever your tastes, you'll look wonderfully chic in your minimal-with-a-twist look. Take a vintage polka dot skirt and pair it with a white blouse to give yourself a neutral base. Then have fun with the accessories by choosing a handmade leather bucket bag and clunky flatform sandals to give your look an urban feel. Add in a straw hat for some sweetness and you have your perfect Wednesday outfit.
Bottle Blonde Vintage polka dot midi skirt (only $30!)
Warehouse piped detail blouse
Brixton tan Dixie hat
Zac Posen everyday backpack
LaLisette leather bucket bag
Zara ankle strap sandals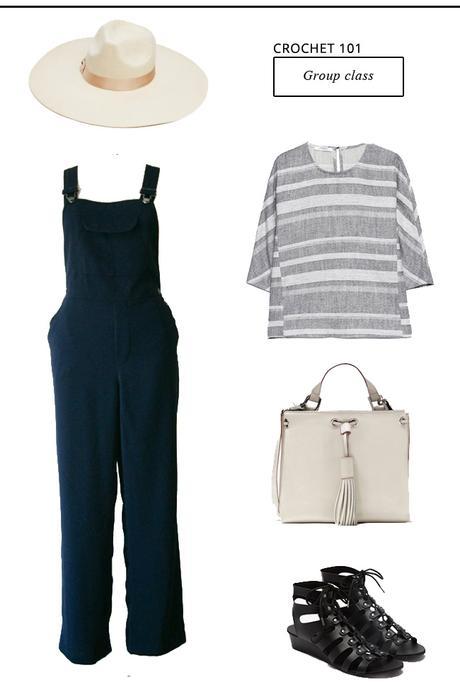 You've been lusting all season long over chunky knit scarves and those
cute crochet animal mounts
, and have decided that- enough's enough- you're going to learn how to make them. Grab a friend, a bottle of wine, and your determination and head to the crochet workshop, where skilled ladies will teach you just what to do with those intimidating hooks and needles. Since it might get a skosh stressful in the beginning (learning curves always are) dress comfy so at least your pants don't add to your frayed nerves. Go with a simple vintage jumpsuit, and pop a minimalist striped tee underneath for an unfussy look. Give it some interest with cage sandals, and then keep it polished with a square tassel bag and a wide brimmed hat.
New Old Fashion Vintage black jumpsuit
Mango striped jacquard blouse
Need Supply Co wide brim hat in ivory
Forever 21 lace up wedge sandals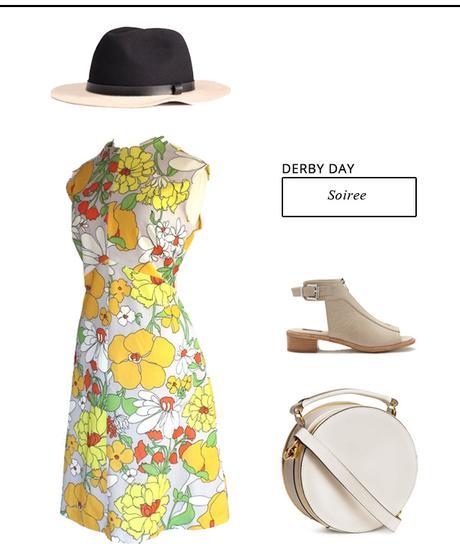 Grab your mint julep and act the part of the southern belle at a friend's derby day soiree. Men will come in pastel colored bow ties and girls in wide hats and floral dresses, and you're not one to miss out on a good dress opportunity. Opt for femininity and choose a vintage floral shift dress with pops of yellow and red. Keep the happy number looking classy by washing it with white, pairing it with a white circle purse cross-body bag, cut-out sandals, and a two-tone floppy hat. Now, how much are we putting down on horse number four?
Duncan Loves Tess Vintage floral mini dress
Forever 21 zippered peep toe sandals
H&M round shoulder bag
H&M wool hat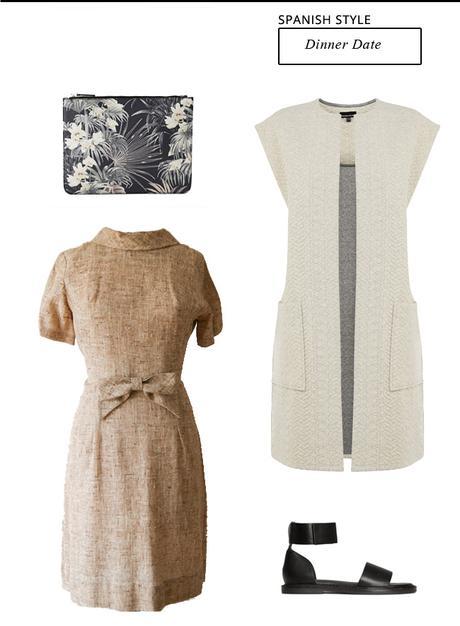 Order a peach brandy and get yourself ready for tonight's four-course seafood dinner. Debate whether you should get the scallops with bleu cheese polenta and pickled peppers, or the octopus with cherry mostarda and sweet garlic puree as you already dream what your next cocktail should be. With your best friend as your date, the two look like quite the dashing pair in your fancy duds. Opt to look understated but classic with a vintage dress in an old-Hollywood shape. Give the frock a modern touch by pairing it with a structured duster vest, and tie the look together by accenting it with heavy sandals and a palm-leaf clutch.
New Old Fashion Vintage linen dress
Warehouse sleeveless quilted jacket
Warehouse palm print pouch
H&M sandals
PS: Want more event inspiration? Read further on to:
What to wear to a burger bar and after work Manhattans
What to wear to a wine and tapas bar
What to wear to a truffle making class and a late late breakfast