So, as you've probably realised by now, I don't really stick to one style. One day I could be wearing the most feminine floaty floral number, the next manning it up in hefty leather boots. Today's OOTD is one of the latter variety. I kinda already knew this, but it was confirmed when a male colleague turned up wearing a virtually identical outfit.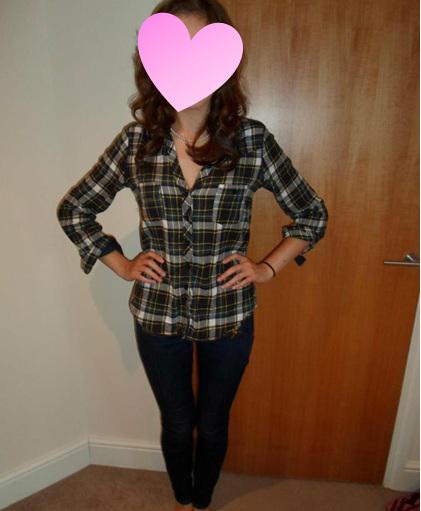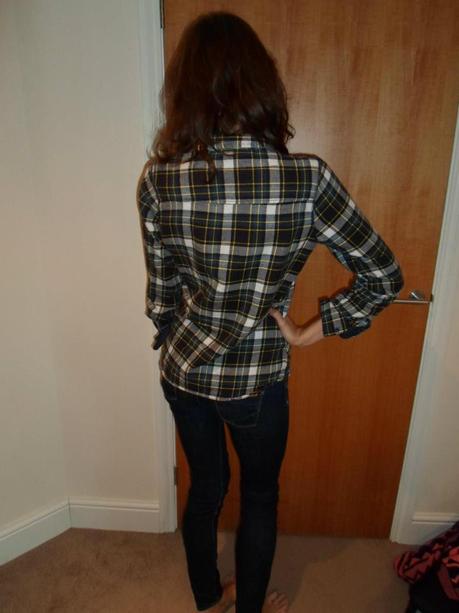 Anyway this Lumberjack style plaid shirt was a River Island sale bargain for something ridiculous like £10. I deliberately bought a size up to make it a bit looser, as I think it suits it better. I always leave the top few buttons undone and roll the sleeves up a bit in a kind of carefree 'I've just thrown this on' way. Another bonus about this shirt is you can get away without ironing it, perfect if you're in a hurry or just too lazy. Here I've teamed it with my faithful skinnies and I wore yellow plimsolls (not shown) on my feet. In the winter, I tend to wear it with chunky ankle boots (even more manly), and a gilet if it's particularly cold.
While I doubt you'll be able to find this exact shirt now, there are always many similar ones about on the highstreet in shops such as Primark, where I got this one, shown in a previous post. Failing that, just raid the nearest men's department. I find a size S normally fits me fine.
All in all, I think every wardrobe should own at least shirt like this – I practically live in mine.