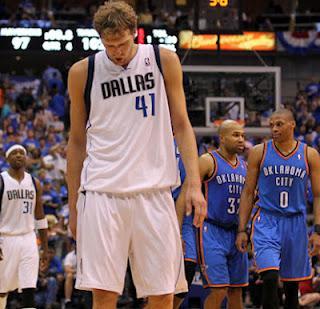 Photo: US Presswire
- Troy Ballard
At least we always have '11. 
That seems to be the tune in Dallas following the defending champion Mavericks getting bounced out of the first-round of the playoffs by the Oklahoma City Thunder. Despite all four games coming down to the wire, the Mavs' were just out-hustled, outplayed, and were frankly -- just too old.
Dirk Nowitzki was his usual amazing self, but not even the magic that he pulled last year could save Dallas. The Thunder were dominant, especially in the fourth quarters, where it was obvious that young legs helped propel the team to wins. 
It is clear, after the team was swept in the first-round as defending champs, Dallas has to make changes. 
The original plan of Mark Cuban (aka I have deep pockets, and I am not afraid to show it), was to make a power-play in free agency this off-season and try to land both Deron Williams and Dwight Howard. Of course, that plan has been somewhat foiled, as Howard is locked into Orlando for one more season and Williams is still contemplating staying with the Nets in Brooklyn. 
Oh, think of how grand the three D's could have been -- Dirk-Deron-Dwight. This combo practically screamed championship, and the talent level would have been unreal to watch. 
However, reality has struck Cuban and the Mavs', as the team is looking at
maybe
 getting Williams (it would seem like a natural fit, as he is from Dallas and on and on), and that's about it. Cuban made the bold move last season to allow Tyson Chandler, Deshawn Stevenson, Caron Butler and JJ Barea all to leave in free agency, and now he is the feeling the sting. 
Dallas is going to have to go gonzo by landing Williams, or make a drastic trade to acquire talent to surround Nowitzki. There will always be a handful of moves in the off-season, but looking around, there isn't really any elite talents that are on the block or are looking for trades. 
It's essentially Williams or bust. 
The team could easily go out and sign some role players here and there that can make a nice impact off the bench, but the chances of finding a solid starting contributor if the Williams plan falls through -- slim. 
Not to mention, without Chandler the team's defense in the paint was totally 
abysmal
 this season. With no shot blockers on the floor, the Mavs' were often burned for easy lay-ups and dunks without a reliable defensive presence. 
Dallas and Cuban have backed themselves into a corner with an aging roster, little trade fodder, and a low enough draft pick to get no one of mention. The team may have cap-room, but may or may not be able to convince Williams to sign-on. The defense went from stellar to abysmal. And Dirk is one-year older. 
At this point, although it seems radical, Dallas should consider blowing-up the roster and rebuilding. The team is eons away from championship form, and even with the addition of Williams, that won't be enough. Cuban has put the team in a situation where there is almost no good end-result, and the best thing to do now is just to cut losses and plan for the future. 
It may be painful Dallas, but at least the team still has '11. 
Be sure to follow Beard and Stache on Twitter @BeardAndStache, and also Troy @TroyBallards, Like our Facebook page HERE!