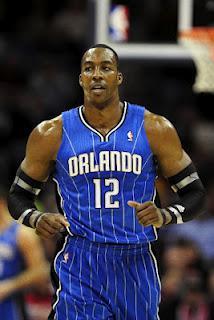 Photo: US Presswire - Jason Miller
- Troy Ballard
The Orlando Magic should consider investing in an MTV reality show for the conclusion of this season. I can imagine it now: 
Disgruntled Superstar - The Dwight Howard Story!
Despite jumping through hoop after hoop, the Magic can't seem to keep Howard happy. First it was the team didn't have any other talent on the roster (which is still true), and the team flirted with losing the best center in the NBA to free agency. Luckily, (more like magically), Howard signed a one-year extension and is locked in for next season in Orlando.
However, an issue of monumental proportions has taken hold -- Howard and Head Coach Stan Van Gundy's chumminess has totally evaporated into thin air.
A little over a month ago, Van Gundy let slip that Howard told management that he wanted him fired after signing his extension. Howard responded poorly to the accusation. Van Gundy responded even more poorly. It turned into a total mess, but Van Gundy still kept his job.
Now, there is no denying what was said before -- Howard has bluntly told management that
he won't play for Van Gundy under any circumstance in the near future
.
This statement comes from Howard when he is currently nursing a hurt back that will likely sideline him for the remainder of the regular season and also the playoffs. It's a perfect crime. Howard says he wants Van Gundy out, and conveniently, he won't be able to play or practice with the coach for the entire rest of the season.
Then, once the Magic's likely first-round sweep in the playoffs has concluded, the front office hands Van Gundy his walking papers and some weak excuse about letting him go. Howard gets off scott-free and never has to deal with the fallout from the inevitably disgruntled coach.
MTV is still drooling at the potential drama that could happen if Van Gundy and Howard somehow get into the same room. Forget
Basketball Wives
! We have potential for a full blow-up of Gus Johnson proportions from two generally timid guys. How can reality television get better than this?
Seriously though, Howard has gone power-crazy with the Magic. This new era of NBA superstars think they have the power to control what a front office does. And the sad part -- they really can.
Howard, much like LeBron James in Cleveland, has almost total control over what happens to every single player, coach, and front office manager in the organization. The only person who is safe is the team owner, and that's just by proxy. It's not a democracy where the Magic organization votes and decides what is best for the future, it's whatever Dwight wants.
Fans and ownership will justify the radical changes sparked at Howard's request -- because after all, he is the best center and quite possibly the best player, in the entire NBA. Right? That makes it totally normal for Howard to have a driver's seat in what happens to Van Gundy. Regardless of how talented of a coach he may be, he ticked off Dwight, so he's gone.
The worst part is that this is just a small sample of what Howard could become. The moment that Orlando caves and fires Van Gundy, the organization has handed the keys to a player that is not only being incredibly selfish, but also absolutely irrational.
People think this is bad? Wait until Howard gets the full realization that he can do whatever he wants in Orlando. Sure, he might stay long-term, possibly even for the remainder of his career, but at what cost? The Magic need to tell Howard no, keep Van Gundy as the head coach, and start to act like an actual NBA organization.
Be sure to follow Beard and Stache on Twitter @BeardAndStache, and also Troy @TroyBallards, Like our Facebook page HERE!