When SheJumps asked me to be a part of the defineFEMININE event this week at the Seattle Artcteryx store, I wasn't quite sure what I had to bring to the table. Sure, I'm a woman in a pretty testosterone-heavy industry. Only 20-30% of ski patrollers are women. But I've never really thought of myself as all that unique.
I just finished my 26th season as a ski patroller at Crystal Mountain. That's more than half my life (just barely, but who's counting, right?). While considering what wisdom I might have to add to a group of amazing ladies offering support through participation in outdoor adventures, I realized that my attitude toward myself and my job have changed over the years. I never used to think about what it meant to be a female patroller.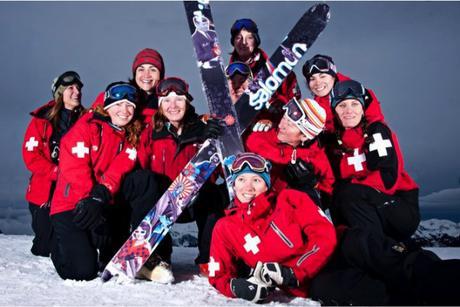 The women of Crystal.
I just put my head down and acted like one of the guys.
In fact, I probably pushed the testosterone level up a notch. If a group of us were headed into Southback for avalanche control, I'd be at the head of the pack, breaking trail in waist-deep snow. If another patroller laid down an auger challenge*, I'd be the first one out the door with my skis on. Race to the top of the Queen via hiking up from Powder Pass? I'd push myself until my lungs burned. The stairs to the Summit House were buried in two feet of snow drift? I'd be out there with a shovel and Pulaski until ever speck of ice was gone.
I didn't want to be known as a good female patroller. I wanted to be known as a good patroller, period.
And I still do.
The climate for women in the outdoor industry is changing. Through groups like SheJumps and with the examples of badass professionals like Lynsey Dyer, Lel Tone and Elyse Saugstad, women are banning together to create a sisterhood.
Today's sisterhood is supportive and inclusive. The rules of engagement haven't changed. Professional outdoor women still have to be twice as strong as the guys, and we can never blame our PMS. At least not in front of the guys. Instead, we can rely on the burgeoning sisterhood of others like us–those that have forged the way and those that are just dipping their toes in for the first time.
At the defineFEMININE event Thursday night, I shared the stage with some amazing women. Diane Hoff paved the way for female climbers in the Northwest and served as the first female president of the Mountaineers. Kristina Ciari found her outdoor passion in backcountry skiing and is going on 43 consecutive months of turns all year, all while wearing a pink tutu. Jenny Abegg is coming off a year of van life, chasing the climbing dream across the globe. One of my favorite moments of the evening was Jenny's description of some of the setbacks she had on her trip. She said, "the way I react to this matters." And she's right. We make our reality moment to moment. Claire Smallwood, co-founder of SheJumps shared her journey of shifting self-perceptions. Sometimes we never truly see our best self until we risk jumping in. Claire did that with SheJumps and a sisterhood was born.
I was honored to share my story with this amazing sisterhood. My hope is that more women can find their true strength by jumping into adventure.
*The auger is a designation held by the patroller who most recently fell while skiing in uniform. If one holds the auger (or actually is wearing the wooden auger bit around his or her neck), he or she can challenge other patrollers for a run. If the other patrollers refuse to join the challenge, the auger holder can simply pass it over to the refusee.