You may have noticed our three Gazex exploders in Powder Bowl. They are hard to miss. After a full season under our belt (2014/15 doesn't count), it's time to ask ourselves how effective these bad boys truly are.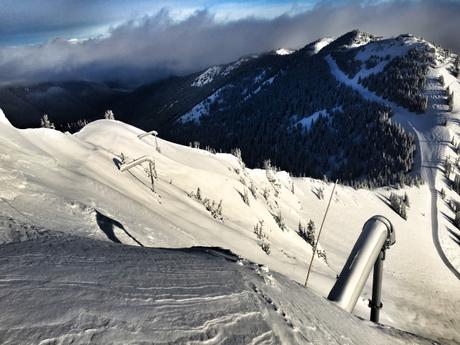 Exploder #1 in the foreground, with #2 and #3 to the left
Just the other day someone on the chairlift asked me if they were winch cat anchors. While we do some serious high-angle grooming here at Crystal Mountain, that would be a bit extreme even for us. Nope. These are Gazex Exploders and they spit out a fiery boom to create avalanches.
These exploders work by mixing oxygen and propane and then lighting it on fire. The igniter is essentially a glorified BBQ lighter. You know that tick, tick, ticking sound that happens when you press the red button on the side of your Weber and then it ignites? Imagine that but about a gazillion times bigger. Let's just say that the whoomph sound in Powder Bowl can be heard all the way down in A Lot.
Chet Mowbray, the Snow Safety Director at Crystal, calls Gazex "a very effective tool." It allows us to fire the exploders remotely. This means we don't have to be at the top of Powder Bowl to start avalanches. We can be in patrol dispatch. We have also fired Gazex at night, when the snowcat operators need to drive under Powder Bowl to get to the top of the mountain. During a heavy snowstorm or when the avalanche hazard is high, this allows our cat operators a safe way to move around the mountain.
Gazex is also fast. The current speed record at Crystal from start to finish is ten minutes. Any opportunity to shave off a few minutes on a powder morning so we can get the lifts spinning asap is a good thing.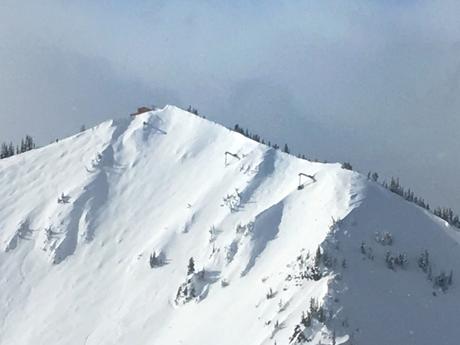 Powder Bowl with Gazex Exploders
One Gazex explosion is the equivalent of 25 pounds of explosive in the air. Most of the explosives we use for avalanche control are 2 pounds. When an explosive is "in the air" that means it is hanging above rather than thrown onto the slope. By hanging a shot in the air, it creates a much larger attenuation and is much more effective.
We hope to add to our quiver of exploders in the future. A few more in Powder Bowl would eliminate an entire Avalanche Control route, allowing us to open that much faster. Another location we are currently looking at is Rock Face–a permanently closed route with several trams and a cat track below it.
Gazex won't eliminate hand routes, however. We will still need ski patrollers for AC here at Crystal. I, for one, am happy about that fact.
Gazex saves time, creates a bigger boom, makes it safer for our cat crew and shoots balls of fiery awesomeness onto the slope. What's not to love?