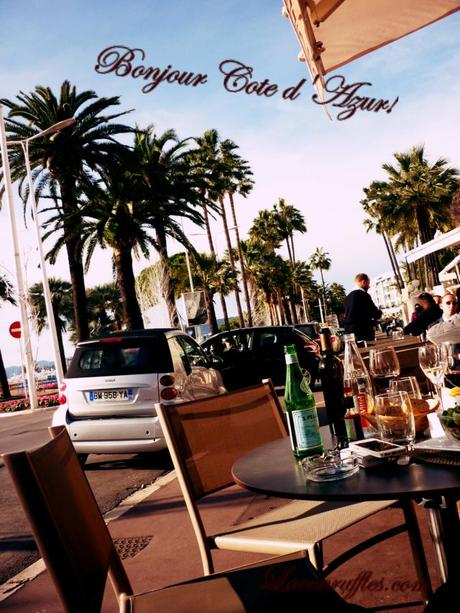 My Cote d'Azur was much more than just the coastal blue.
Cote d'Azur, or the French Riviera in English, literally translates to 'the blue coast'. I was greeted by the shimmering blue from the Mediterranean sea, brought glittery under the golden sun that was shining bright on a winter day as I drove into Nice on the grand Promenade de Anglais.  The scenery around looked so much déjà vu, though it was my first visit. "This looks exactly like a 1950s movie set in an Audrey Hepburn film!' said my girlfriend with eyes shining like kids in candy store.
The only regret was that we didn't frock up in Audrey Hepburn vintage style, yet I loved my fluoro yellow knit which seemed to blend in so harmoniously with the many colours at Cote d'Azur. Best place to capture them all? You can't go past the Cours Saleya market – it's simply a feast for the eyes as much as for your taste buds! Cours Saleya is the nerve centre of the old city of Nice, where the French showcases their bustling marketplace and cafe scene. The plaza bursts into a firework-like show of colours every Tuesday to Sunday, when vendors line both sides of the walkway with fresh blossoms, sun ripened fruits and oil paintings of this charming old town . From the yellow stone heritage buildings on the side of Cours Saleya, cafe outdoor tables lined in red tablecloth, to those beautiful blossoms, all colours burst into life basking under the Mediterranean sun – so intensively blinding that you almost need your pair of sunglasses anytime of the day!
And the most colourful backdrop for a photo shoot in your brightest outfit while in Cote d'Azur? Hop on to one of those orange Velo de Ville rental bicycles and ride along Promenade de Anglais, the amazing colours will transform any pictures into pop art pieces.
So tell me Dear Reader, what colour is your Cote d'Azur?