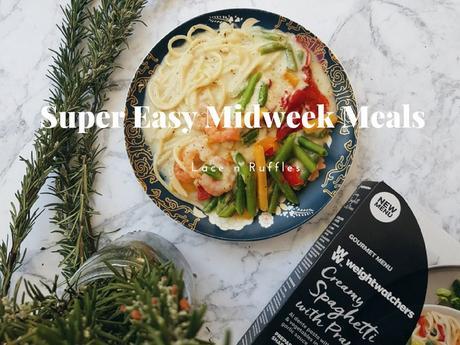 This post is sponsored by Weight Watchers, but all thoughts and opinions including recipe ideas and meal suggestions are my own.
Are you trying to eating healthily and nutritiously during the week? The struggle is real. Yep, let's face it. Being time poor and too socially active, sometimes it's just really difficult to stick to your healthy eating plans. Are you nodding your head? I've been there and I know how easily you can just let it slip. Spending an hour in the kitchen every day to prepare meals - who's got time for that?
I'm here to help you, ladies. One of the hardest part to make any healthy eating goal work is to be realistic on how much time you can commit to cooking. That's why I opt for buying prepared and snap frozen meals that are wholesome and delicious at the same time. I jumped on to it when I was given the opportunity to taste some of the WeightWatchers meals with their newly launched Gourmet Menu sub range, focusing on modern flavours and mouth-watering recipes. Seeing brown rice on the menu is refreshing and seriously exciting.
Trust me, getting meals that are caring for your body is super easy. The key is to plan ahead. Here I'm sharing my carefully curated 4-day meal plan that incorporates four wonderfully wholesome and tasty meals from WeightWatchers. I guarantee your taste buds will feel their best throughout the entire week. All the recipes I refer to can be found here.
4-Day Healthy Meal Plan:
Day One
Breakfast: Matcha Oats & Chia Seed Pudding
My all-time favourite breakfast recipe to start my week right! There are lots of variations to this oats & chia seed pudding recipe. The basics that you need are rolled oats, chia seeds, almond milk and malt syrup to form the pudding overnight in the fridge. I'm slightly obsessed with matcha (Japanese green tea) powder lately and find it so delicious when blended in these chia pudding pots.
Lunch: Creamy Spaghetti with Prawns (WeightWatchers Gourmet Menu)
Prawns in a creamy garlic & white wine sauce with al dente spaghetti, green beans, red capsicum & yellow carrots - oh la la! This meal contains 25% vegetables and comes with a 3.5 health star rating. Fancy healthy lunch on the fly, anyone?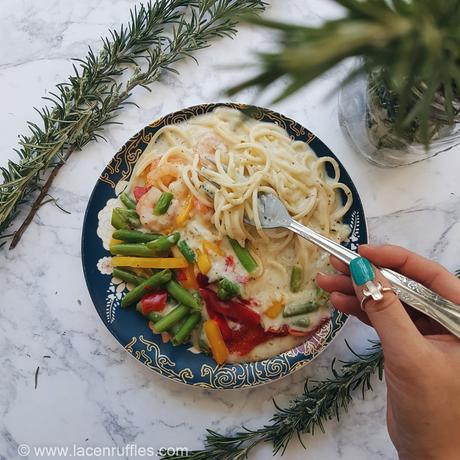 Dinner: Papaya Banana Smoothie Bowl
Who says you can't have desserts for dinner? Not only that smoothie bowls can satisfy your sugar cravings, they also make the perfect quick Monday night dinners after my yoga session. It's delicious and nutrient-packed to reenergise
Breakfast: Acai Berries & Grapes Smoothies
You can whip up this seriously addictive smoothie in under 5 minutes!
Lunch: Creamy Tuna Bake (WeightWatchers Classic Menu)
Flaked tuna in a creamy sauce made with corn, peas, cheese, onion & garlic served with wholegrain spiral pasta & broccoli. You'll be delighted to know this meal contains 26% vegetables and 11% wholegrains. It's a refreshing modern twist to a classic recipe that I have loved since my junior school years.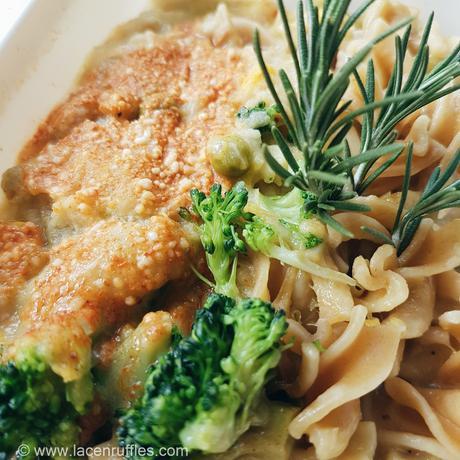 Dinner: Braised Kale Frittata
Another simple recipe that are a breeze to make.
Day Three
Breakfast: Acai Oats & Chia Seed Pudding
Lunch: Thai Red Prawn Curry (WeightWatchers Gourmet Menu)
Your taste buds are about to get very happy! Prawns in a Thai red curry with coconut milk, sliced zucchini, sugarsnap peas, yellow carrots & red capsicum. It's served with a side of steamed brown jasmine rice that is so fragrant. This meal contains 36% vegetables. It's a very lovely spicy curry with a rich coconut taste - a guaranteed winner if you love Thai inspired spices!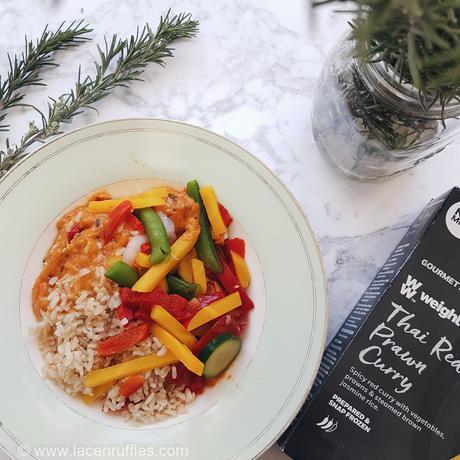 Dinner: Mushroom Avocado Boat
Just add sauteed mushroom over the top of a halved avocado. Season with sour cream, lime, sea salt & pepper - simple! This is a recipe that I adopted from my favourite food truck at a local market. Here's another quick easy meal that's done in under 10 minutes.
Day Four
Breakfast: Almond Butter Granola Bowl
Drool-worthy from every angle!
Lunch: Mushroom & Pumpkin Risotto (WeightWatchers Light Menu)
This meal is prepared with white wine, parmesan, garlic, lemon juice, herbs and spice.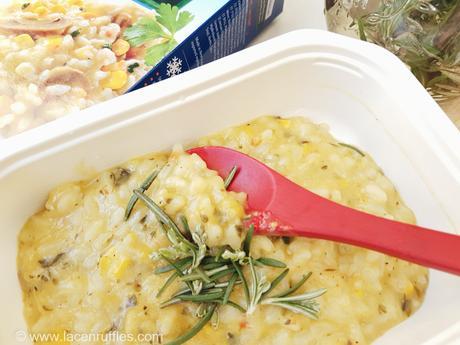 Dinner: Kale & Tofu Salad
I love to personalise this recipe by adding raw sun dried seaweed which has high protein and mineral content. Also sprinkle some roasted sesame seeds on top to add some crunchy texture.
Handy tips:
Grab a bunch of fresh herbs and sprinkle them on top of your frozen meals before serving. Fresh herbs are must have to spice up your quick meals! Adding pretty shades of green to your plates also makes any #foodporn photos extra Instagram-worthy.
I found these WeightWatchers meals all being seasoned to suit my taste just so perfectly. But if you want to add salts, make sure you use natural sea salt rather than the iodised one which is much more nutrient dense,
Always start the day off right with a glass of warm lemon water. Make it a habit to do it as the first thing when you get out of bed. This will help cleanse your digestive system. Drinking lemon water has all sorts of other amazing health benefits which I've previously blogged about .
Craving something sweet in between meals? I know that struggle especially around late afternoon! Have a small handful of dried fruits handy will help you beat those cravings.
So dear fellow readers, here I'd love to challenge you to find four meals from the WeightWatchers range to incorporate into your own healthy midweek meal plans. The wonderful thing about these gourmet frozen meals is that you can pick them up online anytime or from the local supermarkets. You don't need to go through the hassle of placing an order, and you can buy in bulk to save when they're on special. The best part? You don't have to worry about your meals going stale if social plans come up, as they're snap frozen to lock in taste.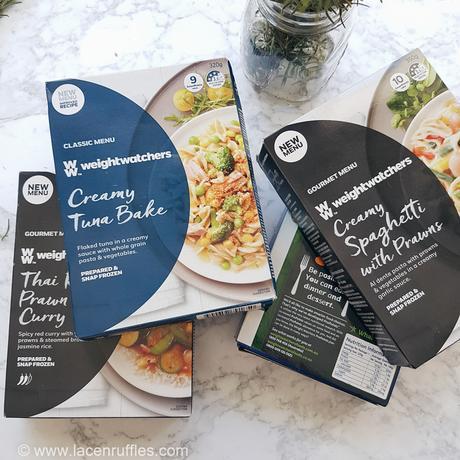 I really hope you love them as much as I do. Go head, take the challenge and let me know how you like them! Let's do this!
This post is sponsored by Weight Watchers, but all thoughts and opinions including recipe ideas and meal suggestions are my own.
Until next time. Stay well.