Dear Classy Career Girl!

HELP! A friend of mine has been job hunting for several months now, and I just found out she doesn't have an "interview outfit". Any advice on some basics for someone on a tight budget?

We're going shopping tomorrow, and I'd like to find her some basic, black, closed toed shoes, and maybe a pair of gray slacks. Any quick advice for a top? Collared shirt with a light suit jacket? Thinner blouse with an open sweater? I'm thinking something close to the outfits you posted from the five-days-of-style post earlier last month. – Fashionable Friend
Hi Fashionable Friend,
Thanks for your question!
The first thing I would do is scope out her closet and see what she already has that could work.  Figure out what she really needs before you head to the mall.  That way, you will make sure she doesn't buy things that she doesn't need.  Does she already have pants that she could use?  If so, I would find a suit jacket that matches her pants.  The colors don't have to match exactly. I honestly think one of the most important parts of an interview outfit is the blouse or collared shirt that goes underneath the suit jacket.  For me, I could have a fabulous suit all ready to go, but if I don't like or feel comfortable in the shirt underneath, then it comes off before I head out the door.  You would think that the shirt underneath the jacket might be the easiest to find and you probably wouldn't have to try it on with the jacket, but I urge you to definitely try on the whole outfit before the big interview day!  Keep in mind that it doesn't have to be a collared shirt. My favorite shirts under suits are short sleeve blouses with no collar.  Not only can you wear these shirts under suit jackets, you can also wear them on the weekends or to happy hour!  Here are some examples of my favorites blouses for under suit jackets from the Loft.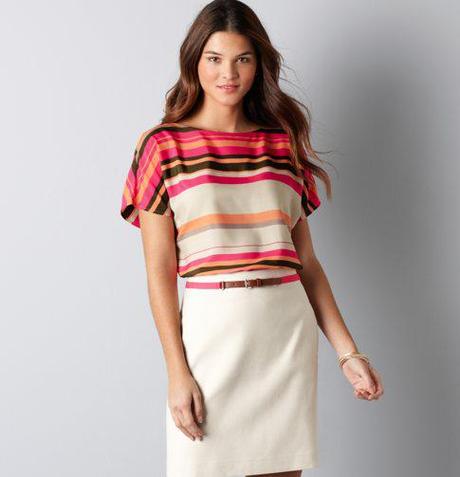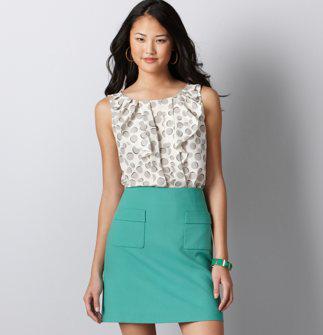 Another thing that she could look into if she doesn't want to buy a lot of different items right now is borrowing clothing from a friend and participating in clothing swaps.  This can sometimes be a great way to find something that your friends no longer want anymore.
Closed toed shoes are also a must. And I don't recommend a sweater for an interview unless you know that it will be a casual environment. It is always best to play it on the safe side though if you don't know.  You sound like a great friend and someone who already has it all together fashion wise! I am sure she will look and do great!  
Hope this helps! 
Anna
Readers, what is your advice for Fashionable Friend?