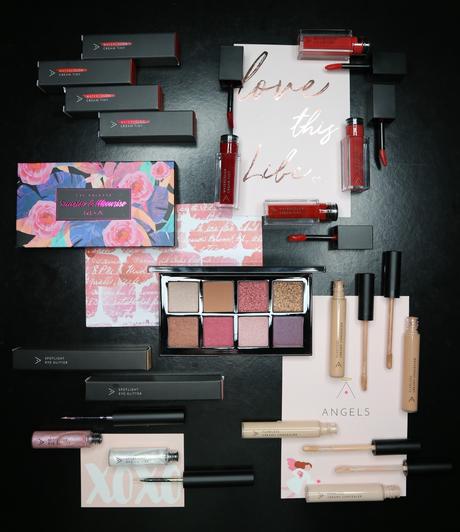 Photo taken from @ireviewureadsh Instagram
Athea Korea Makeup
Previewed on my Instagram, I'm here with my first official makeup tutorial of 2019. Inspired by the month of February, I've created a very red makeup look suitable for special occasions. I'll also be using and featuring Althea Korea's new line of makeup in this look. With that, let's start.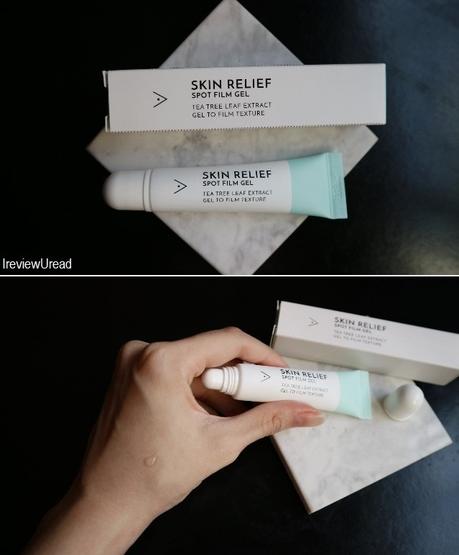 Althea Skin Relief Spot Film Gel
We're going to start with the basics, skincare. Skincare is fundamental to flawless skin and beautiful makeup. That's why there are so many different KBeauty methods from 7 step skincare to glass skin routine. Personally, I stick to the basic skincare method for it is the quickest and the most efficient.
Despite that, your skin might still go against you and pop out a pimple right before an important occasion. Those are the time where you need some coverage. Before piling on the makeup, you got to take care of your skin. That's where Althea Skin Relief Spot Film Gel comes in.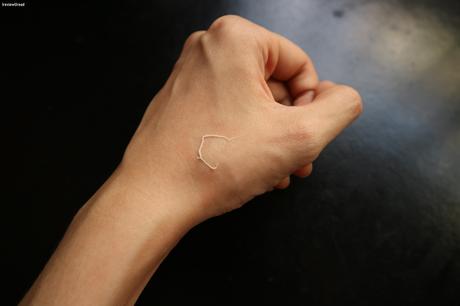 Packed with various acne relief ingredients from Tea Tree oil, Centella Asiatica Extract and Pine Leaf Extract, this product is the perfect spot treatment. After application, the product will dry down to a thin transparent layer that not only protects your acne from being irritated but allows you to apply your makeup evenly.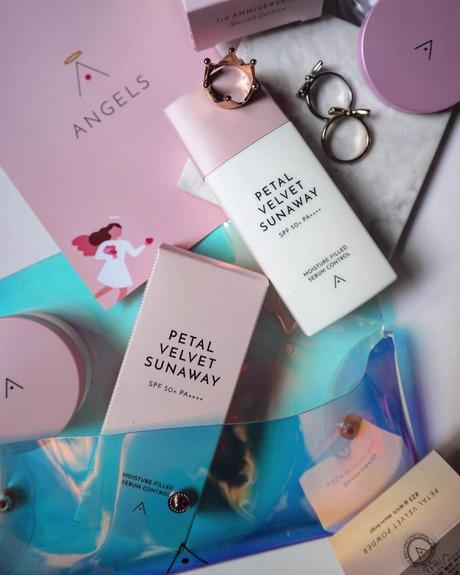 Taken from IreviewUread Facebook
Althea Petal Velvet Sunway
After you're done with your skincare, sunscreen is the next step. Although not touched on in the video, sunscreen is the most important step in every morning routine. Made of Damask Rose, Althea Petal Velvet Sunway is light and hydrating. It has a micro powder barrier that helps with sebum control. That leaves your complexion soft and mattee. Additionally, the sunscreen doesn't leave a white cast on your skin.
The Althea Petal Velvet Sunway is part of the Petal Velvet line, that means you can purchase this and the famous Petal Velvet Powder as a Petal Velvet Set.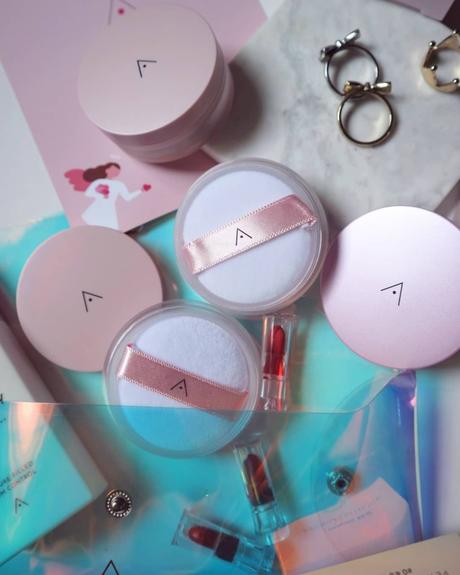 Taken from IreviewUread Facebook
Althea Petal Velvet Powder
The Althea Petal Velvet Powder is a wonderful product. You can use it for setting your makeup, blur your pore, controls your sebum without harming your skin. You can read my extensive review on the Althea Petal Velvet Powder on the blog. In this makeup tutorial, I'll be using the Petal Velvet Powder as a base and a setting powder.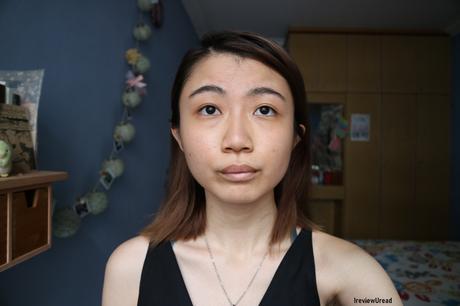 Before Makeup | Step 1
The first step, we're going to pat a thin layer of Althea Petal Velvet Powder all over the face so that there's no excess oil. Plus it acts as a base for all the makeup.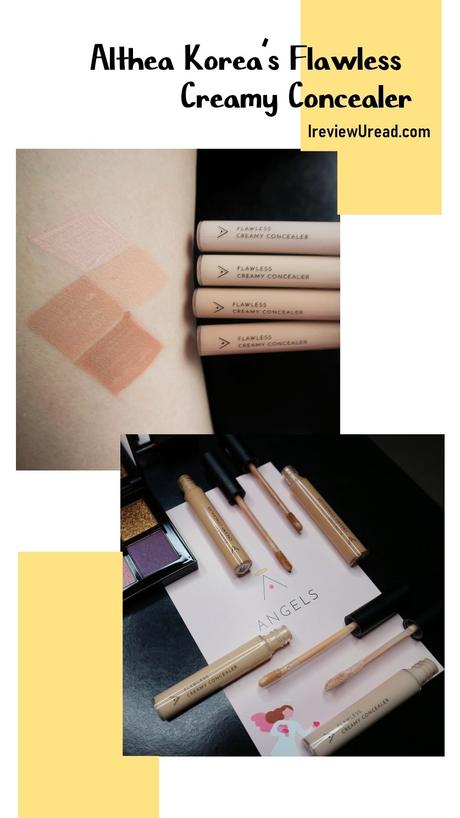 Althea Flawless Creamy Concealer
Next, we're going to use Althea Flawless Creamy Concealer for three uses - to conceal, highlight and contour. With a strong pigmentation, the concealer is great for hiding spots over a long period of time. It is also made out of Aquaxyl that prevents the skin from dehydrating during application.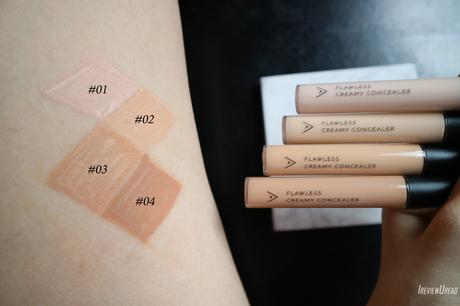 The Althea Flawless Creamy Concealer comes in 4 broad shades:
Upon application, the concealer felt creamy and moist. It gave off a baby powder scent too. After absorption, the color of the concealer complemented the skin better than before. Thus it may look slightly darker than when it is in liquid form.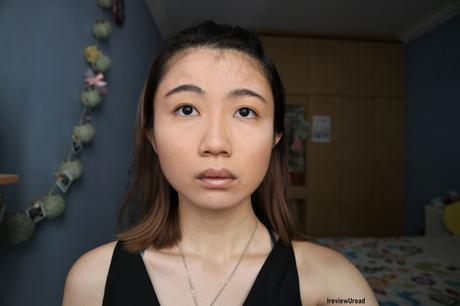 How to Contour without a contour
Do you know you can contour your face without a contour? With Althea Flawless Creamy Concealer, you can easily do that. Using #04 Mocha as the contour and #01 Vanilla as the highlight, you're able to contour your face according to the example template above.
The positive factor of using a concealer as a contour is the full coverage the concealer has. However, do use the concealer sparingly or your face will look overly cakey.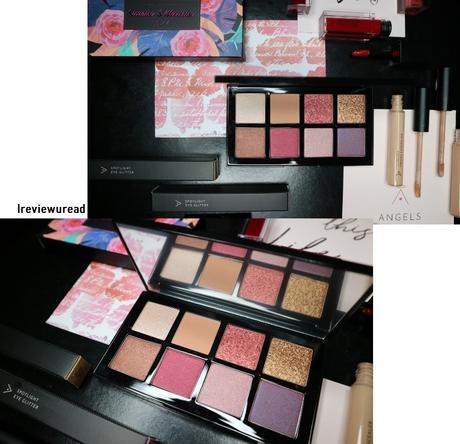 BCL X Althea Sunrise and Moonrise Eye Palette
After contouring, I'm going to move to the eye makeup. Before all of that, do prepare your eyes by spreading #01 Vanilla Althea Flawless Creamy Concealer as a base. This help creates more prominent eye makeup.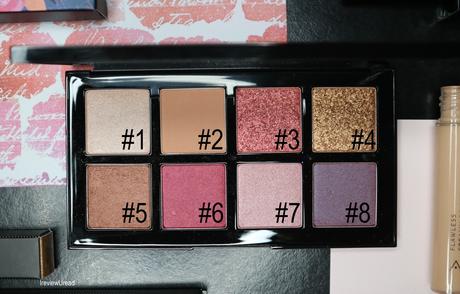 In the collaboration palette between Bunga Citra Lestari and Althea Korea, you get 8 shades. 2 glittery shades, 1 matte and 5 shimmer shades. The eye palette is mixed between the natural brown colours and various vibrant pink shades. It is made of finely milled pigments that allow the eye shadows to glide and blend easily. Personally, I love the colours in the eye palette, the glittery on having to be my favourite for they are so bright but they do require more layers of application to be vibrant.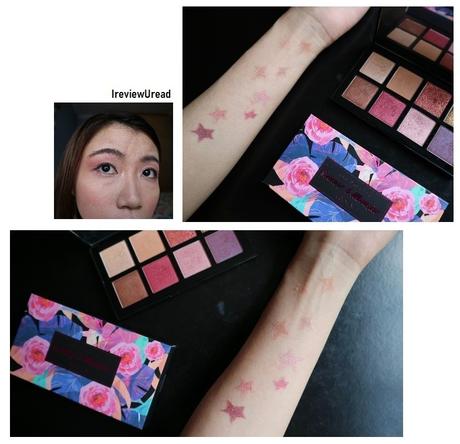 Red Gradient Eye Makeup Steps
Apply #1 over your eyelid as the base colour and the inner corners of your eye
Add #7 to 2/3 of your eyelid - the outer edge of your eyelid
Angle an old name card at the corners of your eye and add #6 to the end of your lids
Add #3 at the middle and the back of your eyelid. Highlight the bottom end of your lower lids with it too
As seen from the steps, I've focused on the pinkish part of eye palette in this tutorial considering this is a February inspired makeup look. With the brownish part, you can create a natural everyday look too however, that's a makeup look for another time.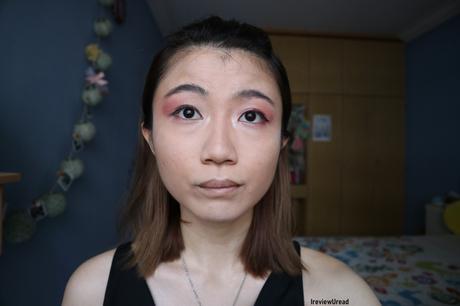 Apply Eyeliner + Mascara / Fake lashes
Following that, apply your favourite eyeliner and mascara. If you don't have eyeliner, use a straight liner brush and apply the darkest shade of eyeshadow you've got. Extend the line slightly at the end so that it looks like a baby wing liner.
Curl your lashes with an eyelash curler before mascara application. If you're into fake lashes, go for it. For my look, I'm going for mascara only for I have yet to master the fake lashes part.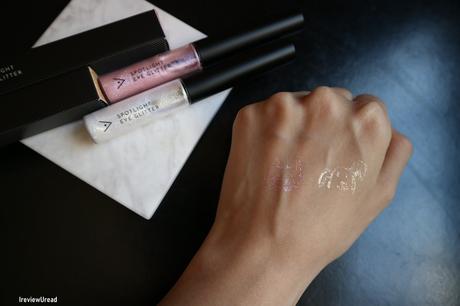 Althea Spotlight Eye Glitter
Eye Glitter, a great addition to perk up your everyday eye makeup. Althea Spotlight Eye glitter is not only long wearing but it's easily blendable as well. They contain squalene to condition and improve the suppleness of the applied area. It is also made with finely milled shimmer pigments for a reflective glow. They come in 2 colours:
#01 Gold Light
#02 Pink Light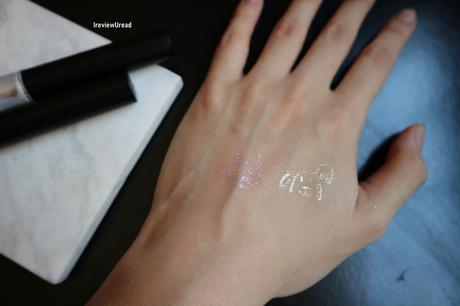 How to use Althea Spotlight Eye Glitter
Using #02 Pink Light, you're going to apply a thin line above your eyeliner.
Using #02 Gold Light, you're going to extend the end of #02 Pink Light line to create a small prominent wing. This help make your eye look longer and bigger.
In this look, we're going to use the eye glitter to emphasise and bring out the eye makeup we have applied.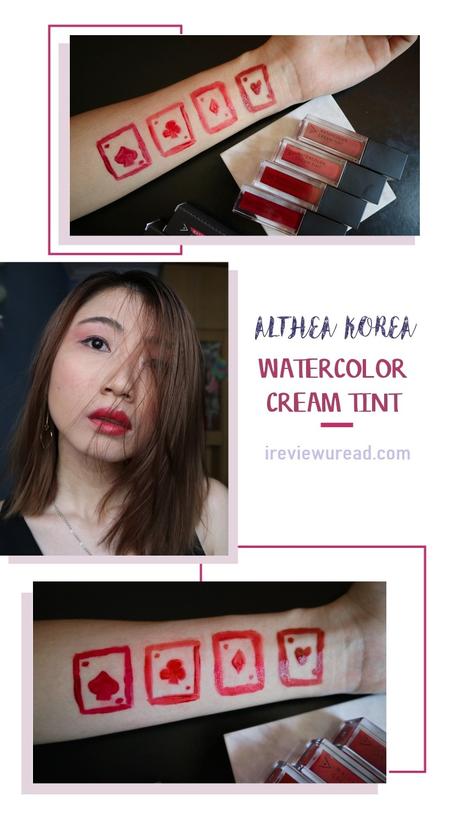 February Eye Makeup
With that, we're done with the eye makeup. Suitable for any occasion from Valentine's Day, Lunar New Year, Friendship day and date night. Moving on to the lips and cheeks,
Althea Watercolor Cream Tint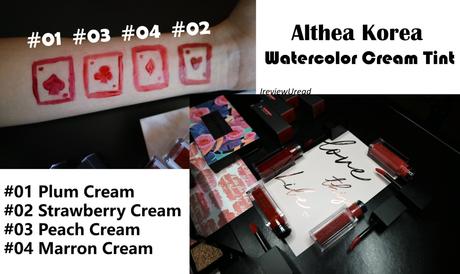 For the lips, we're using Althea Water Color Cream Tint. This cream tint not only felt moisturising but it is long wearing too. It contains Squalene and Hyaluronic acid. These help conditions moisturize and improve the lips condition while turning it into a sheen, glossy attraction.
#01 Plum Cream
#02 Strawberry Cream
#03 Peach Cream
#04 Marron Cream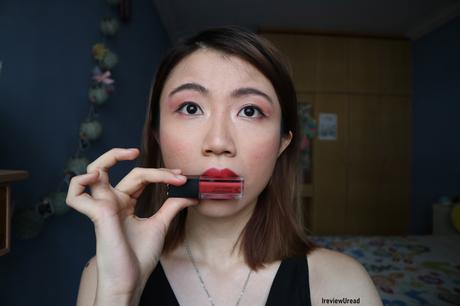 I love how the watercolour cream tint smells like passion fruit. Additionally, it is very pigmented and true to colour. It slides on my lips comfortably allowing application with it seamless. On top of that, it comes in a set too.
Althea Watercolor Cream Tint set comes in 4 shades: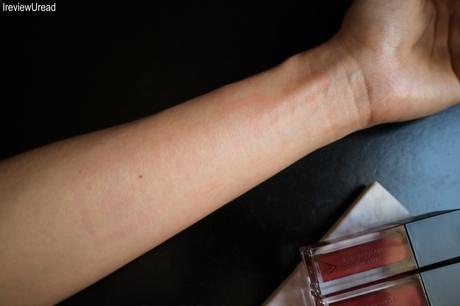 In this look, I'm using #03 Peach Cream for the outer lips and #04 Marron Cream for the inner lips. This helps me create a slightly fuller lip look. Instead of applying with the applicator provided, I used a lip brush for a more precise application. It helps me controls my application better.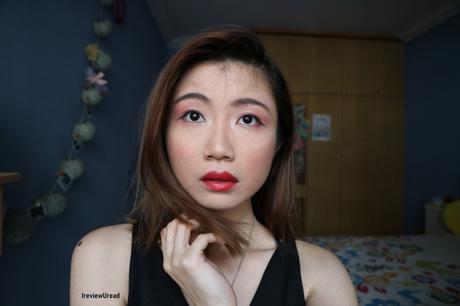 How to use lip tints as your blush
Since #03 Peach Cream was used as the outer lips, I'm going to use that for my blush as well. With #03 Peach Cream Watercolour Cream Tint, mark a dot on both cheeks. Blend it out with a damp Beauty Blender.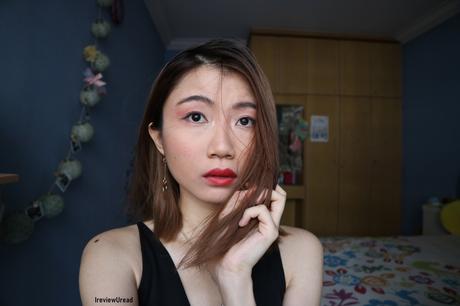 Do remember that this is a lip tint so try not to use too much of it on your cheeks for it will stain. On the bright side, you're able to produce the no makeup tinted look instead.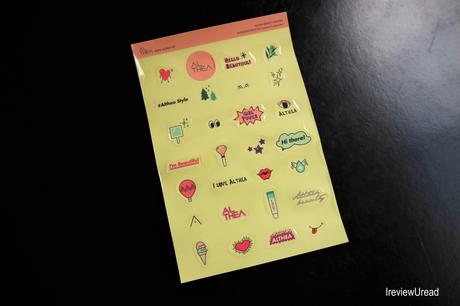 Western Makeup with Korean products | February Makeup Look
That's how you create a western-American based makeup look using Korean products. Personally, I think this is more of a combination of American and western makeup look but it mostly uses the western makeup technique so it's a western makeup look.
It's so specifically made with the month of February in mind for February is the month of Chinese new year, love and friendship. When you think about these occasions, they associate the colour red. That's where the inspiration for these looks come from.

Althea Korea Exclusive Products
That's the end of this post. You can check out My Korean Beauty Skincare Routine featuring Althea Pore Purifying Serum Cleanser and Althea X Titi Kamal Stay Fresh Body Sparkling Mist. Other Althea products include:
You can view and purchase Althea Korea Exclusive products on Althea.kr. Every purchase comes with Althea exclusive stickers that you can decorate your products with.