Vichy Aera Mineral BB Skin Breathing Blemish Balm Cream (SPF20)
Whilst shopping in a Watson's in KL, I came across a BB cream from the French brand,
Vichy
. As Vichy products contain thermal spa water, and has a great reputation, I decided to give this BB cream a try.
This is the outer packaging. I'm so sorry it got squashed in my luggage!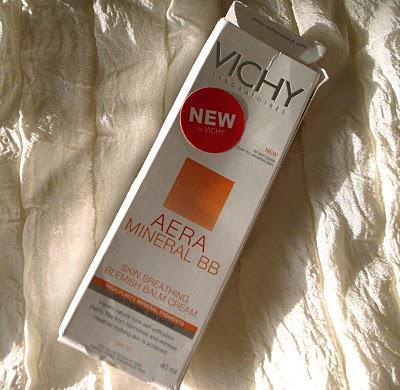 I really like the packaging of the cream itself. It's in a sleek pearly beige tube, looks nice and minimalist.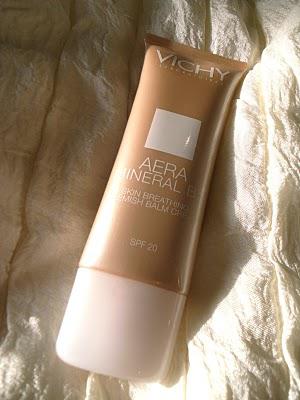 The cream only comes in one shade, a
light beige
color.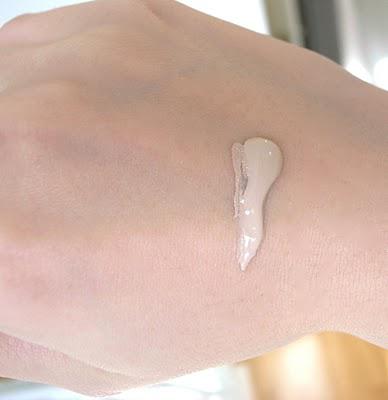 According to Vichy:
"Specially developed for Asian women.
High purity mineral pigments associated with Vichy Thermal Spa Water:
1. Instant natural skin tone self-unification
-Blemishes and wrinkles visibly fade out immediately. Complexion is naturally unified all day long.2. Healthier looking skin:
-Thanks to powerful antioxidants and UV filters, skin is protected day after day. Its original pre radiance is like recovered.
3. Ultra-safe formula
-Tested under dermalogical control. Hypoallergenic, non-pore cloggin, and free of fragrance and paraben. allos skin to breathe as if bare skin."
*OK, just to let you know, I've copied them word for word. As you can see, the English in some places is not quite right*
Ingredients:
Aqua, cyclopentasiloxane, dimethicone, glycerin, ethylhexl methoxycinnimate, HDI, hexyllactone, PEG-10 dimethicone, pentylene glycol, dimethicone, magnesium sulphate, propylene glycol, Bis-digyceryl polyacyladipate-2, sodium stearoyl glutamate, ascorbyl glucoside tocopheryl acetate, caprylyl gylcol, lactobacillus ferment, titanium dioxide, Iron oxides
My thoughts:

Texture and Scent

This products has a creamy consistency. It dries fairly quickly, so a tip would be to apply it onto your face quickly! If too much product is applied, it could give the skin a slightly 'caked' look, so I would recommend applying this cream sparingly. It's not very moisturising on my skin, so I would use this on top of a moisturiser.
It has a light, subtle scent, which is hard to describe. I've read it described somewhere as 'plasticky', but since the scent is subtle you don't really notice it.
Colour and Coverage

It only comes in one shade, that is of a light beige. Unlike tradiational BB creams, this shade doesn't have the slightest grey-cast to it. The color matches my skin perfectly, and I've not really noticed any oxidation of color. The coverage is very sheer, alot sheerer than most BB creams. It would not conceal any acne or any skin imperfections. It does, however, give the skin a nice looking finish. The finish is slightly matt, compared to the dewy finish of other BB creams. I found the BB cream to be pretty long lasting and I didn't need to reapply it during the day.

In the pic below, I'm wearing this BB cream on top of moisturiser. As you can see, it does not give me a flawless skin effect. I also found that it did not do much for my skin. It didn't cover my skin imperfections. However, it does look nice and natural with a matt looking finish.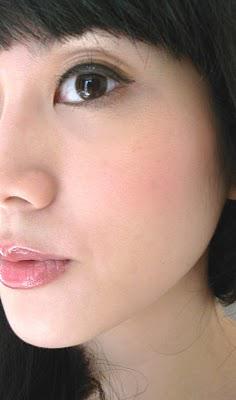 Would I recommend it?
I would recommend it to those who have no skin concerns and are looking to even out their skintone and having a flawless finish. I like it because it did not irritate my skin, even when my skin's at its most sensitive. There are other BB creams out there that I prefer. It doesn't act as a concealer, primer and a foundation all in one. I would say it's more similar to a tinted moisturiser.

Pros:
- contains SPF20
- made from a skincare brand that I really like
- does not irritate my skin
- feels light and my skin looks really natural
- long lasting finish
Cons:
- only available in Asia
- pricey at ~£20
- coverage may be much too sheer - some may describe the scent as 'plasticky'