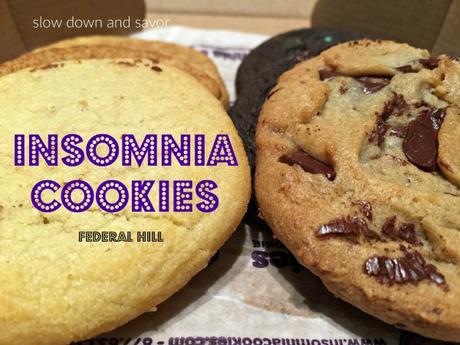 A month, or maybe even a couple of months ago, as my family and I were walking down S. Charles one evening, we noticed a new storefront. A very EXCITING storefront. A storefront for a cookie place that touted delivery until 3 in the morning! Like I said, SUPER EXCITING!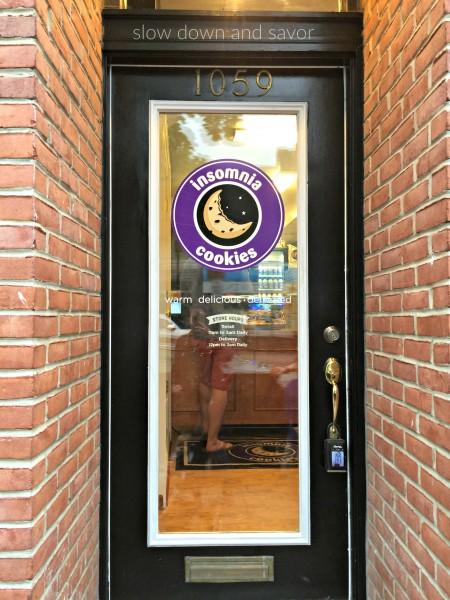 Insomnia Cookies was coming to the neighborhood! Hurrah! What is Insomnia Cookies?
According to InsomniaCookies.com,
Insomnia Cookies was founded in a college dorm room in 2003 at the University of Pennsylvania, by then student, Seth Berkowitz and we have been feeding the insatiable hunger of our fans ever since. What makes us so great? We specialize in delivering warm, delicious cookies right to the doors of individuals and companies alike - What's not to love?Today we have more than 85 locations and are still growing! Whether you're feeding a craving or a crowd, our offerings of cookies, brownies, cookie cakes and even cold milk have you covered. We also serve and deliver ice cream at most of our locations. - For real!
Almost obsessively, we would check online, in person and on the phone for an opening date. And time after time, week after week, we longed for the satisfyingly sweet first bite of an Insomnia Cookie. Sadly, each time we checked, we were left with the bitter taste of disappointment. "Not yet," they said. "We don't know when the Federal Hill location will be open," they said.
Bitter, bitter disappointment. Clearly, we really had built this place up in our minds as being something seriously sensational.
Then one day as I was scrolling through my Facebook newsfeed, I stumbled across something very exciting. SQUEE!!! Our Federal Hill location was FINALLY going to be opening up THIS WEEK! Weeks of waiting have culminated to this moment. We would FINALLY be able to experience an Insomnia Cookie for ourselves.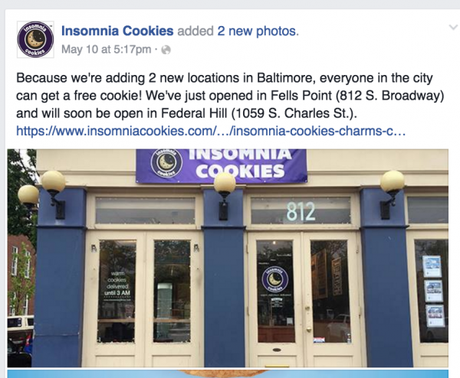 So on opening day, we ventured out in search of warm, fresh-baked cookies. And warm, fresh-baked cookies were ours in only a few minutes time. It was sensational.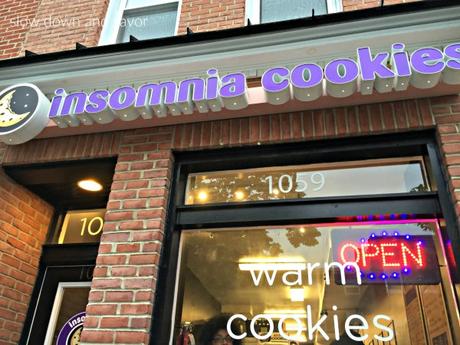 We decided to go with one of their daily specials: a 6-pack with 2 milks. Sounded good to us!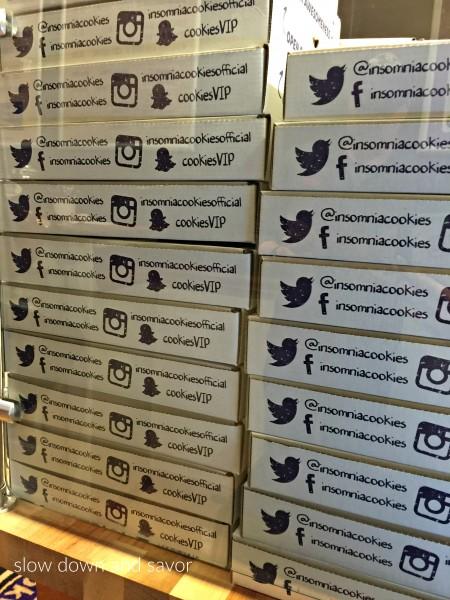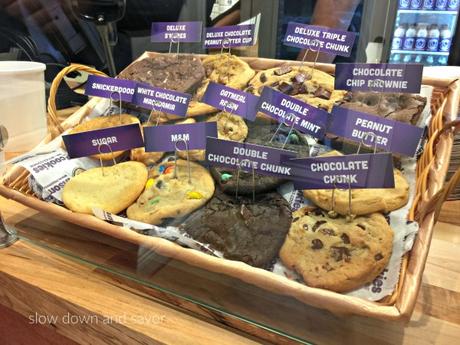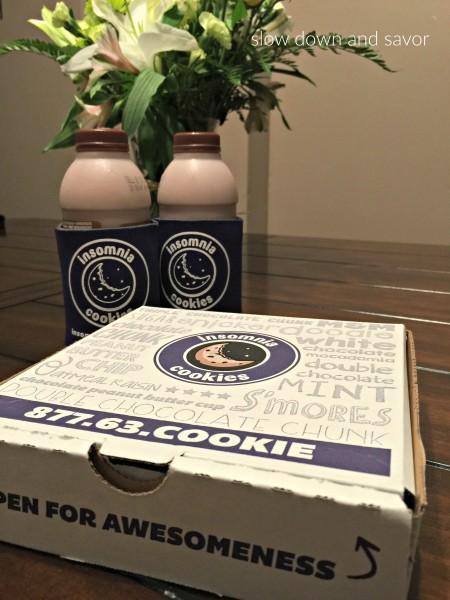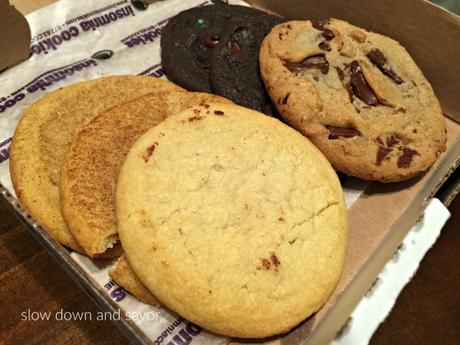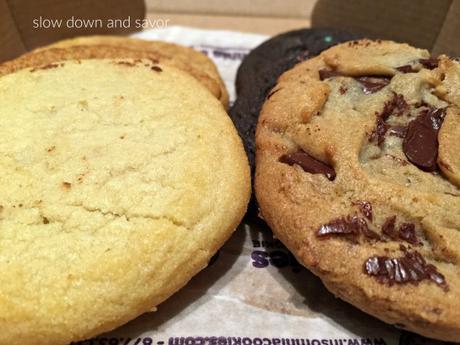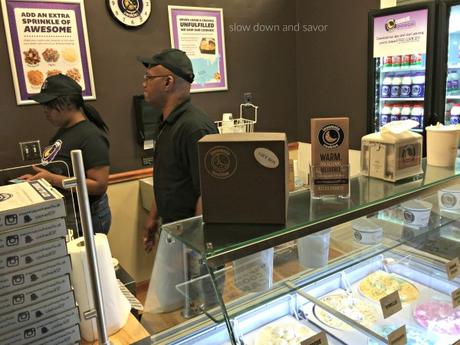 For our 6-pack, we ordered 2 snickerdoodles, 1 sugar, 2 mint chocolate chip and 1 chocolate chunk. Major snagged himself a free chocolate chunk cookie as well, so we were pretty set for our first Insomnia Cookies taste-test, I'd say.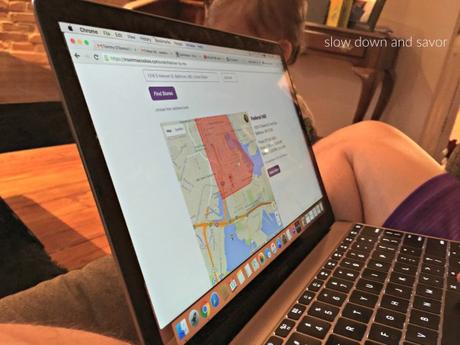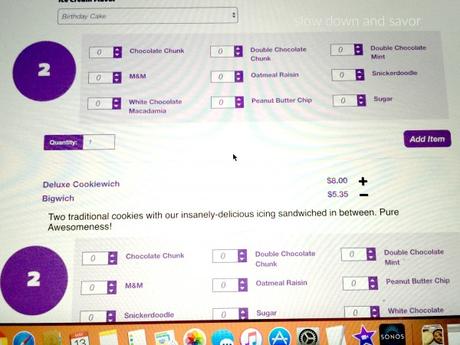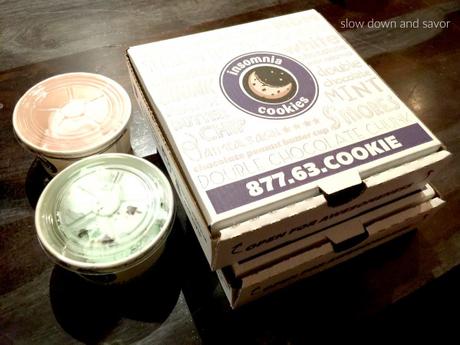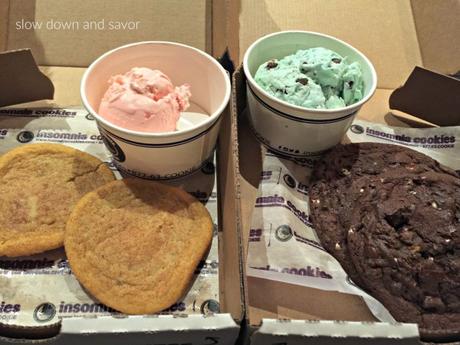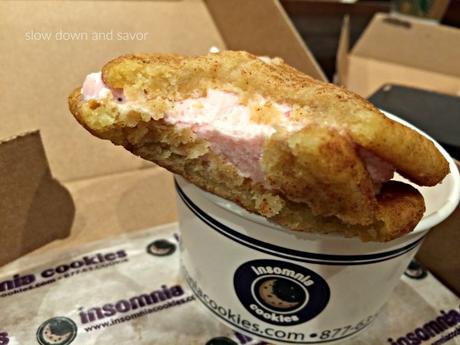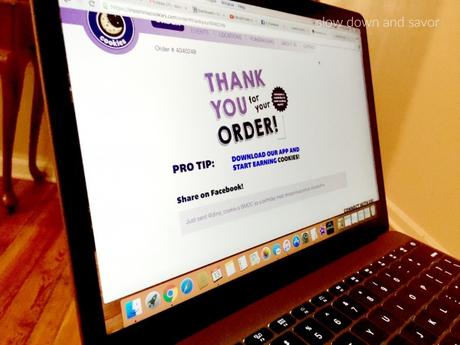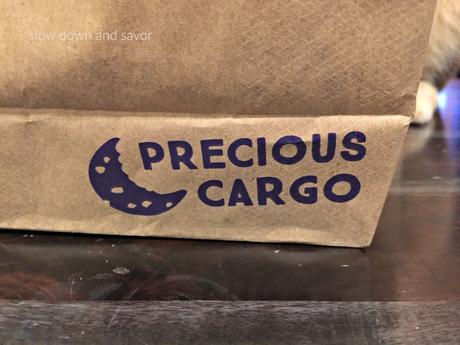 We got them home and without ANY hesitation, dug right in.


So good. How good? These cookies were like ooey-gooey, tender hugs straight from heaven on your tongue. They were angelic chocolaty, sugary kisses to your tastebuds.
They were so good that we decided to place a delivery order the very next evening. All in the name of research!
Just a few minutes later, we had some cookie-wich's delivered to our door. Yes. CUSTOM ice cream sandwiches made from their warm cookies and deliciously creamy Jack & Jill ice cream. Killer.
So smart. They packaged the cookies and the ice cream separately, so they wouldn't be totally soggy and drenched by the time they arrived to our doorstep.
Sensational. I got two snickerdoodles with strawberry ice cream, and died and lived the whole eating experience. I loved the fresh flavors combined, and it was truly an indulgent treat.
Clearly I am beyond thrilled to have this place in town. Have you tried Insomnia Cookies? What do YOU think?