'Everything you can imagine is real'
Pablo Picasso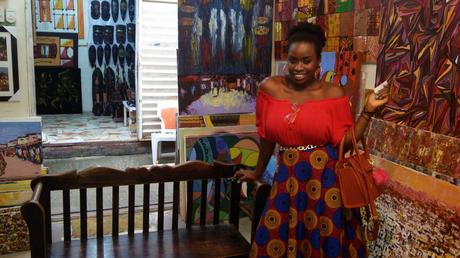 Hey folks,
Happy New Month!!!
How's it going? This highly anticipated weekend finally arrived and is now over *sigh* but oh well, I can definitely say I made the best choices this time around – not much goofing around or wasting away in bed. 
I spent the weekend with friends just catching up and trust that when two or three of us come together, we make MAGIC happen!!! So I started my weekend on a really good high with friends and free manicures courtesy of the lovely Ez of Beauty in Lagos, for those that follow me on Instagram and Snapchat I did share a couple of snaps. Can I just say it felt so good to just sit and get a back massage while my hands were getting a major pamper session…oh my!!! Just thinking about it has me smiling all over again, no kidding. Saturday turned out just as awesome, we started out by stopping over at the Singles Meeting at House on the Rock, Lekki where there was such an interactive session addressing Single living in general. It was so much fun listening to different ideas and questions thrown at the panelists about everyday scenarios and issues encountered with Singles.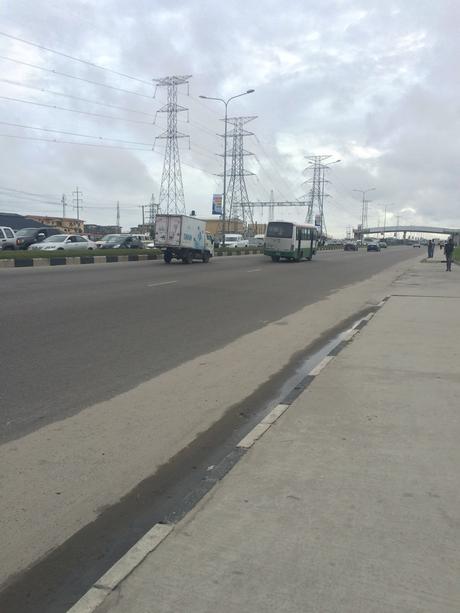 After the session was over, we grabbed some lunch over at The Place Restaurant and can I just say I've found my new favorite go-to meal *insert drum roll*…the 'Crisp fried yam', completely yum and definitely worth another try. It was already close to 4pm when we were done with lunch so I was all for going back home and putting my feet up but thanks to my friend Kaeto who insisted we stick to my already laid out plans for the day, we proceeded to finding out where the Lekki Arts and Craft Market called its home.
Yes, I had wanted to end my day surrounded by pretty pieces and great conversation and I'm glad that I did. First off, finding the market was a tad tricky seeing as there are many different names for the market which made it kind of confusing. Apparently it's known as Oba Elegushi Market and when we asked for directions someone also called it Bar Beach Market. However, we located the market which looked pretty ordinary on the outside and then proceeded to take a look around. I apologize for the quality of these pictures, I took all of them with my phone and completely forgot I had my camera tucked away in my purse.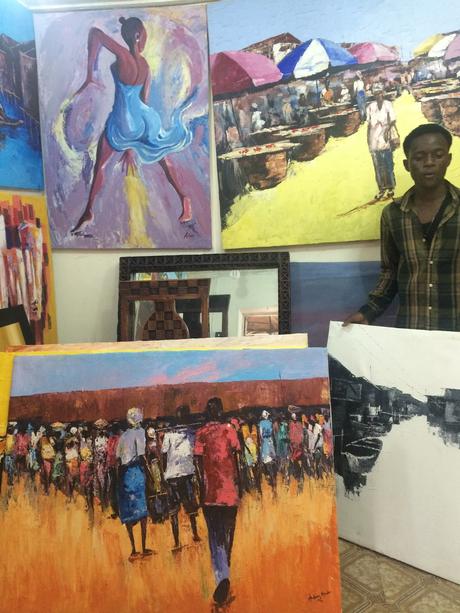 I think it's important to say that it really deserves to be called an arts and craft market because right from the first shop it's more or less an onslaught of art, more art and then some. The first store we entered had lovely portraits and art pieces, he made furniture as well as sculptures which looked divine. My favorite piece was the portrait of Makoko in black and white which was way too realistic, It just made me realize how much talent we have in Nigeria but our major problem is the fact that we fail to recognize how much we do have on this side of the world.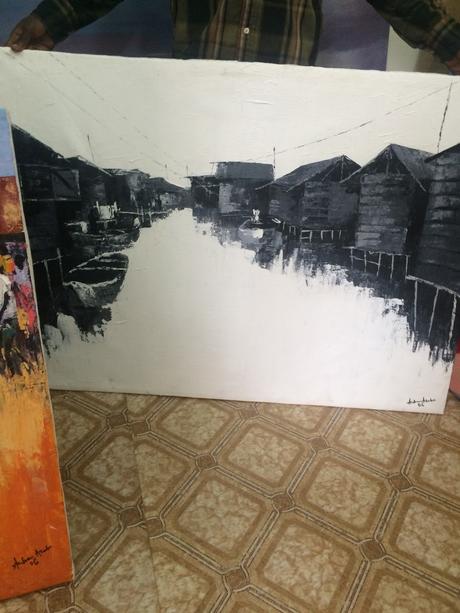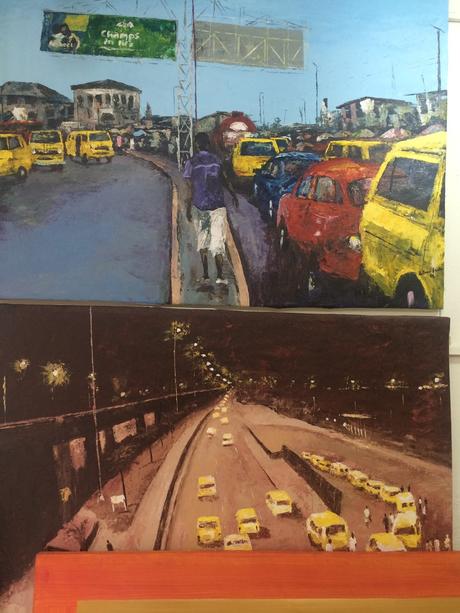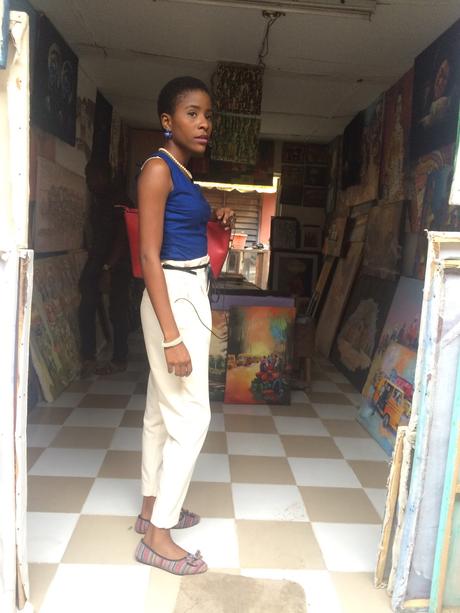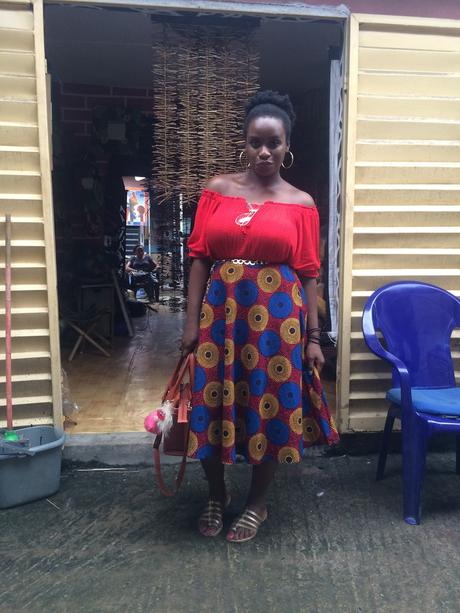 There were mostly art shops towards the entrance of the market alongside a few hair salons and I noticed a provision store, but besides all that majority of the stores sold mostly artsy pieces. We stopped by Store no 2 and I fell in love with the portrait of the black lady with the Fro as soon as I walked in. It was insane how affordable some of the paintings were, I'm an art person so I'm always visiting galleries were paintings are sold and you know just how expensive a painting goes for in such places which is why the prices of these paintings were sending me into shock…they were so affordable. Honestly my sister and I keep going back and forth about buying art pieces for the redecorating we plan on doing in our rooms and this place gave me loads of joy because I realized I can finally own my first painting, yay!!!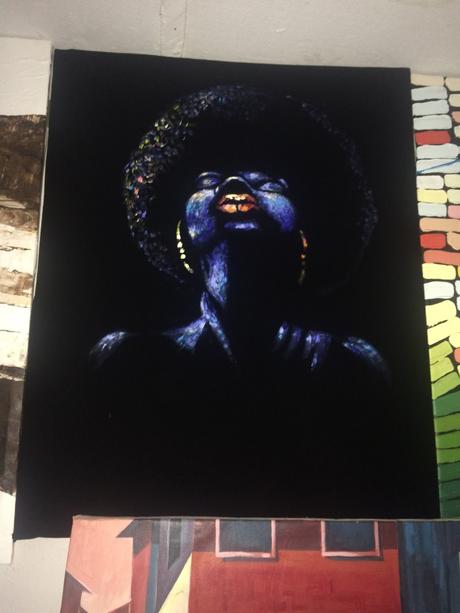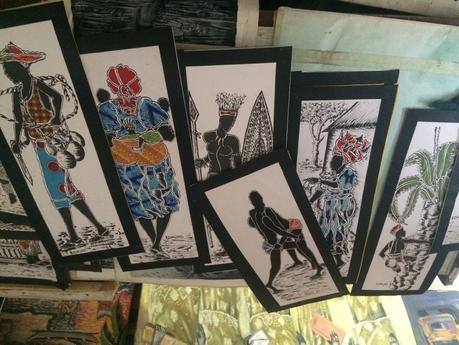 We moved over to Store no 3 and can I just say this place was art heaven, quite frankly there was pretty much nothing I was not in love with. It was almost like every painting was careful crafted to evoke feelings of sentimentality and longing, somehow I suddenly wished I owned a couple because it wouldn't be bad waking up in bed surrounded by lovely paintings and art pieces.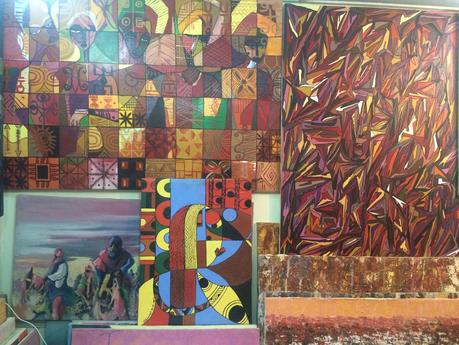 My favorite piece was the portrait of the five ladies in a collage which was reminiscent of Picasso's works and trust me it was one of the really expensive pieces there. I also loved the carvings and sculptures that had bead details in pretty colours – I fell in love with a tortoise carving with its shell encrusted with pretty coral-coloured beads and I'm wondering how come I didn't take a picture.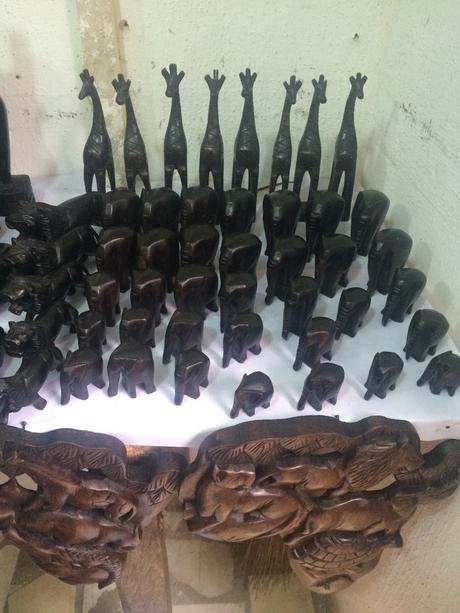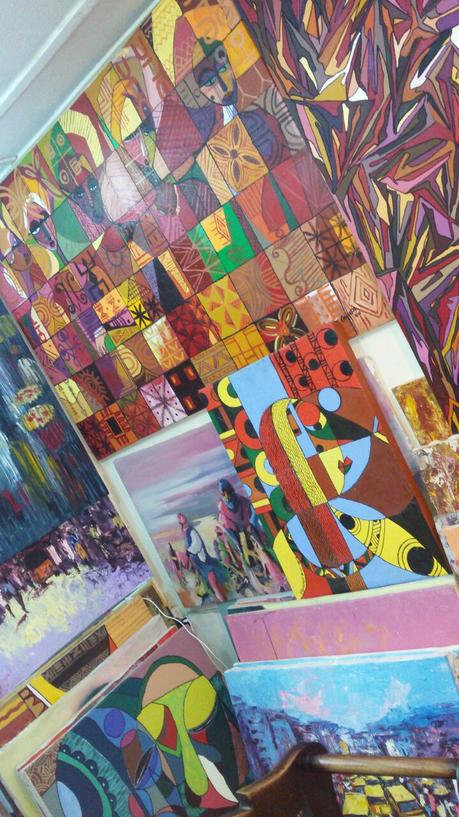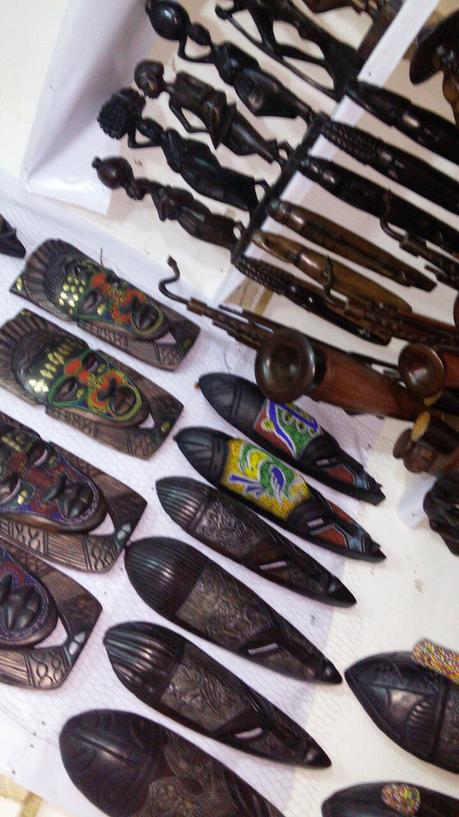 There were masks and bead-detailed carvings of ladies carrying pots, carvings of animals that came in a set of five, coffee tables, portrait miniatures, chairs and a lot more things I probably didn't completely understand. Truth is I couldn't help asking for business cards because there was just a feeling of rightness about everything and my being there…I feel like something really good is going to come out of this encounter and I can't wait for things to play out.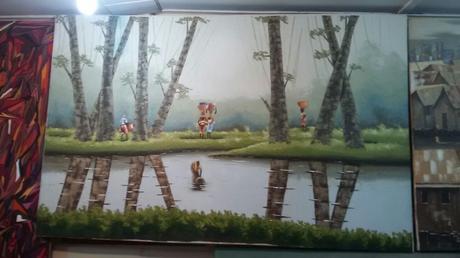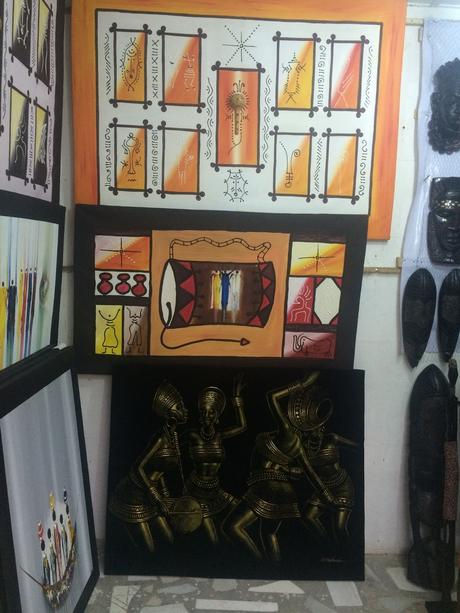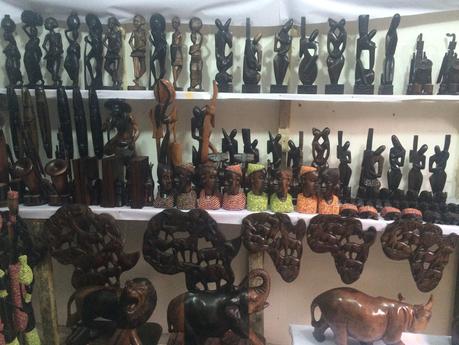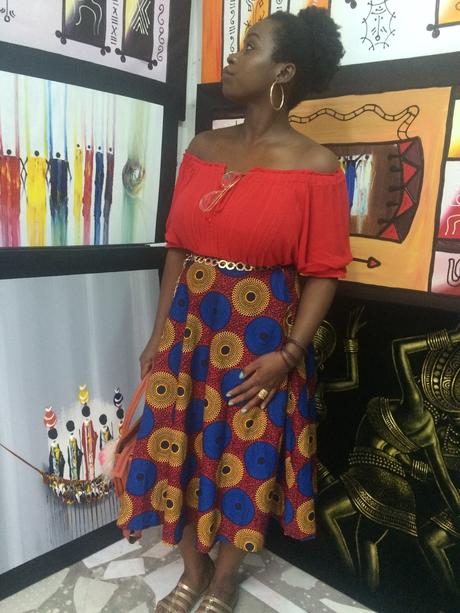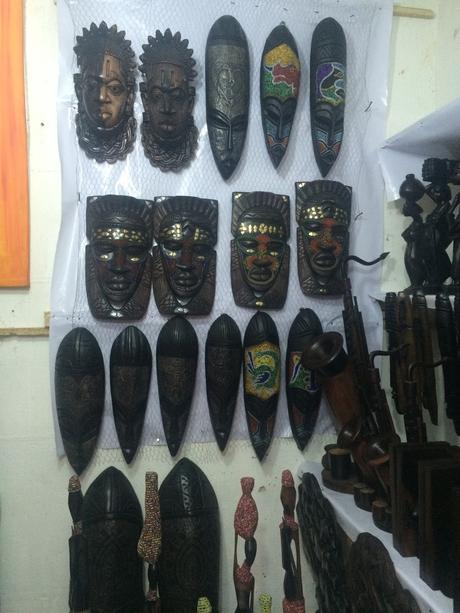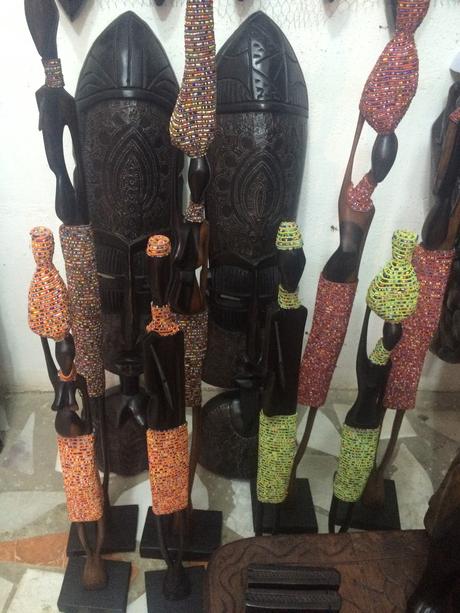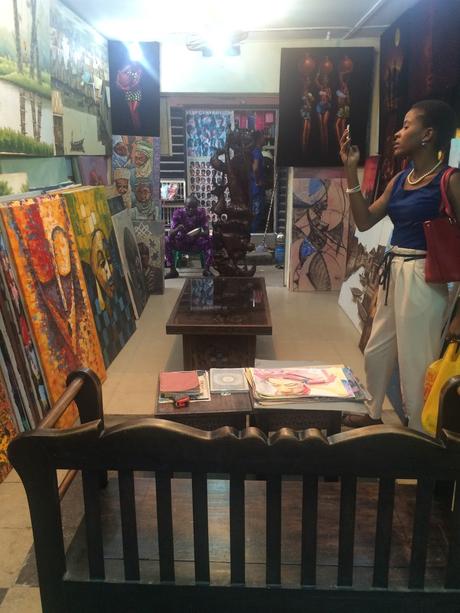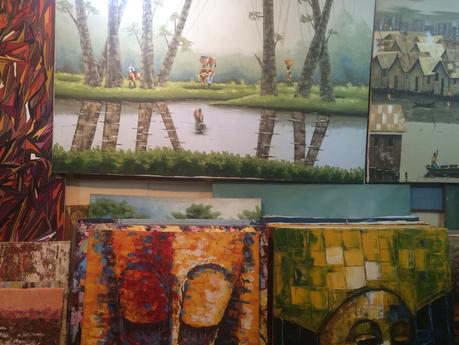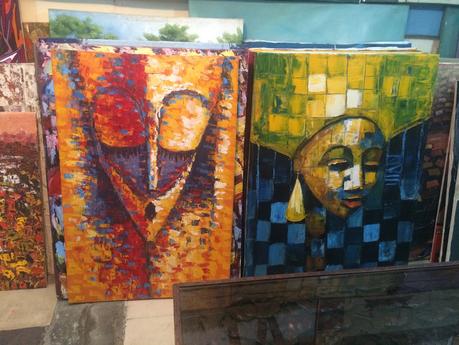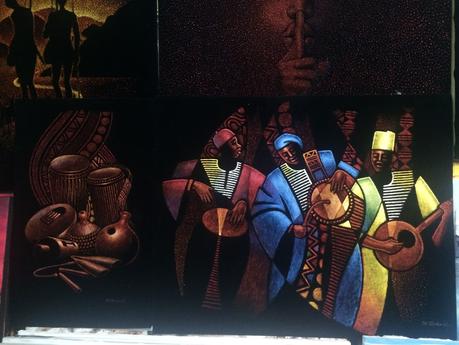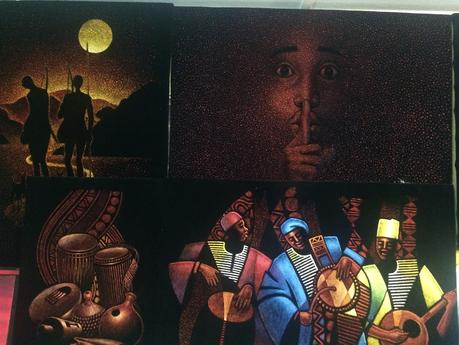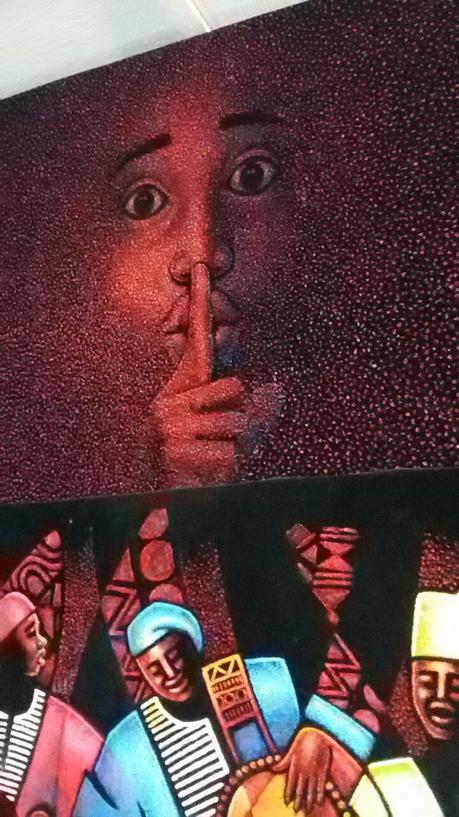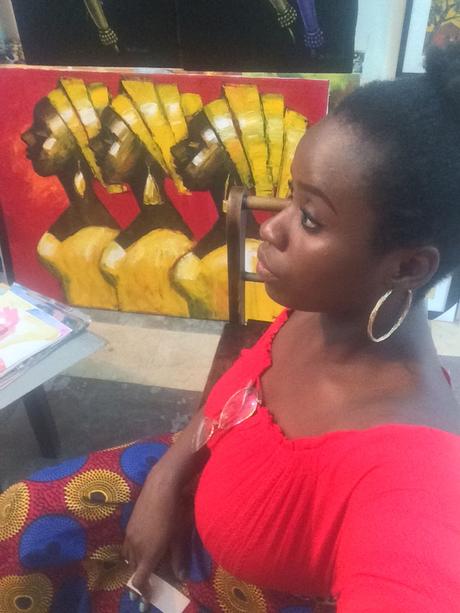 After spending forever in Store no 3 I moved over to some store where the lady sold articles in Ankara print from shag rugs to dresses and tees to jewelry as well as some antique pieces. Well suffice it to say that I didn't spend so much time in this store, she wouldn't allow any pictures being taken of her store so I don't have any of that encounter. Store no 5 sold Ankara prints exclusively in diverse designs of feminine bags from barrel bags to duffel bags to backpacks, clutches, oversize box bags and quilted purses among many other designs.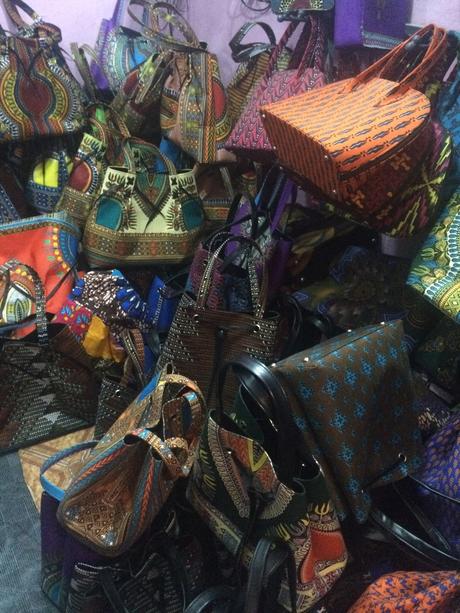 Ankara fabric was also being sold here as well at surprising affordable prices, in fact everything was crazy affordable it was a nice surprise. I purchased four Ankara print bags in different designs and dragged myself away before the temptation set in. The lady who helped me with my purchase was holding some beaded choker and it was really pretty so I asked her to point me in the direction of who made it which she did and that led me to Store no 6.

The man who run the store was an Hausa man and he dealt mostly in beads and leatherwork. There were lovely bags made with real leather which I'm definitely going back for on next month's budget. There were also wallets and purses, bracelets, necklaces, some antique-like items shaped like eggs and other strange but unique looking pieces. I wound up buying a choker and two really cute bags…I know what you are thinking – What's with all the bags? What can I say… with the right pair of shoes and a lovely bag, you can conquer the world!!! I'm in love with accessories generally but it's a safe kind of love I promise.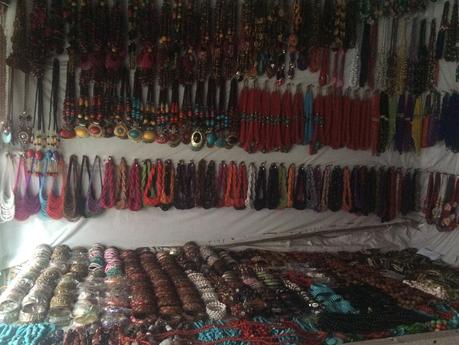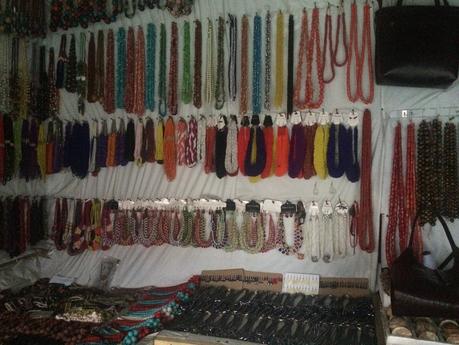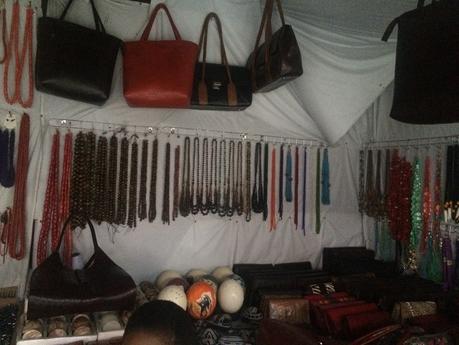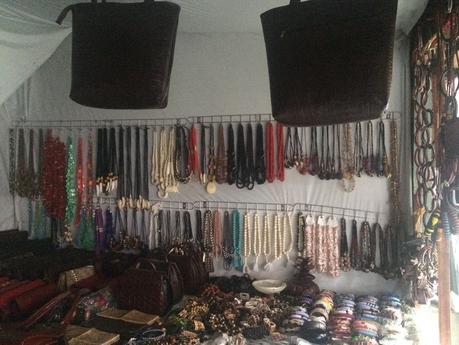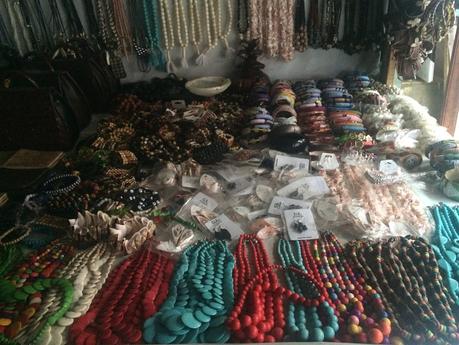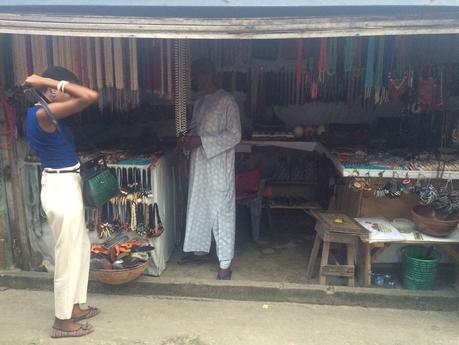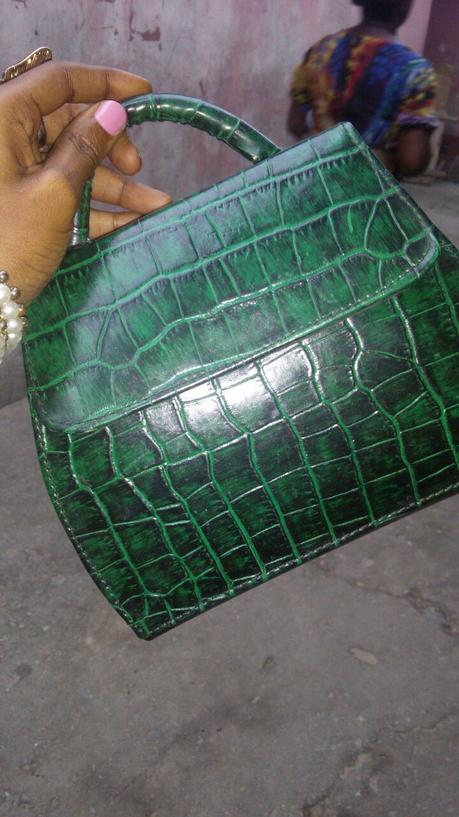 Most of the transactions were done via internet banking and fund transfer because I hadn't gone over to the market with cash and not everybody had the regular POS and there was no way I was leaving empty handed. It was getting really late so I couldn't go further in but I'm looking forward to my next visit towards the end of the month because I am definitely purchasing other art pieces that will add some color to my otherwise boring life…I honestly can't wait.
This visit made me become one with art and there was a lot of appreciation for what we do have in this country of ours, my hope is that subsequently something beautiful comes out of it all. All things considered it was a good weekend and while we just stepped into a new month, I look forward to all the beauty that August has in store for us all. This post was longer than usual but it couldn't be avoided so I apologize for your having to read so much.
Until my next post,
Cherry kisses from Lagos,


Ify*