'The splendid thing about falling apart silently...is that you can start over as many times as you like'
Sanober Khan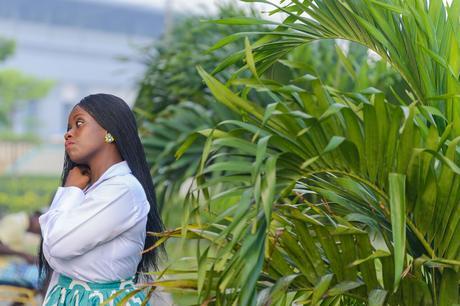 Hey guys,I apologize for sitting on this post for the past two days but I owe it all to my current internet provider, MTN, who is about to become a thing of the past if this unsteady and unpredictable network continues. I woke up early this morning to try uploading this once more and I'm glad that it worked out this time around.
Today's post features an urban take on modern-day work-chic ensembles incorporating an age-old trend of flared skirts. When it comes to creating work-inspired looks or regular casual day outfits, flared skirts and full skirts have always been a wardrobe staple for me. There is nothing like that effortless vibe that comes with pairing an otherwise basic blouse or tee with a whimsical full skirt...talk about comfort all day, now who wouldn't want that?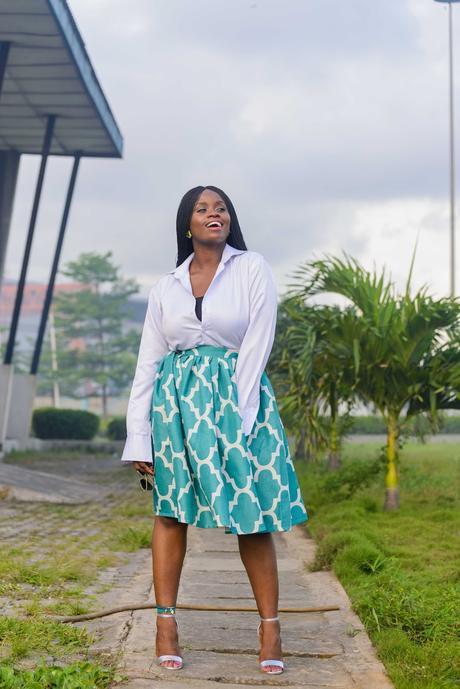 I've written about flared skirts in some previous posts here and here, truth is I can never stop raving about them and it's no wonder I'm quite crazy about today's brand – Twenty Six. Twenty Six caters to the modern and stylish woman who obviously doesn't have a problem being called "girlie" in fun prints of full skirts and colourful shift dresses.  Currently the brand has expanded to making more female and unisex pieces as against the famous Twenty Six Skirts with which they started. Quite frankly, it's refreshing to see Nigerian brands blossom from beautiful beginnings to the amazing brands that they have become today and it gives me a certain level of hope for this country and a sense of appreciation for what we are blessed with.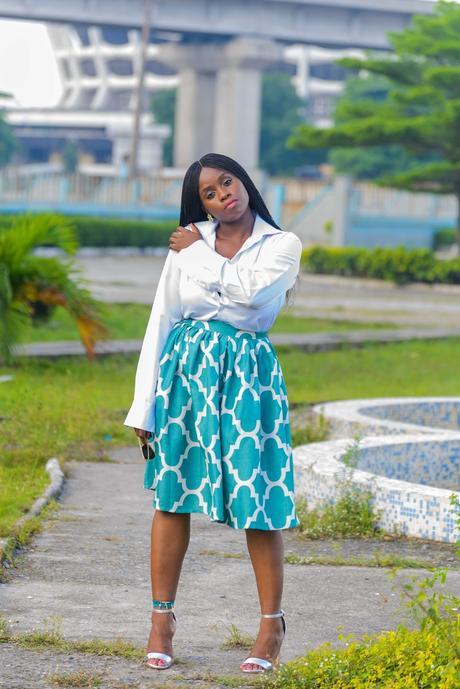 If you've been following my blog for a while then you know that this ensemble is certainly something I could rock to work. As a matter of fact, Thursdays are my designated "Rock a Full Skirt to Work" day unless I'm feeling like a "full skirt" on Wednesday then I wear one before the designated Thursday. This outfit makes for a work-friendly getup thanks to the crisp button-up with which I paired my teal coloured Twenty Six Skirt. Usually, I would button up my white shirt all the way to the top and pair with a complementary statement but work-appropriate necklace (nothing too dramatic) but on this particular day I was feeling like just some statement oversize studs would do the trick.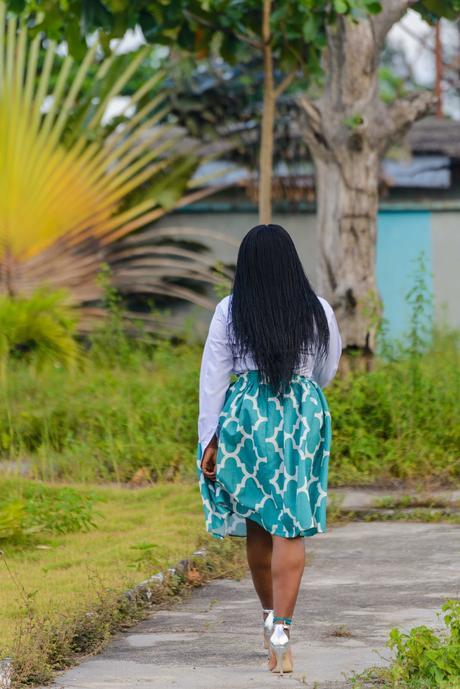 For work however, I would opt for a more work-friendly pair of shoes seeing as silver or gold-coloured heels aren't acceptable work-appropriate clothing in most organisations today. So if I were to wear this to work I would definitely be wearing a different pair of shoes, preferably court shoes, and of course I would button-up my cuffs...before I get restless and roll them up at around 1:00pm - yeah I'm not always prim and proper lol.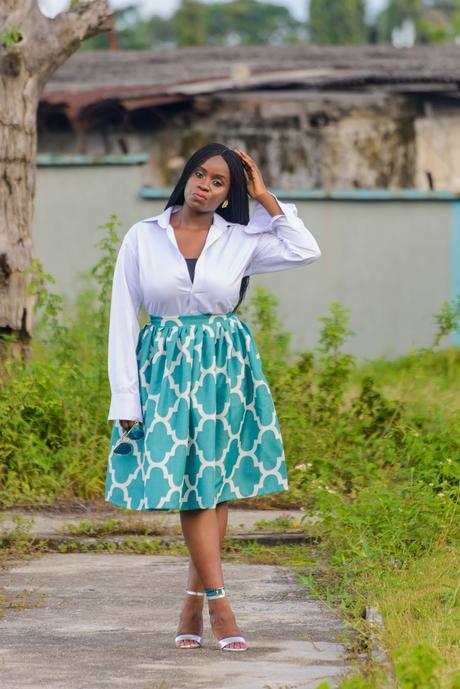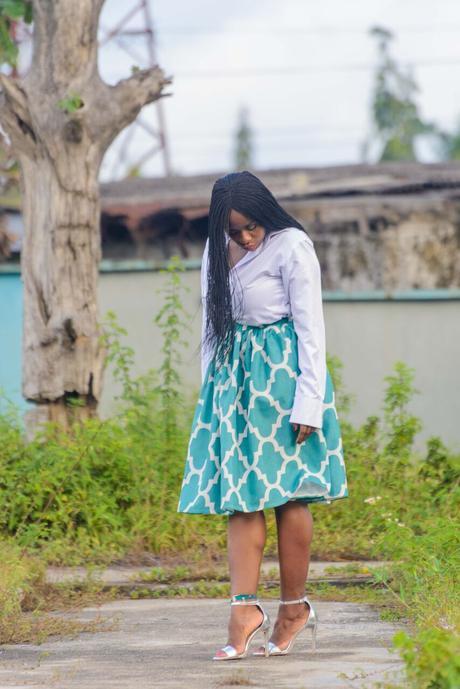 I love anklets and beads a whole lot but I rarely ever wear them because my mother doesn't approve and of course far be it from me to upset her so I tend to wear them once in a really long time plus there's supposedly a certain perception people have of ladies in anklets but that's a story for some other day. Anyway, I tried some out in today's post and I must say I really do love how they complement my skirt, who knows when next I would have an opportunity to wear one.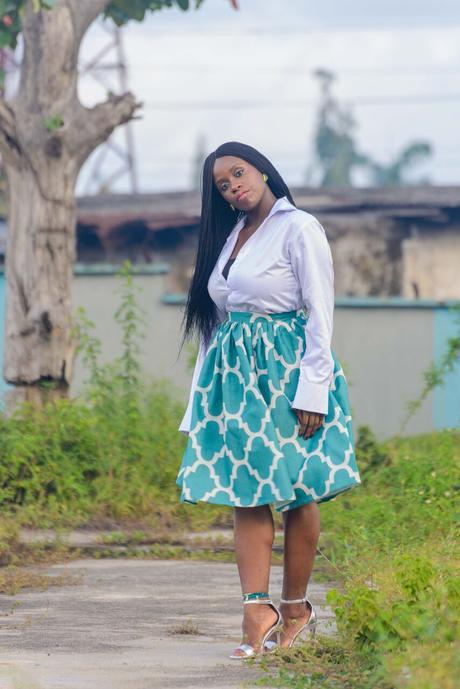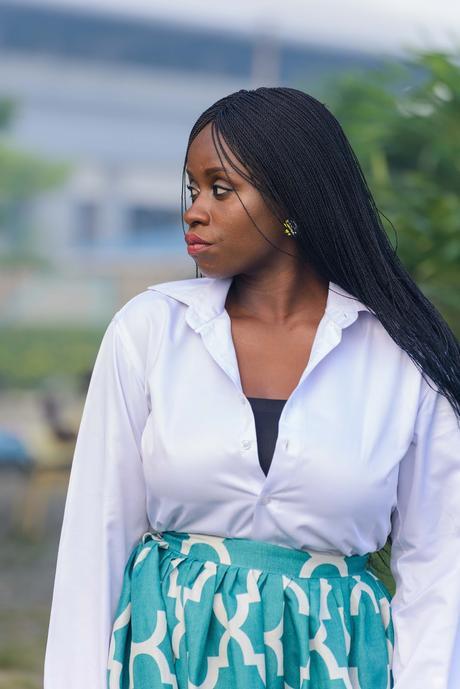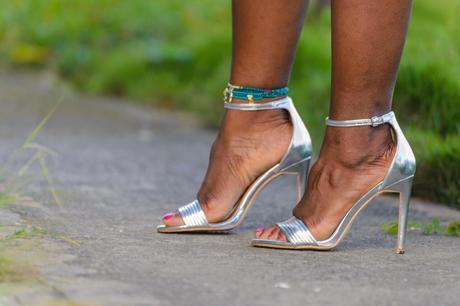 Photography by MarvinFresh Photography
Outfit DetailsTeal Flared Skirt - TwentySix
White Button-up - Payporte
Shoes - Public DesireEarrings & Anklet - Mine (available on order)
So folks, I literally need to run out the door and run some errands today before the rain starts up again so I'm going to have to end here. Hope this made for an interesting read - what's your take on full skirts and who else isn't digging this rainy season?Kindly leave your comments below, follow my social media pages using the tabs on the right side of this page and feel free to send me feedback via email.
Until my next post, I'm raining kisses your way *muah!*.Love always,


Ify*





Let's Connect!

Instagram || Facebook || Twitter || Bloglovin || Pinterest
In case you missed some of my previous posts, please find direct links below:
Ensemble || Magenta Imprint
Ensemble || Easy-Beezy in Burgundy
Product Review || Arami Skin& Hair Care
Ensemble || Pretty in TIFÉ
Ensemble || All Laced And Leathered Up In Urbanate-Binienu
Bubbles And A Blog Review
Ensemble || Some Halloween-Pumpkin Glam
Ensemble || Kente-Inspired
Foodie Chronicles || La Spiga at Le Maison Fahrenheit
Ensemble || Black Out
Ensemble || Feathers And Denim
If Only I Were A Boy
Ensemble || Of Throwbacks And Bell Sleeve