'Love looks not with the eyes, but with the mind, and therefore is winged Cupid painted blind'
William Shakespeare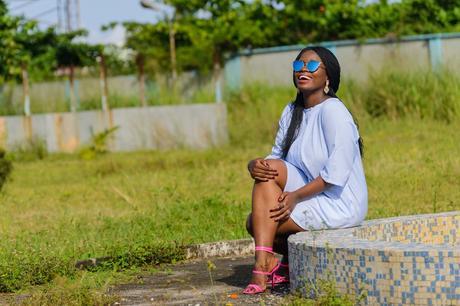 Hey folks,It isn't too late to say happy new month!!! We made it to the second half of this year and that's a lot to be thankful for, so I'm right here wishing you so much love and hoping you find joy, happiness, laughter and beauty in all the right places this month.
I'm starting out this week on a major high because firstly, it's my birth month and my birthday in exactly a week so that ultimately comes with a certain level of gratification. Secondly, I just feel some type of way mostly because this weekend has been a major blessing regardless of the incessant downpour – I think spending almost a whole day in bed yesterday helped me give my life some new direction which I had desperately needed. However, today's continued rain is not exactly cutting it for me but let's see how long this lasts.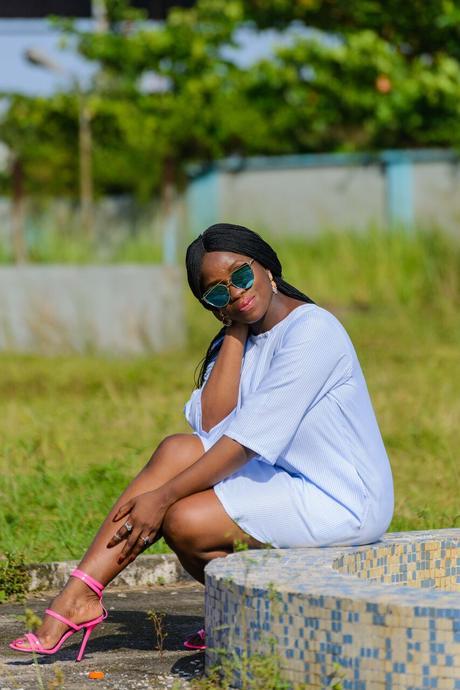 Today's post features a Shift dress from the TwentySix brand, I purchased this over two months ago but it hadn't really gotten any wear from me so this ensemble post was in order. It's about comfort clothing once again, maybe someday I'll be all about tight fits and clingy clothing but right now I'm living in this moment and making no fuss about it. My go-to wardrobe staples always involve a certain level of flare be it palazzo pants, skater skirts or dresses so this shift dress fits right into my kind of box.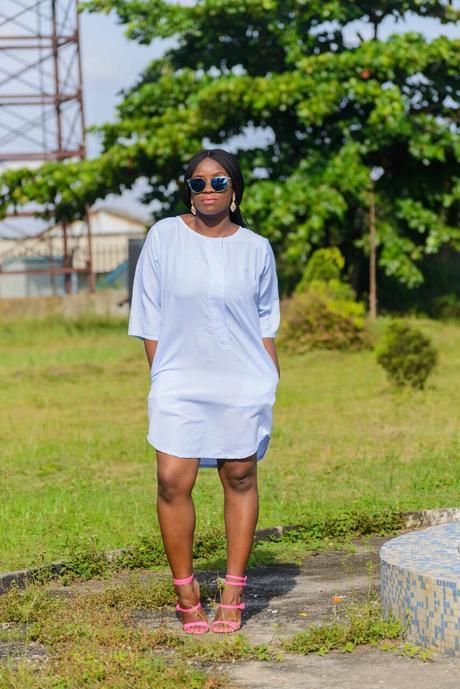 The same kind of love I have for pretty prints seems to have translated to an unpredictable fondness for patterns and stripes. However, when picking out any outfit with stripes always consider the cut and style of it alongside your figure or shape as this would determine whether said outfit would produce the much desired lithe and contoured look. My figure might be described as heart-shaped because I have a lot more volume on the upper half of my body around my chest region and my arms. Because of this I find that when it comes to wearing stripes, vertical stripes give the illusion of more length and draw less attention to all that volume and width. However if I were to wear a skirt I would opt for horizontal stripes to give the illusion of hips and thighs to balance out the entire volume of my torso.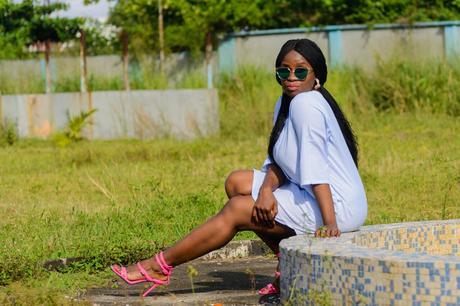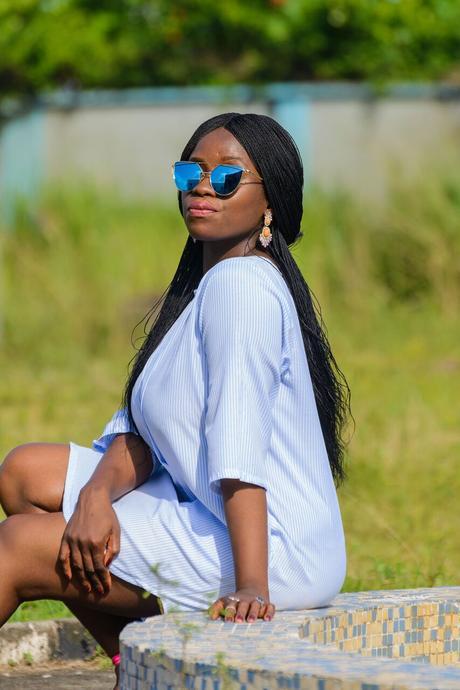 Truth is sometimes this might not work for certain people so it's important to take note of what looks pleasing to the eyes when you try on any outfit combination. These blue and white stripes make for a little something extra where this shift dress is concerned. Remember, accessories are meant to complement and not detract from the entire appeal of an outfit. Lately I've not really been all about jewelry rather I've been more about shoes so I feel the right pair of shoes could bring an entire outfit together hence these neon pink strappy sandals I have on here.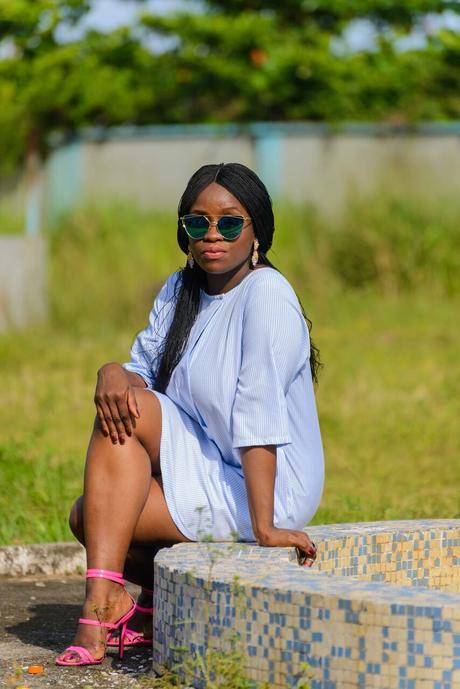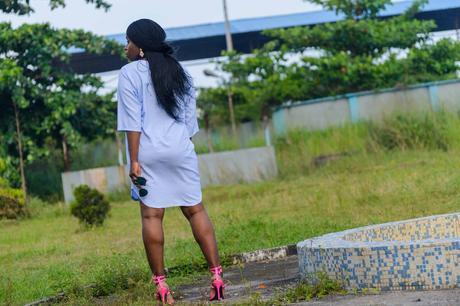 My personal favorite last tip for the day is to keep things simple and classy this rainy season because heaven knows how much rain it has planned for us. Do try to style and accessorise with the weather in mind always, you don't want to be in that position where you are out on the town and the rain makes its grand entrance after you might have put together a completely smashing getup – that is every girl's worst nightmare.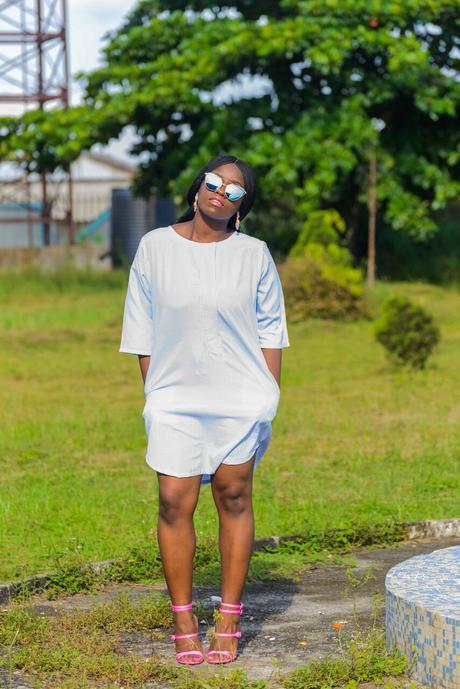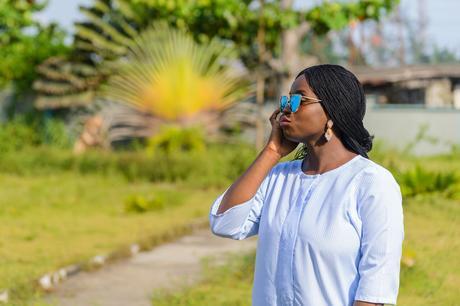 Photography by MarvinFresh Photography
Outfit DetailsShift Dress - TwentySix
This is all of it from me today - enjoy the weather as best you can, stay blissfully happy this month, make the best of this new week and don't forget to wish me a happy birthday come the 17th... after all, twenty-six years so far on this earth is a big deal and I certainly look forward to many more years.
Until my next post,
I love you...yes you!


Ify*




Let's Connect!

Instagram || Facebook || Twitter || Bloglovin || Pinterest
In case you missed some of my previous posts, please find direct links below:
Ensemble || Layered Bishop Sleeves
Ensemble || Twirling In TwentySix
Ensemble || Magenta Imprint
Ensemble || Easy-Breezy in Burgundy
Product Review || Arami Skin & Hair Care
Ensemble || Pretty in TIFÉ
Ensemble || All Laced And Leathered Up In Urbanate-Binienu
Bubbles And A Blog Review
Ensemble || Some Halloween-Pumpkin Glam
Ensemble || Kente-Inspired
Foodie Chronicles || La Spiga at Le Maison Fahrenheit
Ensemble || Black Out
Ensemble || Feathers And Denim
If Only I Were A Boy
Ensemble || Of Throwbacks And Bell Sleeve