Hey loveys,
I hope everyone is getting their Wednesday's off to a great start! Today is the first week that Linda from Fitness Mom Wine Country is hosting a
Wednesday Wonderfulz
 link up on her blog, head over and check it out!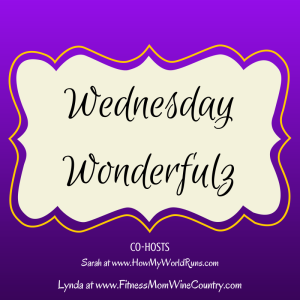 Basically we share things that are wonderful, on Wednesdays! Somewhat like My Happy Monday, but a different name and different day of the week :).
This morning I woke up at 5:45am like normal and was out of the condo by 7am to catch the street car. The street car has been abnormally efficient this week, which is odd, because at least 3 times last week I had to wait while 5 packed street cars passed me in the freezing cold. HOWEVER, I'm sooo not complaining, but instead of getting to school just in the nick of time before class starts, I get to school like half an hour early. It's not the biggest deal, I usually just end up getting a Starbies and sitting and creeping social media until it's time to head into class. Today was no different. The weather is so beautiful here in Toronto right now... 8 whole degrees!! It's like, tropical compared to recent weather!!!
In class (Human Resources) we reviewed what is going to be on the exam next week and class was dismissed at 8:50 which means I was back home by 9:30! My other class is home based this week, so I can do it on my own time. When I got home I cleaned up the condo a little bit and I sat down and IMMEDIATELY thought "Omg, the condo gym will probably be dead right now. I'M GOING!!!" So I threw on my gym clothes and made my way down to the condo gym.. and guess what? EMPTY!! My favorite.
Today is day 3 of 3 this week for workouts, so I'm super excited about that. Yesterday I went down to the gym in the afternoon and there were a lot of people doing weights, and the condo gym isn't exactly "large" so I opted to do cardio, something I haven't done in a really long time. And out of the all the cardio machines, I picked the treadmill. I set it for 30 minutes to see if I could bang out a 5k like I used to be able to.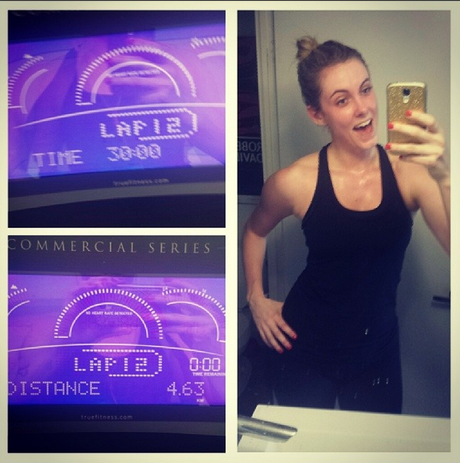 I didn't quite make it to 5k, but I was impressed with my distance and speed because I literally haven't ran in about 4 months... so since this was my first run in 4 months, I think I did pretty damn good! So since I ran yesterday I decided to do weight lifting today. My workout included:
Walking lungesSquatsIncline Chest Press w/ DumbbellsDeadliftsCable Chest FlySquats Holding a 40# dumbbellShoulder PressBicep CurlsTricep Pressdown
My arms are pretty tired!! And then after my workout I decided that I wanted today to be day 3 of 3 for blogging as well!! YAY this week is turning out to be a very fantastic week!!  
I'm now off to practice math and algebra and start making notes and practicing stuff for my final exams next week. EEEEE.... I'm so excited that this semester is OVER!! 
Happy Wednesday!!