It's been a busy couple of weeks since the wedding fair.
I am getting a lot of sample requests and orders for wedding scroll invitations. I have invitations to make with the inserts in English and Portuguese. The couple have gone for 'Elegance in dusky pink and chocolate with an ivory pearlescent box. I'll be starting these at the end of the week.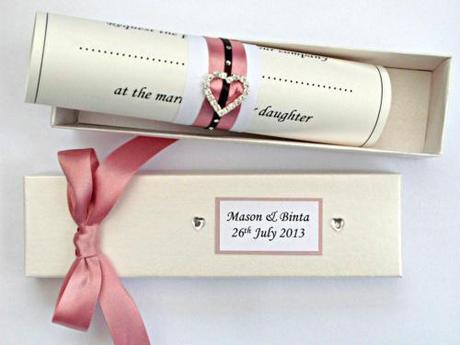 Elegance in dusky pink and chocolate
I have made invitations quite a few times with inserts in another language. Inserts can be printed in any language providing the couple do the translation. I speak Italian, but I get lost if I have to set out a formal wedding invitation. I once did scroll invitations for a couple in Lithuania. i couldn't even work out the date of the wedding.
This week I have made wedding scroll invitations in 'Fiona' design for a small wedding taking place in Gretna Green. The Black Watch Tartan ribbon is ideal for a Scottish theme. I have used Black Watch Tartan with a narrow navy satin contrasting ribbon running through a tiny square rhinestone buckle. It's simple design but very effective. The insert is printed on an ice white pearlescent paper.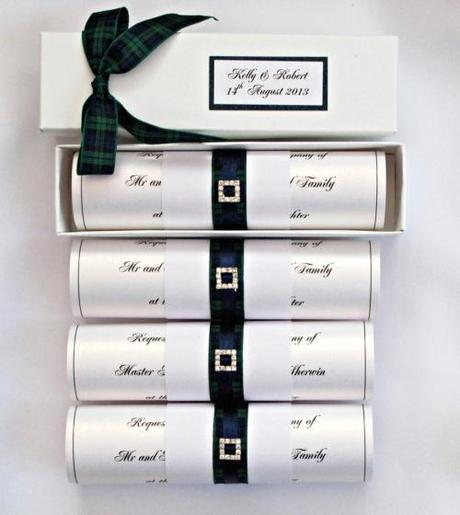 Fiona with Black Watch Tartan ribbon
I get many requests for scroll invitations from USA unfortunately the shipping is usually far too expensive to send overseas. I do send items of stationery overseas but it's usually light items like guest books and wedding keepsake boxes. Wedding scroll invitations are extremely heavy in large quantities. I'd love to be able to get my stationery overseas,but it's usually the high postage that prevents this.
I have worked flat out for the last 10 days. I've also made wedding scroll invitations in 'Ellie' design. The bride wanted silver pearlescent scroll boxes, black and silver ribbons with black roses. They were finished with a white feather and 4 tiny swarovski crystals. I used ice white pearlescent paper for the wedding insert.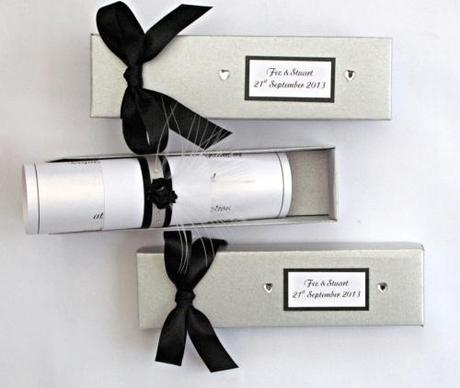 Ellie – in silver and black
I have also made 'Elegance' wedding scroll invitations with ivory pearlescent scroll boxes and champagne ribbons.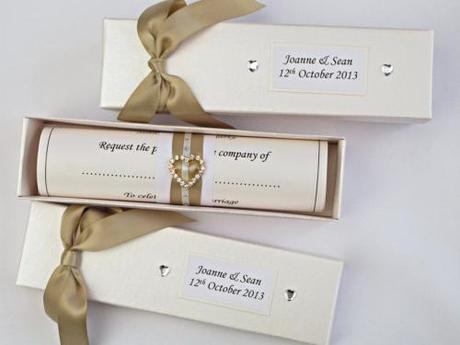 Elegance in ivory and champagne
And finally another order for wedding scrolls in 'Imogen' design. These were made with white pearl scroll boxes and navy ribbons. I love this design. They were sent out to the bride and groom last week. And yes, the wedding date really is May 2014. Some brides are just so organised!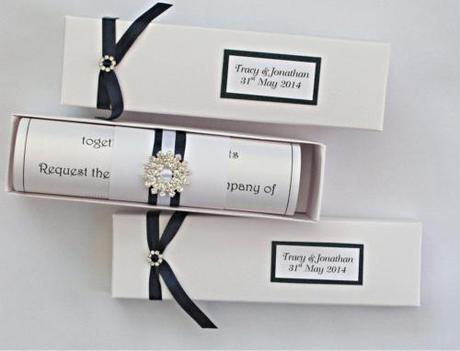 Imogen in white and navy
It's been a very busy 2 weeks with wedding invitations, a couple of keepsake boxes, a wedding photo album and mother's day poem scrolls. I have made so many scrolls in the last 10 days. I'm now counting them when i can't sleep.
Tomorrow I'm making Christening Invitations. This is why I love my job, every day is different.
Wedding season is kicking in with lots of enquiries and bookings. It is always a good idea to place an early booking rather than be disappointed. I can give a lead time to an e-mail enquiry. The customer may come back 1 week later to find the lead time is 2 weeks longer. Enquiries come in every day so I can't predict whether production date will stay the same from the initial enquiry made. I can only give an exact production date once a deposit or payment has been received.
If you would like to place an order or just make an enquiry please e-mail [email protected]