New Wedding Invitation Designs for 2014
We have a couple of new designs to start off 2014.
Butterfly Wedding Invitation Scroll
Wedding stationery trends differ year by year. We would like to showcase a couple of new designs for 2014. Butterflies are always popular. Our new luxurious butterfly scroll is sure to impress your guests. This design is available in every color scheme possible.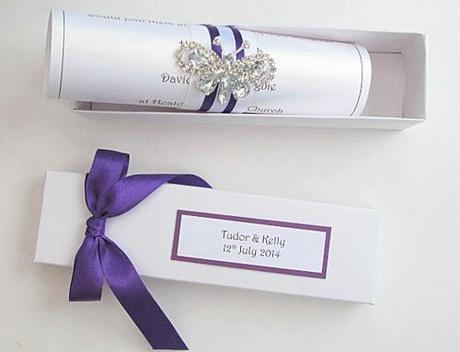 Butterfly
Shown here in white and purple. The wedding insert is printed on a beautiful ice white pearlescent paper with matching RSVP sheet.
This beautiful scroll has the most gorgeous crystal diamante brooch. Truly stunning. If you love glitz and sparkle, this is for you.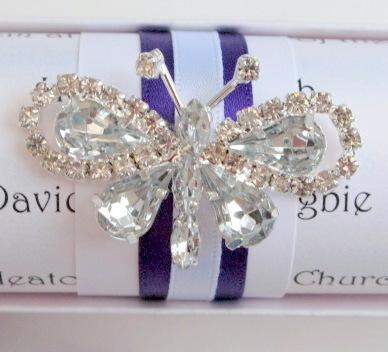 Butterfly Brooch
A beautiful wedding invitation that would sit well for any venue.  If you would like more information and prices click on the link www.carolmillerdesigns.co.uk/wedding-invitations/butterfly
Wedding Invitation Scroll – Tiffany
A simple, but very stylish design. Shown here in black and white. This design can be made to match any color scheme.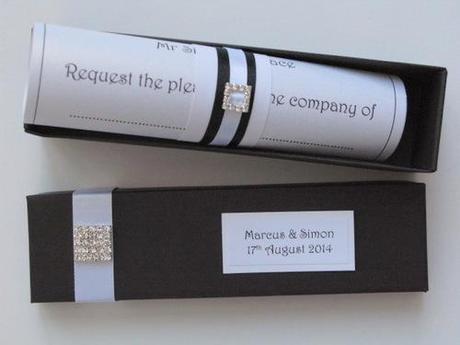 Black / White
Scroll invitation boxes are available in a variety of colours. Black and white is chosen for this civil partnership ceremony.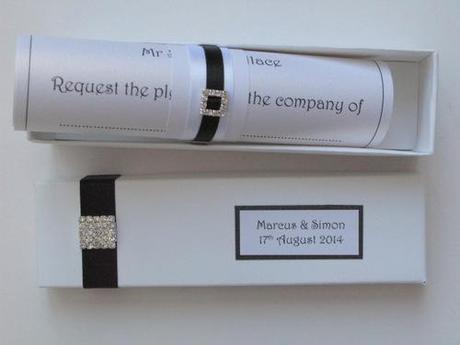 White / Black
The beautiful diamanate brooch on the scroll box lid, really makes this a statement invitation.
If ordered in equal quantity, the lids can be mixed and matched.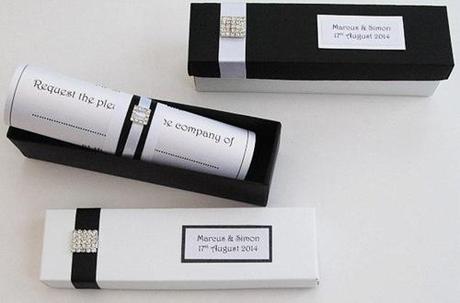 mixed and matched
If you would like more information please follow the link  Tiffany
These wedding scroll invitations are our latest designs. We also make 'on the day stationery' for your wedding reception. I'll look forward to showing you the photos of the accessories in a future blog post.
If you would like more details on our wedding invitation collection please go to
wedding invitations 
Click on the design it will open a page with various color schemes and prices.
I hope you like the new designs. If there is anything you would like me to feature please drop me an email. Join us on Facebook where you will see regular updates of designs and new color schemes.
until next time
Julie x