Happy New Year to all my readers
We hope everyone had a Happy Christmas and New Year. Now it's time to start planning for your big day.
Wedding season has started with a bang. Enquiries coming in thick and fast and so early in the new year. Bookings usually start about February just after Valentine's Day. This year it's started very early indeed. Black and white seems to be a popular color.
Black and white wedding scroll invitations.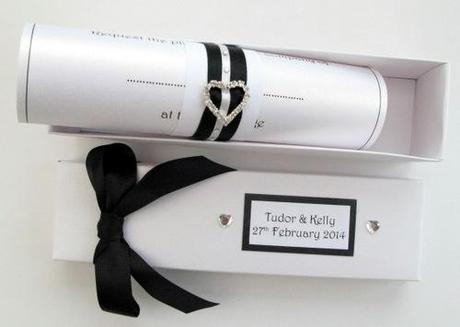 White / Black Elegance
Already fully booked up until March. This time last year it was very slow. We were told at a wedding fair last year it was because there was a '13′ in the year. Many wedding venues confirmed the same. I don't know how true it was, but this year is very busy indeed.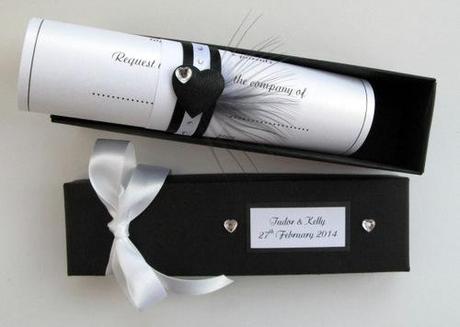 Black / White Megan
Brides are wanting to order invitations for weddings in October and November. It looks as though there are many organised brides this year.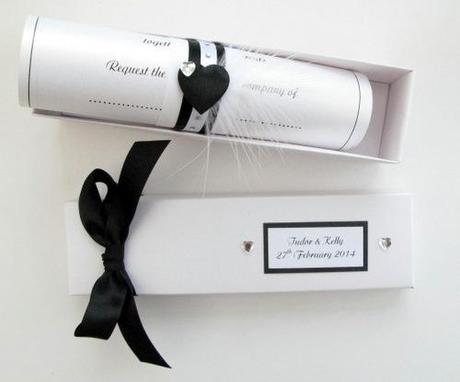 White / Black
 Wedding Scroll Invitations are big for 2014
we are getting many enquires for wedding scroll invitations.  The scrolls are always very popular. This year there are more enquiries from overseas USA (always popular) Ghana, Germany and Lithuania. Unfortunately, wedding scrolls are very expensive to ship abroad in large quantities. Overseas they want to order between 200 – 400 invitations. In UK the average order is approx 70 scrolls. Do they have bigger weddings than us here in UK?
It's always interesting to see what the color trend will be. I'm also making invitations in ivory and mint green. i haven't made mint green since 2006.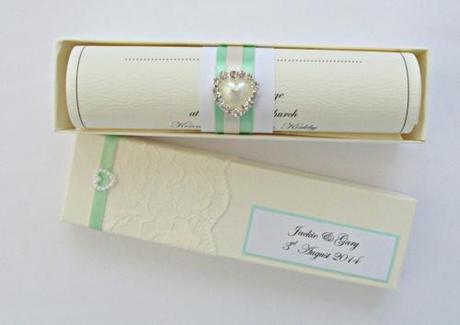 Ivory / Mint Elegance
Royal blue and ivory is another popular colour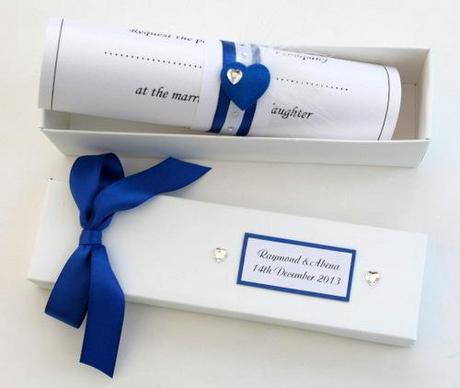 Ivory /Royal Megan
Ivory and silver is always a popular color scheme when a couple can't quite decide on their final color scheme.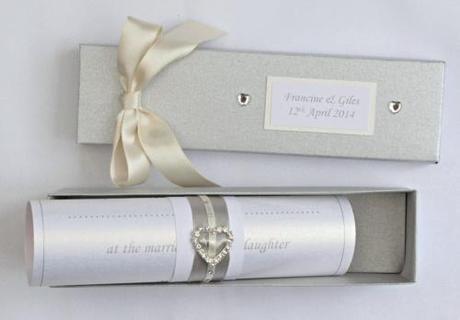 Silver / Ivory
Pink and ivory is popular this year. I love pink, but very rarely make pink invitations.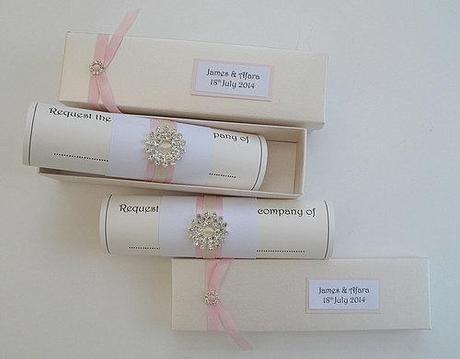 Ivory /Baby Pink Imogen
We get many orders for neutral colour schemes for invitations. When It comes to making the wedding reception accessories, the color is added to the scheme.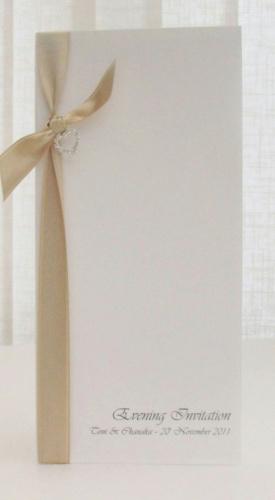 Ivory/ Champagne Princess
At Carol Miller Designs we make wedding invitations to match any color scheme. All the products you see on the site can be made in 50 different colourways
If you would like to enquire about any of the products on the site please e-mail Julie
If you prefer to discuss your requirements call
01244 659593
What will be the most popular color scheme this year? Purple has dominated for quite a few years now, but is still very popular.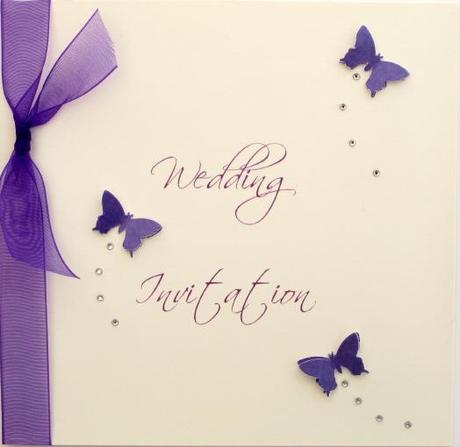 Purple
If there is a color scheme you would like to see on the site please email.
Why not join us on Facebook where there is a regular update on products and color schemes