When is the right time to order wedding invitations?
I would say you could start looking around for wedding invitations about 12 – 15 months before your big day. It will give you an idea of how you want to tie in color schemes and themes. Most wedding stationers will offer to make up a sample in your color scheme.  If you do decide you want to book your wedding invitations you will be asked to pay a deposit. You can then secure a production date. Materials increase all the time, so, it may not be possible to buy at the current price if you want the goods 12 months later. This is something you have to check with the supplier.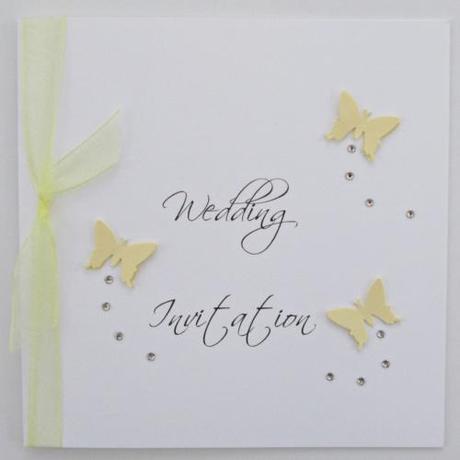 Lemon Jessica
Postal prices increase every April so take that into consideration too. When you have decided on the invitation you want, make an enquiry. Many of the good wedding stationers get booked up pretty quickly. You need to know if they have a production date available. It's better to enquire too early than leave it to the last-minute only to find there is no slot available.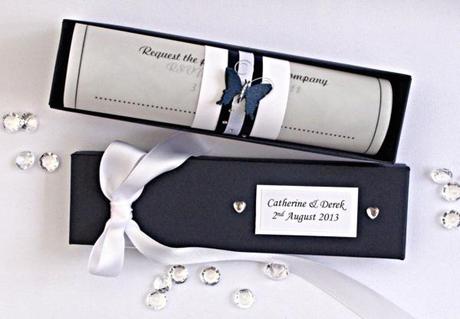 Navy / White Butterfly Wedding Invitation Scroll
Production dates vary as wedding season gets underway. We may get an enquiry in January, stating that we would need 8 weeks notice. Things can change one week later, thus moving the production date to 12 weeks.  It all depends what orders come in. It's better to leave a deposit that would secure you a production date rather than return a few months later to find it's now not available for the date you had in mind.
Should I send out Save the Date cards?
You may want to send out Save the Date cards if you are having a summer wedding. A lot of people book their holidays just after the New Year, so you need to inform your guests you intend to have a summer wedding. This will inform your guests of the date so they can book their summer holidays around your wedding. Save the date cards can be sent out 12 months before your wedding.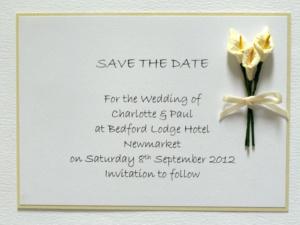 Save the Date
Don't leave it too late to send out wedding invitations
A lot of wedding magazines advise couples to send out invitations 8 – 10 weeks before the wedding. I find this is really short notice unless it's just a formality and your guest already know about the wedding. Your wedding venue will sometimes want numbers 8 – 10 weeks before your wedding date.  I feel invitations should go out about 4 – 5 months before your wedding. This will give your guests time to organize babysitters,transport, accommodation, outfits etc. You will want your RSVP's back with enough time to work out how many wedding guests are attending.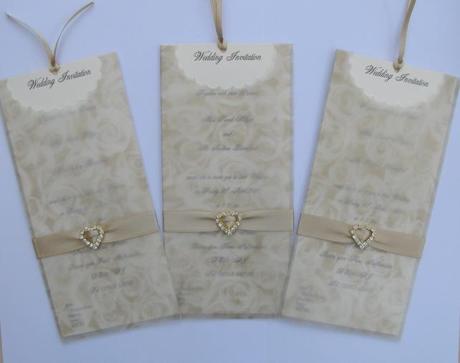 Gold Fleur Wedding Invitation
Receiving your replies early gives you time to send out any last-minute invitations on your reserve list. You may have a wedding venue with set numbers so you want to make sure you have the right amount of guests.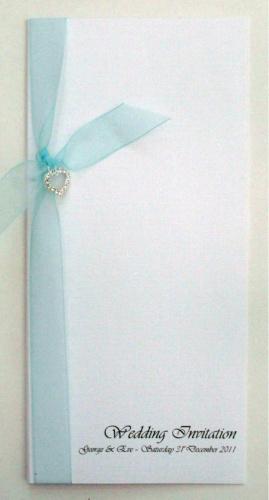 Aqua
Does your wedding invitation include an RSVP
Not all wedding invitations include an RSVP. It's advisable to have a please RSVP by date on your wedding invitation. Your guests will then know to send back an RSVP before the given date. Having your RSVP's in early gives you a chance to start planning your wedding seating plan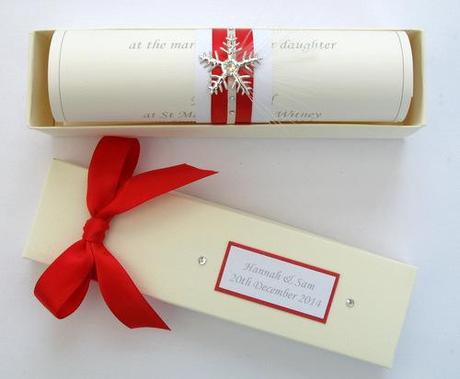 Wonderland
If you are thinking of matching your 'on the day stationery' mention this when you place a booking. Table stationery is made about 6 weeks before a wedding. I find many brides come back to book the table plan, place card etc only to find I am fully booked.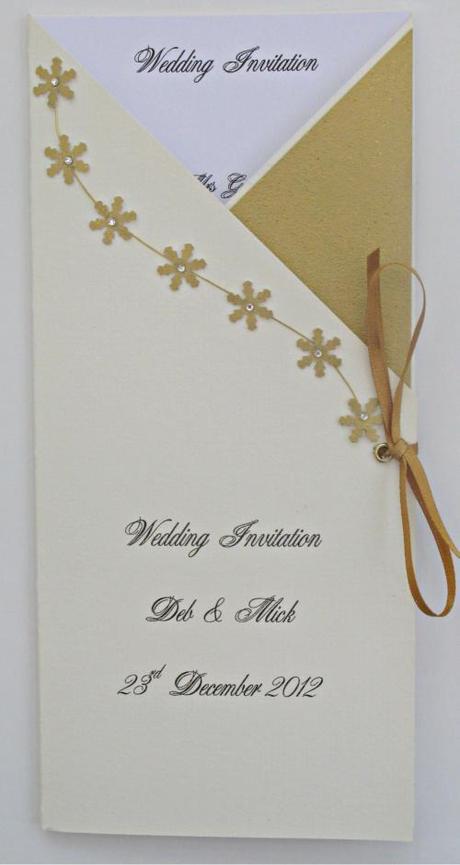 Snowflakes
We have more design galleries on our Facebook page. Why not pop over and 'like' us. There's always a regular update of photographs and new designs.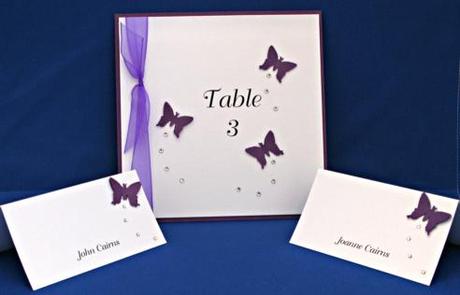 Butterfly Table Card Purple
If you need any advice on wedding invitations or wedding reception stationery feel free to send me an e-mail. I'll be happy to help with any questions you may have.
or telephone  01244 659593