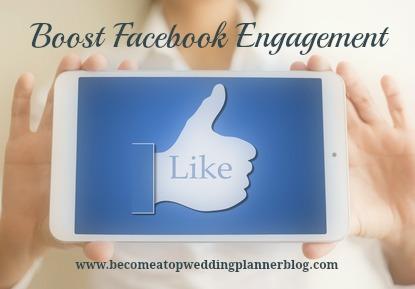 As a wedding planner, do you need tips to help you attract more brides and boost Facebook engagement? I recently attended Facebook's "Boost Your Business Women's Day" event aimed at helping small business women use Facebook to market their businesses. I received some great tips that I have customized to help you increase your Facebook engagement.
What you need to know before you post
• What are your goals – Do you want to generate leads? To increase awareness of your wedding planning business? Or something else?
• Who is your bride? – Find out all you can about the clients you want
• What does your bride want to know about being a bride and planning her wedding?
• What action do you want readers to take? – Visit your website, meet you at a bridal show or something else?
What to post
• Topics relevant to your wedding planning business
• Wedding and wedding planning tips, trends and recommendations
• News about your business – services you've added, workshops you're running, etc.
• Unique services you offer that other wedding planners in your area don't
• Spotlights on former clients and how you helped them
• Spotlights on members of your team who havespecial skills that your brides need
How to post
• Write in the voice and style of your business
• Keep text short, sweet and simple
• Address the needs of the brides you want to attract
• Use photos that support your text
Learn more about your audience by visiting Page Insights on your Facebook Page.  You'll find out the demographics of your readers, the times of day they're online and which posts they liked the most. This information will help you develop content that will attract new fans and keep them loyal.
Remember that you not only have to have a great Facebook Page, you also have to get out and network in person to have a successful wedding planning business.
And if you have a pressing question about starting or running your wedding planning business, you can send me an email at [email protected] I'll answer them on this blog or in my ezine, "Wedding Planner Tips," which you can subscribe to here.