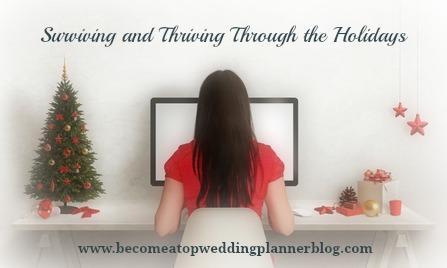 The holidays can be the most wonderful time of the year for wedding and event planners. Your calendar may be busy with planning holiday weddings, corporate and social events and promoting your business to newly engaged couples throughout this "Engagement Season".
But all this also means it's a very hectic time of year, and unless you're taking good care of yourself and your business, you may find yourself stressed and your business in a chaotic state.
Here are 5 tips that will help you keep you and your business thrive during the holidays:
1) Decide what you need to accomplish during the next few weeks
Write down everything you currently have planned. This might be working on a holiday event, getting ready to exhibit in a bridal show in January, planning a wedding with a February bride and any social events you may have.
2) Schedule everything
Get out your calendar and schedule all of the actions steps you must take to accomplish your work and note all of your social commitments. If you don't schedule them, you could easily over-commit. Remember that tasks often take longer to accomplish than you think they will, so plan accordingly.
3) Don't take on more than you can do
Last minute requests to help plan holiday events can bring you extra cash but be careful about taking on more than you can do well. Hire additional staff to help you through any events that you want to accept and don't forget to include their pay in your proposals.
4) Make good use of downtime
If there are periods of time that are slow, catch up with potential clients by dropping them a holiday card or email to wish them a happy holiday, this will keep you in their thoughts. You can also catch up on your administrative work and organize your office. And, don't forget to write down your goals and plans for a successful wedding planning business in the new year.
5) Schedule time off to spend with family and friends
Don't spend every minute of every day planning events and marketing your business. It's important set aside time to enjoy the company of family and friends. And, when you are with them, turn off your phone and be truly present.
And if you want help to become a top wedding planner, sign in to get my ezine "Wedding Planner Tips".
Save
Save
Save
Save
Save
Save
Save
Save