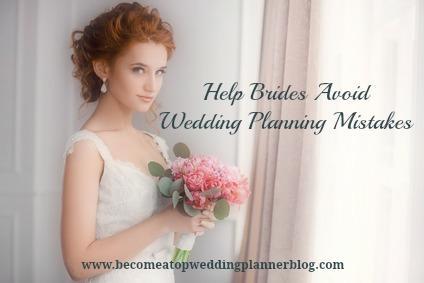 Do you remember the first time you planned a wedding? You probably made many wedding planning mistakes; it's easy to do when you've never planned a wedding before. This is the position most brides are in and they need you, as a wedding planner, to help them avoid making costly mistakes that will drain them emotionally and financially.
Here are 3 big mistakes a bride can make that you can help her avoid:
Mistake #1 – She wants her wedding to look like her Pinterest boards
Pinterest is a great place for a bride to collect ideas and share them with you and her other wedding vendors. However, many images on Pinterest are not possible on a real wedding budget and they're not as easy to replicate as she might think.
How you can help her – Review her Pinterest boards with her to get an idea of her style and colors. Then work to have her use the boards as inspiration for a wedding that is customized to her and her fiancé's personality and budget.  
Mistake #2 – She doesn't have a wedding budget when selecting a venue and vendors
A bride can get excited about specific aspects of her wedding, such as the venue or her wedding dress, and start making decisions and signing contracts one vendor at a time. Then she may find she has to skimp on the remaining details because of poor planning.
How you can help her – Work with your bride to create or review a budget, then gain agreement on the most important aspects of her wedding and plan accordingly. Also, track expenses so that she, and you, always know how much money is available.
Mistake #3 – She doesn't follow a timeline
Planning a wedding can feel overwhelming and many times a bride will just start doing what she thinks is necessary, in random order, instead of having a well thought-out plan. This can mean important details get missed.
How you can help her – You probably became a wedding planner because you not only love weddings and helping brides but also because you love to plan, so this is where you can really shine. Create a custom timeline for the wedding and help your bride and her vendors stick to it.
When you promote your services, let brides know that you understand their needs and can help them not only avoid making mistakes but also give them the opportunity to enjoy a stress-free wedding planning process.
And if you want help to become a top wedding planner, sign in to get my free special report "7 Steps to Becoming a Top Wedding Planner".
Save
Save
Save
Save
Save
Save