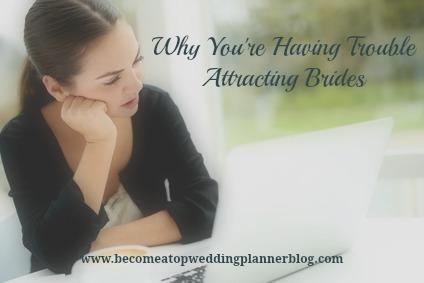 As a wedding planner, you can put in a lot of time, effort and money into your business but unless you're working smart, you still may not attract the brides you want.
Here's advice on how to attract brides and get them to hire you as their wedding planner.
Question
I have officially launched my event planning and interior decorating businesses but am having trouble landing some clients.
I've done telemarketing and am thinking about doing television advertisement. I am doing brochures and handing out flyers. I am setting up some photo shoots to create a professional portfolio for my event planning to showcase my creativity.
Is it wise to take pictures off the Internet to create my portfolio to cut down on costs? Or, should I continue with the photo shoots?
What am I doing wrong? Or what am I missing? I feel like there is something I am not doing and I don't know what it is.
Answer
I see the similarities between event planning and interior design, both are very creative service businesses but I suggest you market and build one business at a time. The way you promote each business and the type of clients you need to attract are different. If you try to do both at the same time, your attention and energies will be divided and you'll have trouble getting either one of them to do well.
To be successful as a wedding planner, you need to connect with potential clients on a personal level, this is what you're missing.
If you're just telemarketing, buying ads and handing out flyers, you appear to be mainly a salesperson. You don't seem like an expert who can understand the problems people have when planning their weddings or other major events.
You need to determine the type of clients that you want, do some research and find out where you can meet them and the people who can refer you to them. It could be that you need to join some social and business networking groups, wedding and event planner associations, take classes at a fitness center or yoga or Pilates studio or regularly attend services at a place of worship, etc. Build relationships and let people get to know you, understand your expertise and feel that they can trust you. Then they will want to hire you and refer you to their friends.
You professional portfolio, whether online or off, needs to have photos of events you have planned. You can also have photos of designs for weddings and events that you create just for your portfolio, especially if you want to go into event design.
You don't ever want to use photos off the Internet and imply that you did the work. It's dishonest and a copyright infringement. Continue with photo shoots and start getting professional photos of your events as soon as you have clients.
And if you have a pressing question about starting or running your wedding planning business, you can send me an email at [email protected] I'll answer them on this blog or in my ezine, "Wedding Planner Tips," which you can subscribe to here.