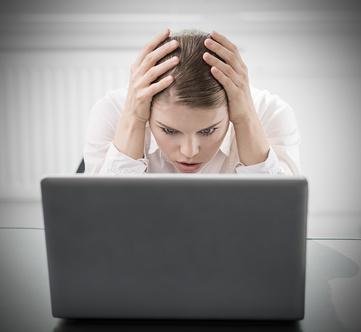 Sometimes life doesn't seem fair for wedding planners. You can do everything possible to make a bride happy then she can turn around and post negative information about you on the Internet. Here are 4 tips that can help you rise above the negative reviews.
Question
I was working with a bride who lives in another state, helping her make appointments with vendors and finding local resources. Even though I kept her informed about what I was doing, she felt I didn't communicate with her enough and we parted ways.
Now, I've found that she has posted a very negative review about me on a complaint website. I really want to respond but I am trying to stay professional. I'm truly hurt because I try very hard to treat people right and I'm still building my business so this one review can hurt my business name.
Answer
I'm very sorry that this has happened. You're right to remain professional and not respond; if you do, you could make matters worse because she may post more comments on that and other websites.
Here are 4 tips that might help you improve your Internet image:
1) Post testimonials from your past brides on your website
I looked you up online and noticed that you had excellent ratings and very positive comments on one of the wedding websites. Ask your couples if you can also use those testimonials on your own sites. (Don't mention your negative bride, they don't need to know and repeating the story for others will just make you dwell on it.)
2) Publish a lot of content on the Internet
Create a blog and start giving brides valuable wedding information. As you post more and more content on the Internet, you will displace your negative review and it will less likely come up on an Internet search.
You can also add content by making short videos with wedding tips and uploading them onto your website or blog and YouTube. This will give brides an opportunity learn about your knowledge and skills so they'll see you as a professional and an expert at what you do.
3) Be very active on social media sites
Let brides get to know who you really are by connecting with them and engaging them in conversations on Facebook and Twitter. Post photos from the wedding you plan, share ideas and photos from others and ask people to comment. Brides will be able to see that you are not who your negative reviewer said you are.
4) Stop problems before they begin
When you're a new wedding planner, it's tempting to accept every bride who will hire you as a client. However, if someone tries to negotiate unreasonably for a discount, complains about other vendors, or speaks to you as if you'll be her assistant, she'll be trouble and you don't want her as a client.
I know it's tough when people are unfair but don't hold a grudge and don't let someone else ruin your dream of being a wedding planner. Focus on your successful weddings and continue doing the best you can for all of your brides.
And you can learn more about starting and running your wedding planning business in my Free Special Report "7 Steps to Becoming a Top Wedding Planner." You can get it here.