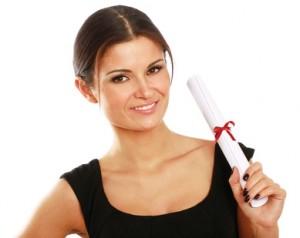 Last week I offered tips for choosing the right wedding planner course for those of you who are contemplating getting a certificate. It prompted today's question from a recent course graduate who wants to know the next steps.
Question
I have just finished my course to become a wedding planner. I have never planned a wedding before. What do I need to do now?
Answer
Congratulations! Be proud of yourself and celebrate your achievement because not everyone is willing to make the commitment it takes to get a certificate.
Now you have to be just as committed to putting what you learned into action and getting the experience it takes to become successful.
Here are 5 tips for what you need to do now:
1) Check with your school and see what type of help they offer graduates
Find out if they have knowledge of internships and apprenticeships with wedding planners in your local community so you can begin getting experience. They won't be paid opportunities but working alongside an experienced wedding planner will help you learn not only what wedding planning is like in the real world but also how successful planners attract brides.
2) Connect with a professional association
Some courses come with a short-term membership in a wedding and/or event planner association. If yours did not, you might want to consider investing in a membership. Associations can help you learn more about the wedding industry and give you the opportunity to meet and mingle with experienced wedding planners.
3) Plan weddings for free
You need to get experience before you are in a position to start charging for your services. Ask family members and friends if they brides who need help and go to your place of worship to see if any couples getting married there can use assistance.
Be respectful! Start small and only commit to doing what you can do in an excellent manner. I suggest having a written agreement with your brides so they know the extent of the help you are offering for free.
4) Start your portfolio
When you plan weddings for free, get testimonials from couples and photos of your work so you can start your professional portfolio
5) Keep learning
Devote time to increasing your knowledge of wedding planning and running and marketing a business. Consider also learning more about floral design, catering, event lighting, and cake design. While you probably won't be offering these services yourself, your knowledge in these areas will make it easier for you to help your brides with their decisions.
And if you have a pressing question about starting or running your wedding planning business, you can send me an email at [email protected] I will answer them on this blog or in my ezine, "Wedding Planner Tips," which you can subscribe to here.