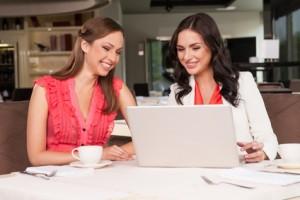 Busy going out and looking for your first brides? It could be that you don't need to look any further than your own circle of friends, like the new wedding planner whose question I answer today.
Question
A friend has hired me to plan her wedding. How should I start?
Answer
Congratulations on getting hired! A friend or family member is often a new wedding planner's first customer.
Here are the DO's and DON'Ts of planning a wedding for a friend:
DO ask what she means when she says, "plan my wedding"
Is she looking for full service planning? Your list of vendor contacts? Help on her wedding day? Tell her the types of services you can provide, what you charge and determine together what would work best for her and her budget.
DON'T mix personal conversations with business ones
Set aside specific times to discuss her wedding and do your work. I once made the mistake of allowing a friend to talk about her wedding whenever and wherever she saw me, I never separated our business conversations from our personal ones. She wore me out with her constant questions and, needless to say, she got a lot of free wedding planning.
DO find out what she wants for her wedding
Even if you have known her for a long time, you'll want to have the same discussion with your friend that you have with other brides. What she has told you she wanted her wedding to look like in the past may be different now that she is engaged. You need to review the same questions you would with any other bride to find out her budget, vision and plans.
DON'T take advantage because she is your friend
Just as you want her to respect your work and your time as a wedding planner, you want to be sure you respect her as a client. Be professional and perform your work in the same excellent manner that you would for others.
DO have a written contact
You have to handle this job professionally and have a contract between you, just as you would any other bride.
DON'T gossip about your friend's wedding plans among your mutual friends
Give her the same privacy as you would any other clients. Refrain from sharing details with others without her approval and, of course, never tell anyone how much money she is spending.
If your friend is happy with your work, ask her for a testimonial that you can include in your portfolio and post on your website.
And if you have a pressing question about starting or running your wedding planning business, you can send me an email at [email protected] I will answer them on this blog or in my ezine, "Wedding Planner Tips," which you can subscribe to here.