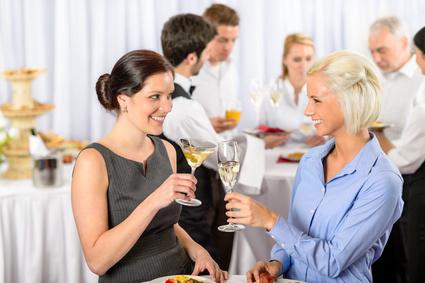 To have a successful wedding planning business, you need to get out and meet wedding vendors and other business people who can become business and referral partners. Here are 5 tips that will help you be successful.
Question
I've started my wedding planning business and I need to find more wedding vendors to work with and other business people who can give me referrals. I'm not really comfortable meeting new people. I've gone to business events and have ended up meeting people who just wanted to sell me their products or never talking to anyone and leaving early.
Where are the people who have an interest in what I do? How can I get people to talk to me?
Answer
It's not unusual to feel uncomfortable in a networking situation. Many of the people with you at these events feel the same way but are out there doing it anyway. It gets easier with time so I recommend you continue to get out and meet people because it will help your business.
Here are 5 tips on how you can get more out of your networking and be comfortable while you're doing it:
1) Find "friendly" places to network
Wedding and event planner association meetings and conventions will put you in touch with people in the industry who really want to connect with wedding planners. Local events for small businesses will introduce you to many other entrepreneurs who are looking to make connections for support and business relationships, whether or not you're in the same industry.
2) Do some preparations in advance
Before an event, decide what you want to say about yourself and your business when you meet others. Don't just say, "I'm a wedding planner." Give them an interesting description or story about how you help brides plan their weddings.
Also, think of some topics of conversation you might be able to make small talk with at the event. For example, at wedding and event industry events you might want to discuss future trends. Always avoid controversial, political or religious topics.
3) Reach out to someone who is alone
Don't wait for introductions, if you're by yourself, greet someone who is also alone with a smile, good eye contact and a firm handshake. Ask them what they do, listen carefully and show interest, these things will actually make you more memorable to them.
4) Join in group discussions
If a group seems to be having a discussion that interests you, catch the eye of someone in the group and move closer to them. Listen carefully and when there's a pause, join in the conversation. Keep your comments positive and supportive.
5) Collect contact information and follow up after events
Most attendees want to meet as many people as they can at an event. So, if you meet someone you would like to do business with, instead of having a long conversation, ask for a business card and follow up with a suggestion that you meet for coffee.
Networking events are for meeting and connecting with people so don't go around a room just talking about yourself and selling your services. Start building good relationships that will surround you with people who can offer the support you need to have a good, strong business and ultimately bring you the referrals you want.
And if you have a pressing question about starting or running your wedding planning business, you can send me an email at [email protected] I will answer them on this blog or in my ezine, "Wedding Planner Tips," which you can subscribe to here.