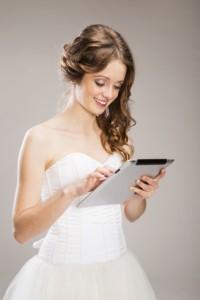 As a wedding planner, one of the first places you might think of advertising is on a popular wedding website, but you need to do more than just post the name of your business and a link to your own site. In today's Q&A, I offer tips on getting wedding website ads to work for you.
Question
I really want next year to be the one in which I can become a full time wedding planner. To attract brides, I am advertising on one of the most popular wedding websites in my country. I have a short description of my services in my ad and I encourage brides to visit my website to receive a free report.
Will I get a lot of brides from advertising like this? How can I stand out so brides see my worth and book me?
Answer
There are popular wedding websites in every country. The question is, are brides in your niche going to that website to find and book their wedding planners? You need to learn if they are before investing a lot more money on this type of advertising.
Here are 7 ideas that will help you and other wedding planners be successful when advertising on wedding sites:
1) Learn more about the brides who use the wedding website in which your ad appears
If you have not already done so, ask the website company to provide you with information about the brides who visit their site and sign up to become members. They should be able to tell you their approximate age, income, interests and wedding budgets. Compare this information to your profile of your target brides and be sure they match.
2) Ask your current clients if they use the website
Did you get your current clients from this website? If not, find out from them if they have used this site to find and hire other wedding vendors or if they just use it to get information and tips on weddings and photos to pin on Pinterest. If they don't hire vendors as a result of using the site, you might want to consider investing your advertising dollars elsewhere.
3) Write a description about your business that stands out
Avoid writing phrases such as "I do full service coordination" or "I can help you have your dream day." Too many wedding planners write these types of descriptions. You have a very limited amount of ad space, make the most of it by telling brides how you are unique and the benefits of using you.
4) Use photographs from the weddings that you have planned
Too often I see stock photography of brides, wedding accessories and venues instead of photographs from actual weddings on these ads. Brides need to get a sense of who you are and the type of brides you serve so use photos from weddings you have planned.
5) Send brides straight to a page with an opt-in for your free report
I'm so glad you have a free report to send to brides, it helps you collect the contact information you need to continue to market your services to them.
When you send them to your website, don't just send them to your home page, they will get distracted looking through your site and leave without giving you their contact information. To keep them focused, send them to a page that has some information but is mostly about opting in for your free report. Go to my opt-in page to see an example.
6) Write your own free report
I noticed you used a report that someone else wrote. You need brides to see you as the expert.
You don't have to be a great writer to create a list of tips based on information you have learned when working with brides such as; the most important things to do as soon as you get engaged, what needs to be included in a wedding budget, or how to choose a venue.
7) Follow up frequently with the brides who have found you through your ad
Continue to keep in touch with brides by sending more tips and helpful information that you have written yourself so they get to know you and contact you when they are ready to hire a planner.
And if you have a pressing question about starting or running your wedding planning business, you can send me an email at [email protected] I will answer them on this blog or in my ezine, "Wedding Planner Tips," which you can subscribe to here.