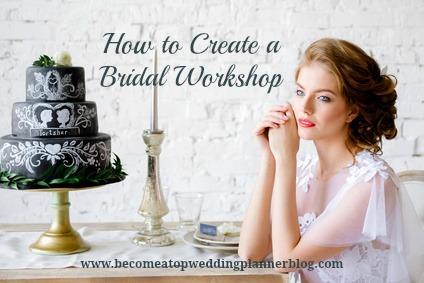 There are many bridal shows throughout the year that will give you an opportunity to showcase your wedding planning business and meet brides. But, have you ever thought of joining with your network of vendors to create your own event? In my "Q & A" today I offer tips for holding a workshop to attract more brides.
Question
I am working on a mini bridal workshop. It will be something for about 12-15 brides. I have invited some vendors to collaborate with me. Since I have not done this before, I would like to get some tips from you for organizing this.
I have to be a bit different because there is another planner who does this annually. The idea is to give tips/information and to promote myself more on the local market. Any advice you have would be greatly appreciated.
Answer
Kudos to you for taking on a big project like this. I know it's not an easy undertaking and it means you need to be focused on your target market and super-organized but, if done correctly, it can be very successful for you and the vendors you have gathered.
Here are 8 steps to a successful bridal workshop:
1) Determine your niche
To make your event stand out as different from others and attract brides who are truly interested in buying your services and the services of your vendors, you'll need to clearly define your niche. Then create your workshop with them in mind and make your invitations and promotional materials appeal directly to them.
 2) Set goals
You mentioned you wanted 12-15 brides at your workshop. Are you planning to charge them for attendance to make a profit from the workshop itself? If not, how will you make money from this event?
What action do you want them to take as a result of attending? Do you want them to sign up for a free consultation that could lead to them hiring you? Or, do you and your vendors hope to get hired on-the-spot?
How many brides do you hope will take the action you want? In other words, what would success look like to you?
 3) Decide what topics your workshop will cover
Don't plan to just make sales pitches, think about the needs of your target brides. What information can you offer that they can't get anywhere else that would help them see you as the experts they need for their weddings?
If you aren't offering anything different, brides won't be interested in attending or hiring you.
 4) Decide on your "hook"
Why would brides want to attend your workshop? They're busy and receive many invitations from people wanting to meet and sell them products and services. What is special about your workshop that would make them attend?
 5) Select your date and time carefully
You want to make sure you don't conflict with other, larger bridal events that may be taking place at the same time. You also want to check to make sure there aren't other events that would keep the brides you want from attending your event – this could be holidays in which people leave town, local or televised sports events, or even a period when extremely bad weather might make people want to stay indoors.
 6) Invite the brides you want
Each of you should send invitations to your list of qualified brides. If you're mailing invitations, they should be something that stands out among all the mail that brides receive. If you're emailing invitations, choose your subject line carefully so they open your email.
Make it easy for them to RSVP. Provide a phone number, a website and, if it's email, a link to click on to respond. Then follow up before the event to confirm attendance.
If you're also promoting this event to brides who aren't on your lists, carefully choose where and how you reach out. You only want brides in your niche who are qualified buyers.
 7) Be organized
You and your vendors should each have a role at the workshop and know what to do (put responsibilities in writing) so brides recognize all of you as the organized, polished professionals they should hire for their weddings.
 8) Follow-up
This is the key to your success. Whether or not a bride has taken the action you wanted, such as signed up for a consultation or hired you, you need to stay in contact. Send postcards and/or put them on your email list and send out ezines with wedding tips and advice so they keep you in mind when they're ready to hire a wedding planner in the future.
And if you want help to become a top wedding planner, sign in to get my ezine "Wedding Planner Tips."