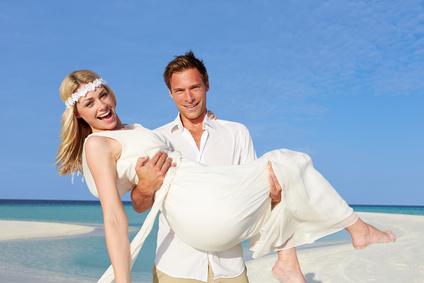 If you're a wedding planner in an area that can attract couples from other parts of your country, or the world, consider having a destination wedding business. Market yourself as the expert brides can trust to handle their weddings from afar, just like this wedding planner wants to do.
Question
I recently moved to an island that is one of the top destination wedding locations in the world. Hundreds of couples get married here every year, many from other countries, and they use wedding planners. I want to help them plan their weddings!
What do I need to do?
Answer
I'm so glad you selected a niche where you know there are brides who want the services of a wedding planner.
What you want to do is establish yourself as the expert in destination weddings in your location and make it easy for brides to find you online.
Here are 5 tips that can help you do these things:
1) Learn everything you can about your island
Since you just moved, you may not know as much as planners who may have lived and worked on the island for a long time. Take the time to learn everything you can about the area such as; the ceremony sites, venues and transportation options, then establish relationships with wedding vendors.
You'll need to know what documents couples from other countries need in order to get married in your country and any other rules they'll need to follow.
2) Decide what you can offer that makes you unique
I used the name of your island and the word "weddings" in a Google search, I came up with a few wedding planners who offer services in your area. You must find a way to differentiate yourself from them or you will get lost in the crowd. What skills do you have that other planners don't have? What services can you offer that couples need that other wedding planners in your area don't provide?
Please do not differentiate yourself by being the lowest priced planner or offering deep discounts. Quality clients who will value and respect you do not hire the cheapest wedding planner and your business cannot survive by offering the lowest rates.
3) Select a business name and website address that includes the name of your location
I noticed that the name of your company and your web address is very generic. It does not speak to the fact that you plan destination weddings on your island. Consider incorporating the name of your island in your business name to attract the attention of the search engines and confirm to brides that you are the expert in weddings in your location.
4) Fill your website with information couples want and need to know
The site should establish you as an expert and offer couples from other countries everything they want to know about getting married on the island, in addition to telling them the benefits of hiring you.
5) Establish a blog and a presence on social media sites
Share tips, area trends, photos of beautiful places to get married on your island and photos of weddings you are planning. By blogging regularly, you have a better chance of search engines finding you. By posting regularly on Facebook and Pinterest, brides will see you more often on their timelines and feeds. They will start to get to know you and feel comfortable enough to contact you about planning their weddings.
When you start your business, please be careful about how you accept money from overseas clients. Fake "brides" who send bad cashier's checks have scammed many wedding planners. Be sure you talk to your bank about the safest way to accept money from people in other countries before you open for business.
And if you have a pressing question about starting or running your wedding planning business, you can send me an email at [email protected] I will answer them on this blog or in my ezine, "Wedding Planner Tips," which you can subscribe to here.