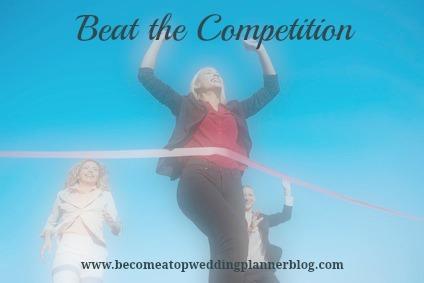 You're going to face competition when you're a wedding planner but it shouldn't stop you from following your dream. To win clients, you'll have to plan and run your business professionally and market it well.
Question
I have a dream of being a wedding planner but I know there would be a lot of competition. Would it be worth it for me to start a business? Could I really get brides to hire me instead of someone else?
Answer
If you're noticing there are a lot of wedding planners in your area, it could mean that there's a high demand for professionals who can help plan weddings. So, if you start out right, you can be very successful.
Here are 5 ways you can start your wedding planning business and thrive, even in the midst of heavy competition:
1) Find a desire or need you can fulfill
Read wedding magazines, websites and blogs and talk to newly married brides. Find out the services and products they needed or wanted during the wedding planning process that no one provided. Chances are good that many newly engaged brides need and want those very same things and would buy them from you, if you offered them.
If you can't find something new to offer, find a service or product you can deliver in a different and better way than your competition. For example, many wedding planners offer to help choose a wedding menu. If you used to work for a caterer or planned menus for a venue, you can offer professional insight and expertise into planning a menu that most cannot. Promote the value of your expertise to stand out from your competition.
2) Don't compete on price
When you're a new wedding planner, you might feel that the only way you can compete is by offering the lowest prices. Don't fall into this trap because if you do, you won't be able to stay in business. Market the value of your unique expertise, services and products. Don't compare your prices to another wedding planner's and don't let a bride do it either.
3) Aim at getting a few small clients, not just one high-end bride
There's often a desire to start a new business off with a bang by trying to reach high-end brides with big budgets. But, unless you have had a lot of experience prior to starting your business and have a lot of high-end vendor contacts, it's best to start small. It can be easier to be hired for consultations, "day of" coordination and full service wedding planning by brides with average budgets when you have a new business.
4) Build strong relationships with vendors
Get out and visit venues and meet caterers, florists, bridal consultants, cake designers, etc. Don't just introduce yourself and ask for referrals. Instead, meet for coffee, build relationships and create your network of high quality, supportive vendors.
5) Be visible online
Set up a blog and share insights into wedding planning that you have gotten because of your work with brides. Use social media, Facebook, Pinterest and Instagram, to teach, entertain and inspire brides. Show them you're an expert so they'll want to hire you instead of your competition.
And if you have a pressing question about starting or running your wedding planning business, you can send me an email at [email protected] I'll answer them on this blog or in my ezine, "Wedding Planner Tips," which you can subscribe to here.
Save
Save