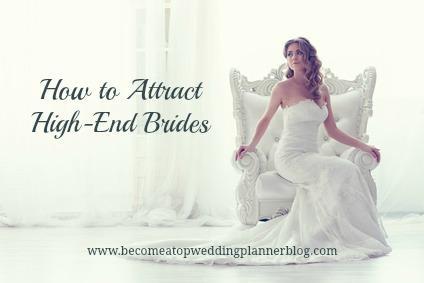 If you have been planning weddings for brides with small to average budgets, you may be at the point where you want to work with brides who have more money to spend, like the wedding planner in today's Q&A.
Question
I am booking "average" budget weddings but would love to book high-end weddings, ones that run $25,000 – $30,000 in this area. I have the experience and skills to take on more high-end brides. How do I attract them?
Answer
I'm glad you have defined the wedding budget of the brides you want to help. It will be much easier for you to develop a plan to attract them. So many times wedding planners say high-end and aren't clear what that means so they struggle to find and get the clients they want.
Here are 5 tips that will help you reach a high-end bride:
1) Determine her major wedding planning concerns
A high-end bride may worry about not having enough time to plan her wedding. Or, it may be important to her that she follows the latest wedding trends. She may want to be sure her wedding is similar to her friends' or she may want to have a wedding her friends will envy. And, even though she has a large budget, she may be very frugal with the money she has and be concerned about overspending.
Once you know her concerns, subtly address them in your marketing and your discussions with her.
2) Find out what she wants
Do some research and learn why she might want a wedding planner. She may want a simple solution and want to buy a wedding package so she doesn't have to think about details or she may want customized services that are created just for her. She may be working 60 hour weeks and need someone to do it all for her or have a personal assistant and want you to work with that person to plan her wedding.
Finding out what she wants will help you create the services and packages she would buy.
3) Take an objective look at your business
It sounds like you have the expertise you need to work with high-end brides. Are you charging enough for your services that you look like a high-end wedding planner? Do you have relationships with wedding vendors who have services and products for high-end brides?
If you're not attracting as many high-end brides as you want now, you may need to make some changes in the way you are running your business.
4) Make sure your marketing speaks to high-end brides
Be sure you brand your website with a professional-looking design. Your social media sites must have professional-looking images and show weddings that look like the weddings your high-end brides want. You want to offer wedding tips, ideas and inspiration that attract the brides you want and prove to them that you understand who they are and what they need and want.
Offline, chose memberships in fitness centers, clubs and associations where you can find your high-end brides. If you decide to exhibit in a bridal fair, choose one that attracts your target market and make sure your printed materials, from business cards to brochures, are professionally designed and printed on top-quality paper.
5) Be ready to go the extra mile
High-end brides can be very demanding. Be prepared to do what it takes to attract and serve them. It may mean taking a class in floral design or catering so you can speak the same language as the types of vendors they choose. It may mean dressing differently. It may mean working different and/or longer hours in order to do the research and work you need to do to reach them and plan their weddings, but it will be worth it in the end.
And if you have a pressing question about starting or running your wedding planning business, you can send me an email at [email protected] I'll answer them on this blog or in my ezine, "Wedding Planner Tips," which you can subscribe to here.