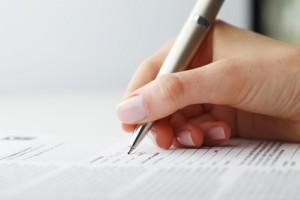 When you decide to become a professional wedding planner, you have to do what other business professionals do, get a business license, open a business bank account and have a contract for your clients to sign, which is the topic of my Q&A today.
Question
I'm just starting my wedding planning business, do you have sample contract form that I can print and use? I'm going to offer all kinds of events, not just weddings, and eventually expand into catering and party rental.
Answer
I receive many requests for sample contract forms. I don't offer them because each city, county, state and country has different laws, and especially because I am not an attorney. I do not recommend that you use contracts that you find on the Internet and in books because they are very general. Neither do I recommend you write your own contract.
You need to sit down with an attorney and have her or him draft a contract. You might want to ask if they can write you one that has some flexibility to add details regarding the rates and services for each specific event. I know this will cost money, but you must do it if you are a professional wedding planner.
You will want your wedding and event planning contract to include some basic information, such as:
Date contract was drafted
Your company name and contact information
Your client's name and contact information
Bride's and groom's names and contact information (which may be different from your client's)
Date, time, place and location of the wedding
Services you are providing
Your rates
Your payment policy and the dates in which deposits and payments are due
Your refund, change and cancellation policies
Conditions – this may include, for example, the date by which the bride needs to provide you with contracts from vendors she's hired, so you know what to expect on the wedding day
Date on which the rates and terms quoted in the contract expire. This is so a bride understands that if she doesn't sign by a specific date, your prices could change because you will have less time to plan her wedding.
Place for your client's signature and your signature
Your attorney can suggest specific information that needs to be added based on the services and products that you offer. She or he can also advise you on what to do when clients make changes and upgrades. (Always get your client's approval in advance, in writing, when there are changes in services and rates.)
Get your contract updated or rewritten when you add catering and party rental so you can include issues that arise when you provide those services and products.
Please also speak to an insurance agent about business insurance to properly protect your business and personal assets.
Contracts are very important! You don't have a client until you have a signed contract and a deposit. Don't plan a wedding or any other type of event without one.
And you can learn more about starting and running your wedding planning business in my Free Special Report "7 Steps to Becoming a Top Wedding Planner." You can get it here.