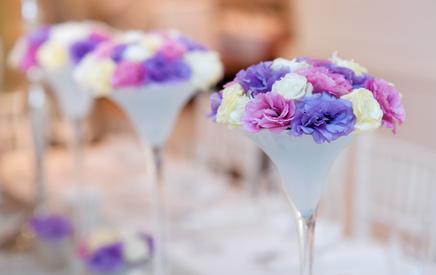 When you look through wedding blogs and magazines, couples always seem to have the perfect decorative items, no matter what the theme. As a wedding planner, brides may ask you to provide these items for their weddings. Here's where you can find them and how to decide if you want to invest in them.
Question
I started my wedding planning business about 12 months ago and have planned a few small weddings. I would like to know what I should do when I want to plan large-scale weddings with tons of detail. Should I purchase detail items, which may never be used again, or is there another option?
I know I can rent things such as vases, chairs, etc., however I'm wondering about other detail items that may be on reception tables or large urns that may make the wedding and reception even more glam.
Answer
Congratulations on planning your first weddings! I'm sure there are many more in your future.
If you work with a bride who wants items that you can't rent and can't use again, find out if she's willing to purchase them. Many brides are more than happy to pay for items that would help them make their vision come true.
However, before you ask her to purchase any items, do some research. If you are working with wedding and event designers, ask them to find the detail items you want to rent or have them suggest alternatives that are more readily available.
If you're doing the design work yourself, look beyond your local party rental companies for your items. Check with high-end florists, tent rental companies, caterers and theatrical prop houses for specialty rental items. Also, find companies through wedding and event planner associations and industry magazines, like "Special Events," that rent and sell to event professionals. They can provide many of the things you see in wedding blogs, magazines and on Pinterest.
If you know that the items your bride want will be used again by future clients, and you have storage space, consider purchasing them and renting them out yourself. This way you can not only easily provide unique, high-quality items to your brides but also make some additional money. (Get a seller's permit so you can purchase at wholesale prices and find out from your state government if you need to charge sales tax when you offer party rental.)
And if you have a pressing question about starting or running your wedding planning business, you can send me an email at [email protected] I will answer them on this blog or in my ezine, "Wedding Planner Tips," which you can subscribe to here.